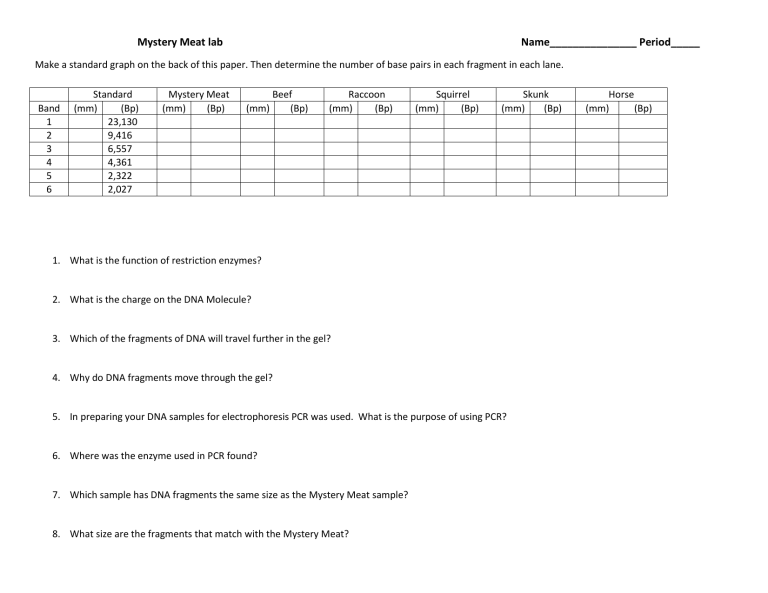 Mystery Meat lab Name_______________ Period_____
Make a standard graph on the back of this paper. Then determine the number of base pairs in each fragment in each lane.
Standard
Band (mm) (Bp)
1
2
23,130
9,416
3
4
5
6
6,557
4,361
2,322
2,027
Mystery Meat Beef Raccoon
(mm) (Bp) (mm) (Bp) (mm) (Bp)
Squirrel Skunk
(mm) (Bp) (mm) (Bp) (mm)
Horse
(Bp)
1.
What is the function of restriction enzymes?
2.
What is the charge on the DNA Molecule?
3.
Which of the fragments of DNA will travel further in the gel?
4.
Why do DNA fragments move through the gel?
5.
In preparing your DNA samples for electrophoresis PCR was used. What is the purpose of using PCR?
6.
Where was the enzyme used in PCR found?
7.
Which sample has DNA fragments the same size as the Mystery Meat sample?
8.
What size are the fragments that match with the Mystery Meat?
Graph the Base Pairs (Bp) on the "y" axis and (mm) traveled on the "x" axis.
Base Pair
10
mm
15 mm
20 mm
25 mm
30
mm
35
mm
40 mm
45 mm mm 50