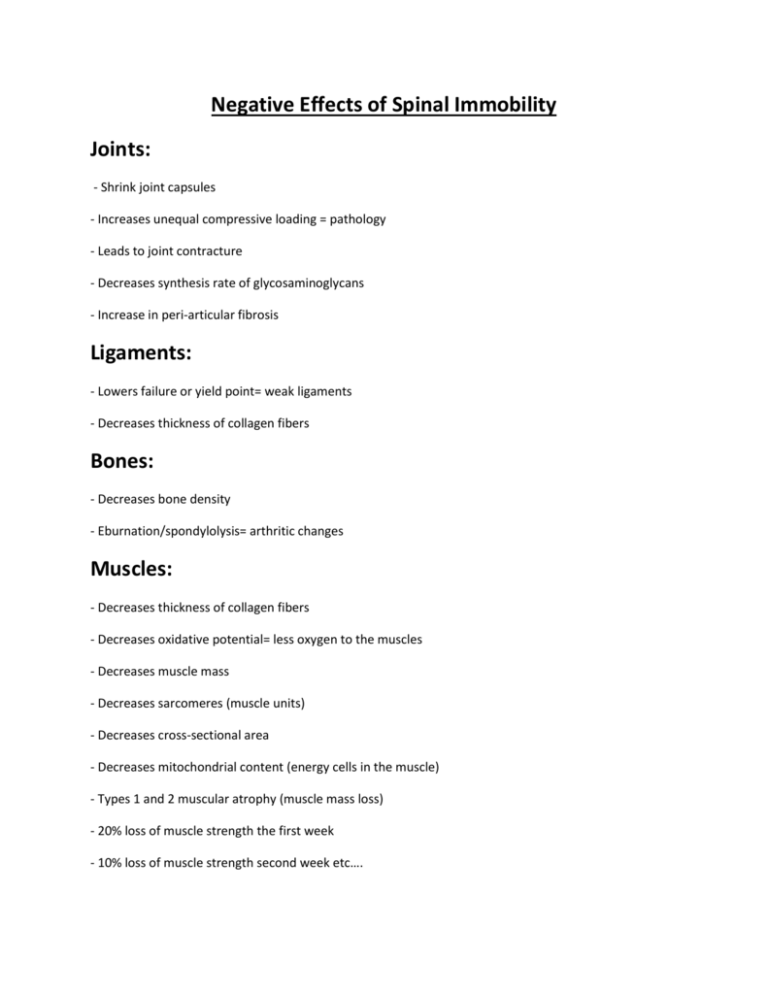 Negative Effects of Spinal Immobility
Joints:
- Shrink joint capsules
- Increases unequal compressive loading = pathology
- Leads to joint contracture
- Decreases synthesis rate of glycosaminoglycans
- Increase in peri-articular fibrosis
Ligaments:
- Lowers failure or yield point= weak ligaments
- Decreases thickness of collagen fibers
Bones:
- Decreases bone density
- Eburnation/spondylolysis= arthritic changes
Muscles:
- Decreases thickness of collagen fibers
- Decreases oxidative potential= less oxygen to the muscles
- Decreases muscle mass
- Decreases sarcomeres (muscle units)
- Decreases cross-sectional area
- Decreases mitochondrial content (energy cells in the muscle)
- Types 1 and 2 muscular atrophy (muscle mass loss)
- 20% loss of muscle strength the first week
- 10% loss of muscle strength second week etc….
Biochemistry:
- Decreases oxygen
- Decreases glucose
- Decreases sulfates (MSM, Chondroitin, Glucosamine, etc)
- Increases lactate concentration= lactic acid build up= fatigue
- Decreases proteoglycan content= inflammation
Motion is essential for a strong, fully functioning and pain free
spine!!!!