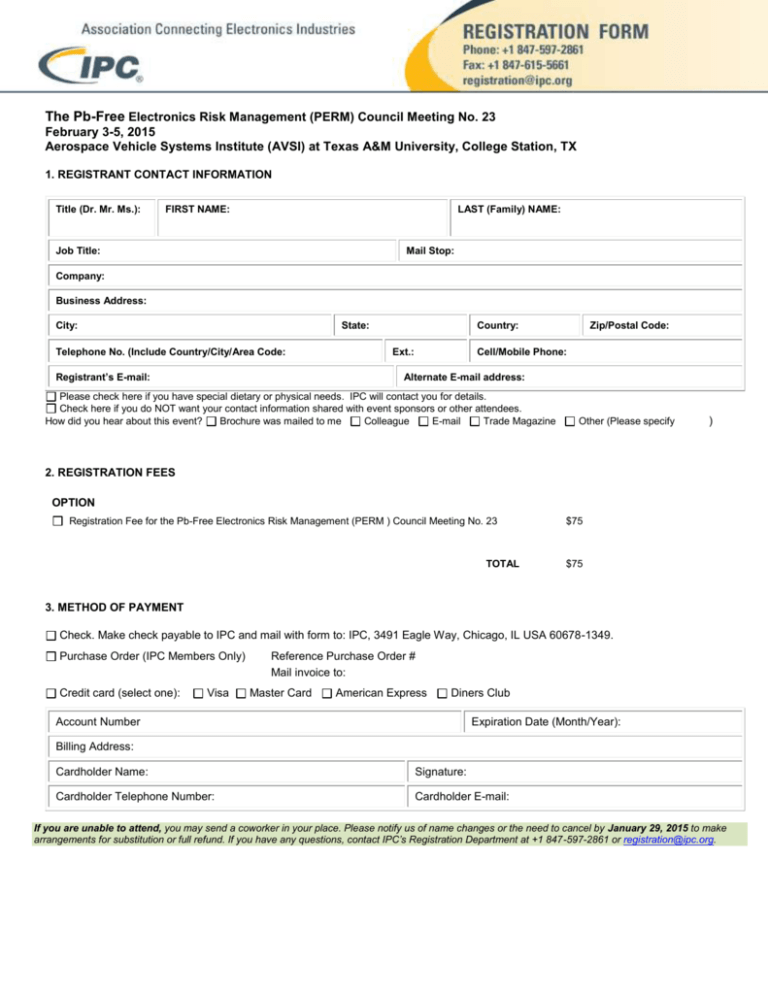 The Pb-Free Electronics Risk Management (PERM) Council Meeting No. 23
February 3-5, 2015
Aerospace Vehicle Systems Institute (AVSI) at Texas A&M University, College Station, TX
1. REGISTRANT CONTACT INFORMATION
Title (Dr. Mr. Ms.):
FIRST NAME:
LAST (Family) NAME:
Job Title:
Mail Stop:
Company:
Business Address:
City:
State:
Telephone No. (Include Country/City/Area Code:
Registrant's E-mail:
Country:
Ext.:
Zip/Postal Code:
Cell/Mobile Phone:
Alternate E-mail address:
Please check here if you have special dietary or physical needs. IPC will contact you for details.
Check here if you do NOT want your contact information shared with event sponsors or other attendees.
How did you hear about this event?
Brochure was mailed to me
Colleague
E-mail
Trade Magazine
Other (Please specify
)
2. REGISTRATION FEES
OPTION
Registration Fee for the Pb-Free Electronics Risk Management (PERM ) Council Meeting No. 23
TOTAL
$75
$75
3. METHOD OF PAYMENT
Check. Make check payable to IPC and mail with form to: IPC, 3491 Eagle Way, Chicago, IL USA 60678-1349.
Purchase Order (IPC Members Only)
Credit card (select one):
Visa
Reference Purchase Order #
Mail invoice to:
Master Card
American Express
Diners Club
Account Number
Expiration Date (Month/Year):
Billing Address:
Cardholder Name:
Signature:
Cardholder Telephone Number:
Cardholder E-mail:
If you are unable to attend, you may send a coworker in your place. Please notify us of name changes or the need to cancel by January 29, 2015 to make
arrangements for substitution or full refund. If you have any questions, contact IPC's Registration Department at +1 847-597-2861 or registration@ipc.org.