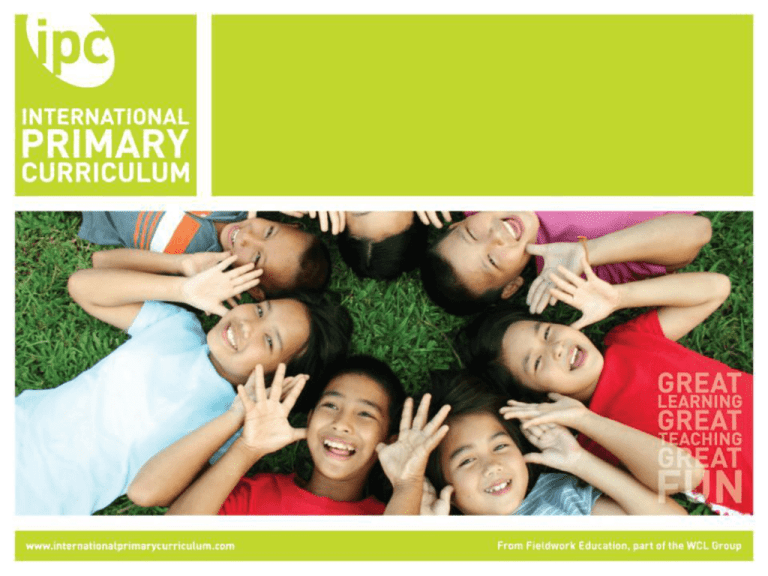 The International Primary Curriculum (IPC)
 An international, up to date,
comprehensive and future oriented
curriculum programme
 Aimed at primary aged children (3-12)
growing up in the 21st Century
 It nurtures a love of learning and
encourages the necessary key skills
and personal qualities
Why our children benefit from the IPC
• 1. Work is changing: The muscle economy is being
replaced by the knowledge economy
• 2. Careers are changing: Lifelong careers are giving way
to a portfolio of jobs
• 3. The world is changing:
 National boundaries are diminishing
 Internationalism is here
 International understanding is vital
• 4. Education is changing
 National Curricula
 International Curricula
 New research into how we learn
New Ways of Learning
Multiple intelligences (Howard Gardner)
Brain research
Emotions in learning
Memory and learning styles
The Challenge for Schools is to....
•
…to produce a 21st Century
curriculum which extends knowledge,
skills and understanding, develops
personal attributes and supports an
international perspective in a way
that responds to revised ideas about
learning.
The IPC Learning Goals
 Define as clearly as possible what the vast
majority of children are expected to learn
 3 types of goals:
 Subject
 Personal
 International
The IPC Learning Goals
Early Years – 3 to 5 years
Milepost 1 – 5 to 7 years
Milepost 2 – 7 to 9 years
Milepost 3 – 9 to 12 years
The IPC Learning Goals
Knowledge
• Children will know ….
Skills
• Children will be able to…
Understanding
• Children will understand….
IPC Subject Goals
Art
Geography
History
ICT
Language Arts
Mathematics
Music
PE
Science
Society
Technology
Additional
Language
Personal Goals
Enquiry
Adaptability
Resilience
Communication
Thoughtfulness
Cooperation
Respect
International Goals
Knowledge and understanding
beyond own nationality
Understanding of the independence
and interdependence of people
cultures and countries
A degree of focus on the host
country
A degree of focus on the home
country
IPC Units of Work
•
•
•
•
•
•
•
•
•
1.
2.
3.
4.
5.
6.
7.
8.
9.
Basic information
Learning targets
Entry point
Knowledge harvest
Explaining the theme
Big picture
Unit activities
Resources
Parents letters
• Creative Minds International Public Charter
School is proud to be the only public school in
Washington, D.C. to implement the International
Primary Curriculum (IPC), an internationallyminded, thematic, cross-curricular and rigorous
teaching structure used in over 50 countries.