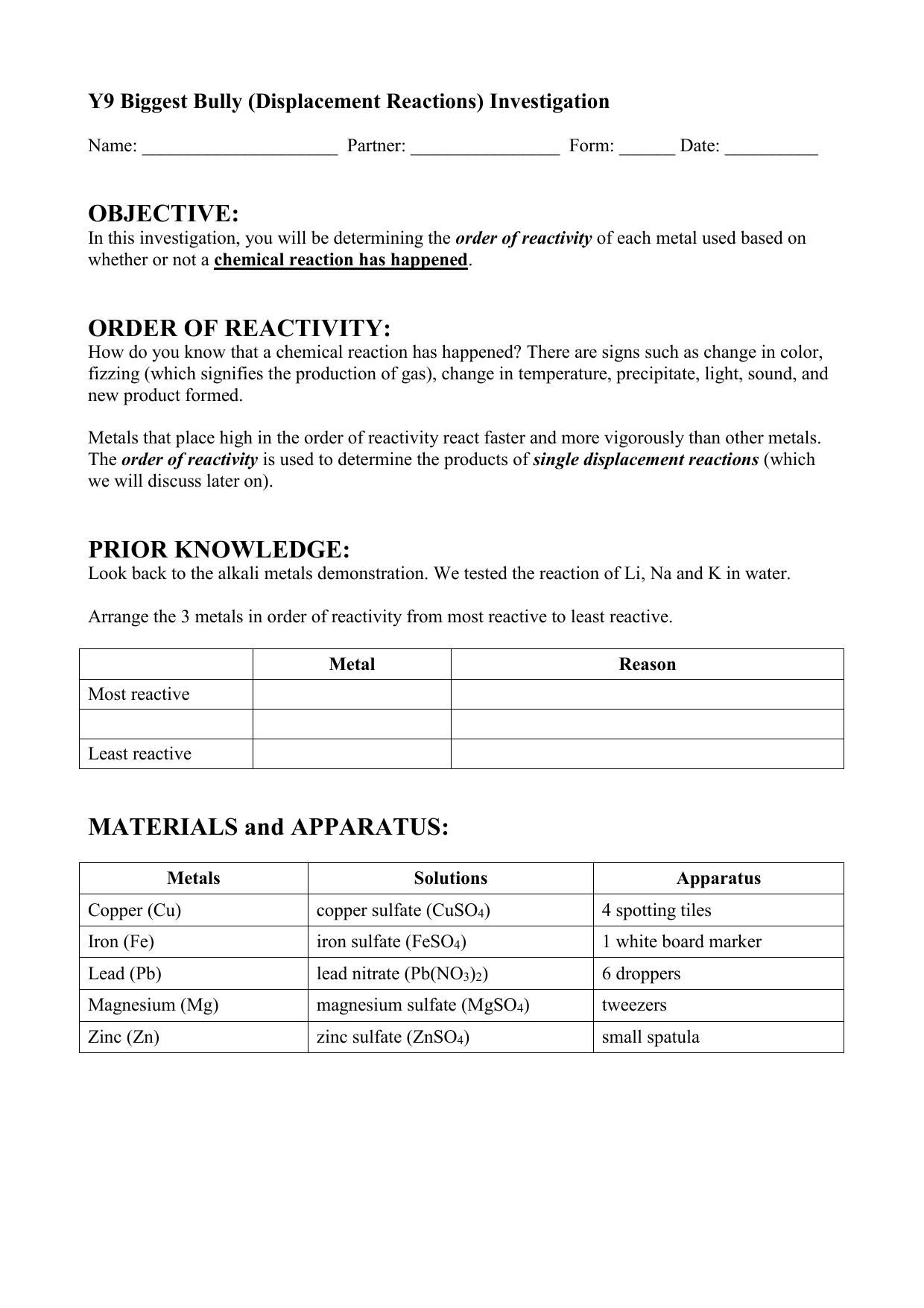 Y9 Biggest Bully (Displacement Reactions) Investigation
Name: _____________________ Partner: ________________ Form: ______ Date: __________
OBJECTIVE:
In this investigation, you will be determining the order of reactivity of each metal used based on
whether or not a chemical reaction has happened.
ORDER OF REACTIVITY:
How do you know that a chemical reaction has happened? There are signs such as change in color,
fizzing (which signifies the production of gas), change in temperature, precipitate, light, sound, and
new product formed.
Metals that place high in the order of reactivity react faster and more vigorously than other metals.
The order of reactivity is used to determine the products of single displacement reactions (which
we will discuss later on).
PRIOR KNOWLEDGE:
Look back to the alkali metals demonstration. We tested the reaction of Li, Na and K in water.
Arrange the 3 metals in order of reactivity from most reactive to least reactive.
Metal
Reason
Most reactive
Least reactive
MATERIALS and APPARATUS:
Metals
Solutions
Apparatus
Copper (Cu)
copper sulfate (CuSO4)
4 spotting tiles
Iron (Fe)
iron sulfate (FeSO4)
1 white board marker
Lead (Pb)
lead nitrate (Pb(NO3)2)
6 droppers
Magnesium (Mg)
magnesium sulfate (MgSO4)
tweezers
Zinc (Zn)
zinc sulfate (ZnSO4)
small spatula
PROCEDURE:
1. Arrange and label the spotting tiles as follows:
ZnSO4
CuSO4 FeSO4 Pb(NO3)2 MgSO4
Cu
Fe
Pb
Mg
Zn
2. The metals used in this activity will be given in strips (1 pc.), turnings or shavings (2-3 pcs.)
or filings (small spatula). Place the metal samples in the appropriate wells.
3. Test each metal sample by carefully filling the appropriate well with each solution. Make
sure the solutions do not overflow to the next well.
4. Observe and complete the results table.
RESULTS TABLE:
Put an "X" if no reaction happened and a "" if a reaction happened.
CuSO4
Cu
Fe
Pb
Mg
Zn
FeSO4
Pb(NO3)2
MgSO4
ZnSO4
X
X
X
X
X
Total
Rxns
DATA ANALYSIS:
Based on your results, put the metals in order of reactivity from MOST REACTIVE to LEAST
REACTIVE. State your reason.
Order of
Reactivity
Metal
Reason
most reactive
least reactive
WRITE A CHEMICAL EQUATION:
Each of the reactions that occurred (happened) is a single displacement reaction. A single
displacement reaction is a reaction where the more reactive metal displaces ("kicks out" and takes
the place) of a less reactive metal.
Complete chemical equation using chemical symbols based on your results.
Mg + CuSO4  ______________ + _________________
Pb + ZnSO4  ______________ + _________________
Fe + Pb(NO3)2 ______________ + _________________
Cu + FeSO4  ______________ + _________________
Zn + MgSO4  ______________ + _________________
Upcoming Chemistry Project
You will be making a 60-second video of a chemical reaction.
The project can either be a:
1. Slow motion video of a fast chemical reaction; or
2. Time lapse video of a slow chemical reaction.
You will be provided with:
 Lab equipment needed to conduct the reaction
You will need to provide:
 Video equipment to film the reaction
Your video must be edited to show the entire chemical reaction occurring over a period of 60
seconds.
You will work in pairs.
Possible Chemical Reactions include:
 Magnesium or Calcium and Hydrochloric Acid
 Copper and Silver Nitrate (Displacement)
 Iron and Copper Sulfate (Displacement)
You will be assessed on Planning Investigations, Identifying Risks and Ability to write, balance
and identify chemical reactions. Remember you must complete ALL of a given grade before being
eligible for the next higher grade.
WHAT TO SUBMIT:
 A printed, detailed procedure (group, Planning Investigations and Identifying Risks)
 A digital copy of your 60 second video no more than 25 MB in size ((group, Planning
Investigations)
 Additional evidence for the grade you wish to achieve AND those below it (Ability to write,
balance and identify chemical reactions)
The video file should be named uploaded to youtube and the link emailed to the teacher.
The title of the video file should be "Science," AND include the names of everyone who worked on
it.
If you only submit group work, your highest grade possible is a C.
To get a mark of B or higher, you must submit additional evidence of knowledge.
In preparation for this, you may take photos or videos of this experiment. When the time comes,
you may choose to redo a certain chemical reaction for your project.