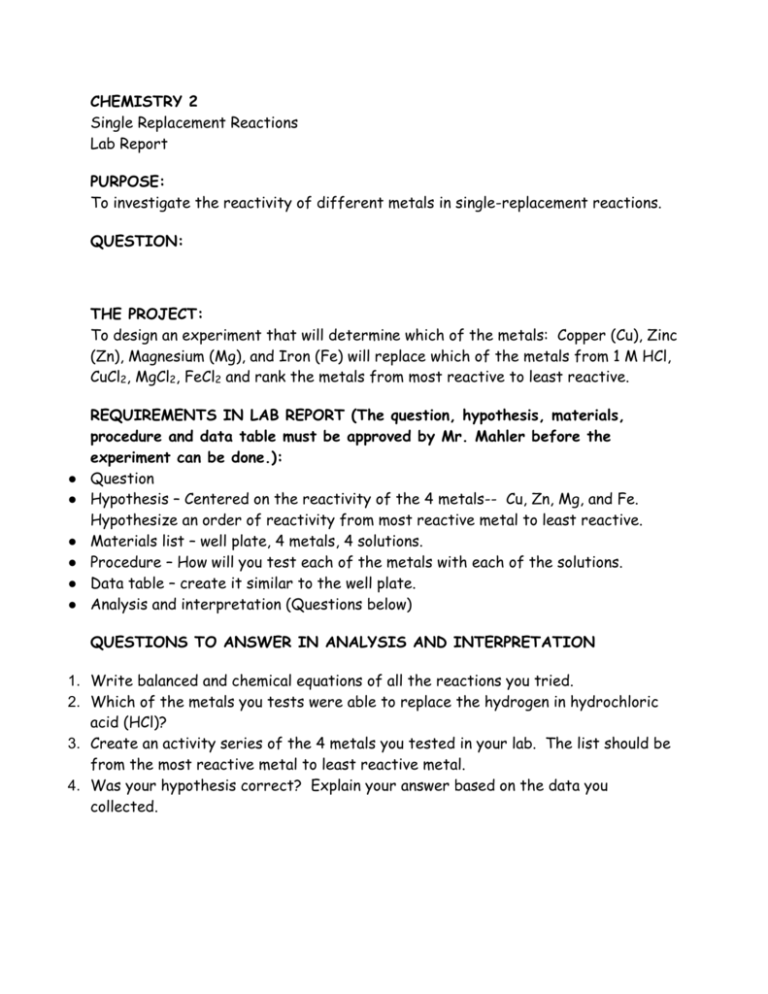 CHEMISTRY 2
Single Replacement Reactions
Lab Report
PURPOSE:
To investigate the reactivity of different metals in single-replacement reactions.
QUESTION:
THE PROJECT:
To design an experiment that will determine which of the metals: Copper (Cu), Zinc
(Zn), Magnesium (Mg), and Iron (Fe) will replace which of the metals from 1 M HCl,
CuCl2, MgCl2, FeCl2 and rank the metals from most reactive to least reactive.
●
●
●
●
●
●
REQUIREMENTS IN LAB REPORT (The question, hypothesis, materials,
procedure and data table must be approved by Mr. Mahler before the
experiment can be done.):
Question
Hypothesis – Centered on the reactivity of the 4 metals-- Cu, Zn, Mg, and Fe.
Hypothesize an order of reactivity from most reactive metal to least reactive.
Materials list – well plate, 4 metals, 4 solutions.
Procedure – How will you test each of the metals with each of the solutions.
Data table – create it similar to the well plate.
Analysis and interpretation (Questions below)
QUESTIONS TO ANSWER IN ANALYSIS AND INTERPRETATION
1. Write balanced and chemical equations of all the reactions you tried.
2. Which of the metals you tests were able to replace the hydrogen in hydrochloric
acid (HCl)?
3. Create an activity series of the 4 metals you tested in your lab. The list should be
from the most reactive metal to least reactive metal.
4. Was your hypothesis correct? Explain your answer based on the data you
collected.