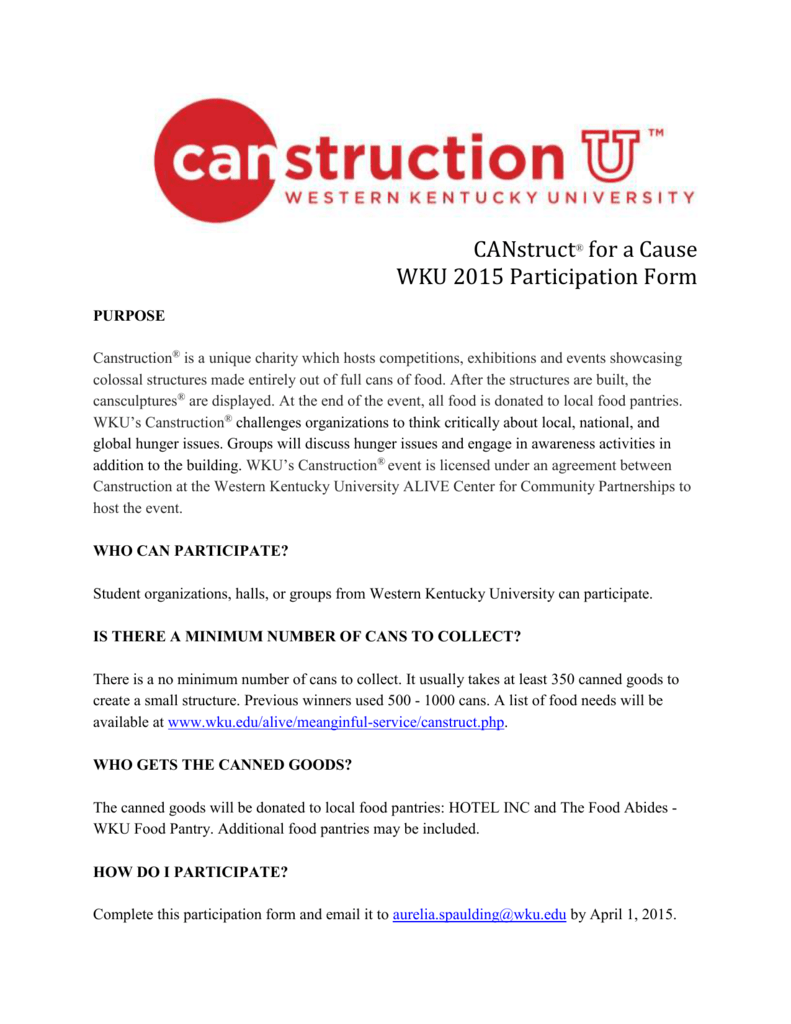 CANstruct® for a Cause
WKU 2015 Participation Form
PURPOSE
Canstruction® is a unique charity which hosts competitions, exhibitions and events showcasing
colossal structures made entirely out of full cans of food. After the structures are built, the
cansculptures® are displayed. At the end of the event, all food is donated to local food pantries.
WKU's Canstruction® challenges organizations to think critically about local, national, and
global hunger issues. Groups will discuss hunger issues and engage in awareness activities in
addition to the building. WKU's Canstruction® event is licensed under an agreement between
Canstruction at the Western Kentucky University ALIVE Center for Community Partnerships to
host the event.
WHO CAN PARTICIPATE?
Student organizations, halls, or groups from Western Kentucky University can participate.
IS THERE A MINIMUM NUMBER OF CANS TO COLLECT?
There is a no minimum number of cans to collect. It usually takes at least 350 canned goods to
create a small structure. Previous winners used 500 - 1000 cans. A list of food needs will be
available at www.wku.edu/alive/meanginful-service/canstruct.php.
WHO GETS THE CANNED GOODS?
The canned goods will be donated to local food pantries: HOTEL INC and The Food Abides WKU Food Pantry. Additional food pantries may be included.
HOW DO I PARTICIPATE?
Complete this participation form and email it to [email protected] by April 1, 2015.
AWARDS CATEGORIES
 Juror's (Judges) Favorite
 Structural Ingenuity
 Best Use of Labels
 People's Choice
 Honorable Mention
 Best Overall
 Most Cans Collected
JUDGING WILL BE BASED ON:
 First impression
 Attention to detail/label usage
 Design and structural ingenuity
 Ingredients (ability to utilize food from the food pantry list of needs)
 Food access reflection (2-4 questions provided on the day of the event)
Build Out Rules and Regulations 2015
Unloading: Groups may begin unloading food at 11:30am.
Building times: Teams can begin building at 12:00pm in their designated area the event
location. The building must be complete by 2:00pm. Judging may begin before 2:00pm if group
is finished. Winners will be announced at the conclusion of the judging.
Size of Structure - Maximum size for a structure is 10ft L x 10ft W x 10ft H.
Size of Build Team – Team must have no more than 10 members.
Build Time - Maximum build time is 2 hours. No build out should exceed that time.
Props – Try to solve all design problems with food items. Props, boxes and bagged food are
may be used in limited quantities to support your theme. Judges usually prefer pure food
structures.
TYPES OF CANS
Non-Permissible Items:
 NO glass containers, alcoholic beverages or soda
 NO junk food or pet food
 NO opened, exposed or expired food.
 NO covered, stripped off or altered labels. Cans must be full, unopened, and with
labels intact and legible.
Permissible Items:
Nutritional canned food of all sizes may be used. Please make every effort to use food listed on
the food list provided from the benefiting food pantries.
TYPES OF STRUCTURAL SUPPORT
Non-Permissible Items:
Structures MUST be structurally self-supporting:
 NO 2x4 boards
 NO leveling boards greater than 1/4" thick
 NO sheet metal
 NO permanent adhesives
Permissible Items:
 Clear and double-faced tape
 Velcro, magnets
 High-tension rubber bands, nylon string, wire, tie-backs, zip ties
 Tubes, wooden and threaded rods used for alignment
 One-quarter inch thick materials- for the purpose of leveling materials and not as load
bearing. Below are suggestions ranging from lightest to toughest
 cardboard
 foam-core
 Masonite
 MDF
 plywood
 Plexiglas
WKU'S CANSTRUCTION® CANstruct for a Cause
Name of organization: ___________________________________________________________
Primary contact person: _________________________________________________________
Email: ________________________________________ Cell Phone: ___________________
Number of Team Members (Max 10) _________________
Description of structure: __________________________________________________
Signature: ___________________________________ Date: _______________
**ALL PARTICIPATION FORMS SHOULD BE COMPLETED AND TURNED IN NO
LATER THAN APRIL 1, 2015. Email the form to [email protected]
By completing this form, you acknowledge that you will adhere to the guidelines for
Canstruction®. Thank you for your participation.