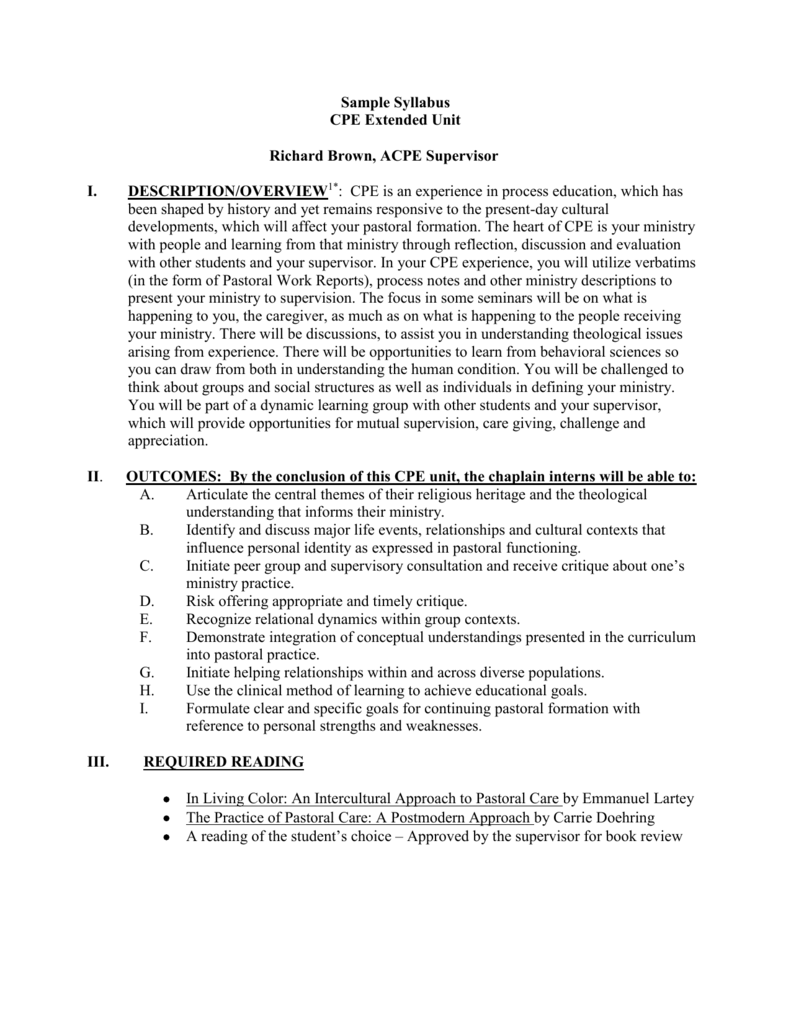 Sample Syllabus
CPE Extended Unit
Richard Brown, ACPE Supervisor
I.
DESCRIPTION/OVERVIEW1*: CPE is an experience in process education, which has
been shaped by history and yet remains responsive to the present-day cultural
developments, which will affect your pastoral formation. The heart of CPE is your ministry
with people and learning from that ministry through reflection, discussion and evaluation
with other students and your supervisor. In your CPE experience, you will utilize verbatims
(in the form of Pastoral Work Reports), process notes and other ministry descriptions to
present your ministry to supervision. The focus in some seminars will be on what is
happening to you, the caregiver, as much as on what is happening to the people receiving
your ministry. There will be discussions, to assist you in understanding theological issues
arising from experience. There will be opportunities to learn from behavioral sciences so
you can draw from both in understanding the human condition. You will be challenged to
think about groups and social structures as well as individuals in defining your ministry.
You will be part of a dynamic learning group with other students and your supervisor,
which will provide opportunities for mutual supervision, care giving, challenge and
appreciation.
II.
OUTCOMES: By the conclusion of this CPE unit, the chaplain interns will be able to:
A.
Articulate the central themes of their religious heritage and the theological
understanding that informs their ministry.
B.
Identify and discuss major life events, relationships and cultural contexts that
influence personal identity as expressed in pastoral functioning.
C.
Initiate peer group and supervisory consultation and receive critique about one's
ministry practice.
D.
Risk offering appropriate and timely critique.
E.
Recognize relational dynamics within group contexts.
F.
Demonstrate integration of conceptual understandings presented in the curriculum
into pastoral practice.
G.
Initiate helping relationships within and across diverse populations.
H.
Use the clinical method of learning to achieve educational goals.
I.
Formulate clear and specific goals for continuing pastoral formation with
reference to personal strengths and weaknesses.
III.
REQUIRED READING



In Living Color: An Intercultural Approach to Pastoral Care by Emmanuel Lartey
The Practice of Pastoral Care: A Postmodern Approach by Carrie Doehring
A reading of the student's choice – Approved by the supervisor for book review
IV.
INDIVIDUAL AND GROUP SUPERVISION REQUIREMENTS: A minimum of
100 hours of supervision
A.
Morning Report (On clinical day and end of call shift)
B.
Individual supervision (Students schedule with supervisor)
C.
Pastoral Work Seminars (Per curriculum)
D.
Interpersonal Relations
E.
Didactic Seminars (Per curriculum)
F.
Conjoint visits with supervisor (2 per unit – 1st before 10/15, 2nd before 11/2)
V.
WRITTEN REQUIREMENTS:
A.
Pastoral Work Reports due at time of PWS presentation
(Refer to curriculum schedule).
B.
Process Notes due 3:30pm the day before Individual Supervision.
C.
Learning contract (May be modified at mid-unit)
D.
Book report, 2 pages, on your chosen text, presented as a PWS
E.
Mid-Unit Level I Student Self-Evaluation
F.
Final Student Self-Evaluation is due on December 10, 2014.
G.
Monthly statistical report of your pastoral visits to the Director of
Chaplaincy Services.
VI.
CLINICAL PASTORAL/SPIRITUAL: A minimum of 300 hours of clinical
pastoral/spiritual care
A.
Provide pastoral care daily 70 – 80% of your time. Report to assigned
medical service units when not in curriculum.
B.
Weekly overnight (one Friday or Saturday per month).
C.
Attendance at interdisciplinary meetings or discharge rounds in
consultation with immediate CPE supervisor.
VII.
EVALUATION
Supervisors Final Evaluation will be discussed and an original signed copied of
the evaluation will be given to each student within 45 days of the conclusion of
the unit.