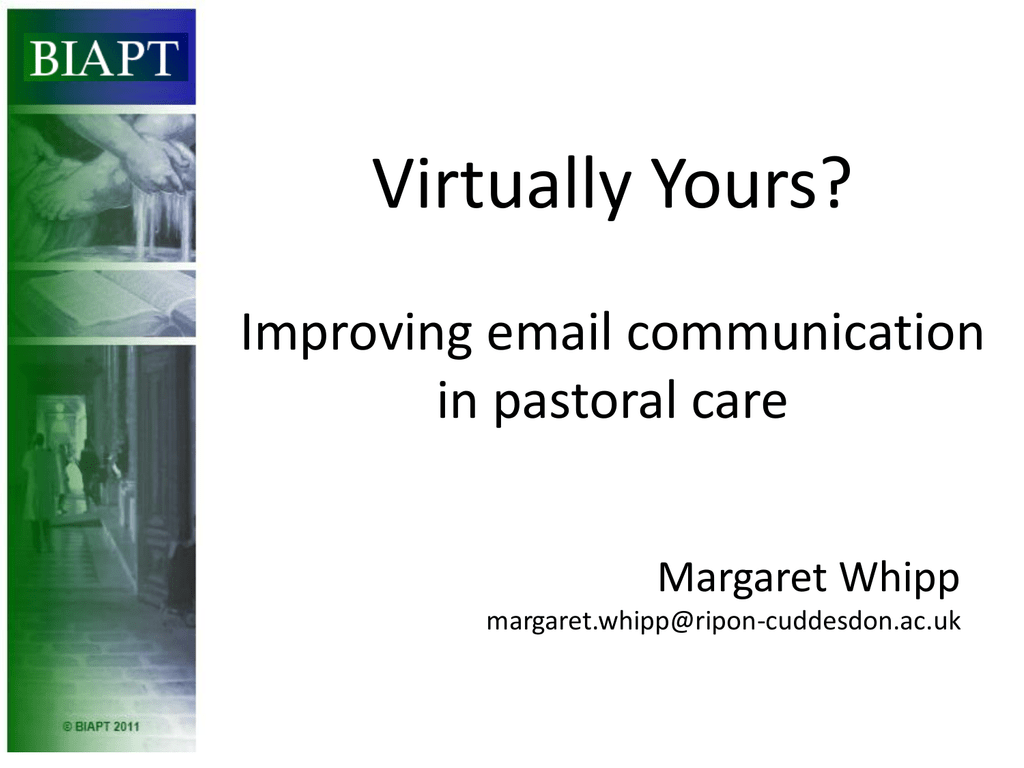 Virtually Yours?
Improving email communication
in pastoral care
Margaret Whipp
[email protected]
"Technology has become the
architect of our intimacies"
Sherry Turkle
Small scale research
Aims
• Improving email communication
• Themes and virtues for reflective practice
Methods
•
•
•
•
•
Literature search
Interviews
Focus groups
Email survey
Observing good practice
Virtual Pastors
• Emerging patterns of missional
communication are widely promoted
and researched
• Email is widely used in pastoral
contexts, but under-researched
• Available guidelines are defensive,
relating to safe practice
• Wider lessons may be drawn from
similar professional groups
Connectivity
and its discontents
Email is a powerful and seductive tool
It is too easy to
succumb to the
fascination of
technology, to deify it;
humanity too easily
finds itself in the
service of new gods.
J-N Bazin and J Cottin
Critical threads
• Seeking words of wisdom
• Digital culture
• Email composition
• Pastoral challenges
Critical threads:
digital culture
•
•
•
•
•
Accessibility
Screen and body languages
Asynchronicity
Privacy
Any medium has the
Permanent record
power of imposing its
own assumptions on
the unwary.
Marshall McLuhan
Critical threads:
email composition
•
•
•
•
•
•
•
Length and brevity
Terms of address
Format and tone
Clarity
Informal language
Ending
Copying and forwarding
Critical threads:
pastoral challenges
•
•
•
•
•
•
•
•
Stewardship of time
Choice of medium
Email accounts
Digital divides
Managing conflict
Deliberation
Expectations of reply
Safe practice
Digital virtues
Classic virtues
Ingredients of care 1
Digital virtues
Prudence
Knowing
Media sense
Temperance
Alternating rhythms
Sustained attention
Fortitude
Courage
Respect for boundaries
Justice
Honesty
Congruence in role
Faith
Trust; patience
Prayerful focus
Hope
Hope
Creative depth
Charity
Humility
Consistent courtesy
1
Mayeroff, Milton. 1990. On Caring.
Gracefully yours...
• Humane conversation
• Hospitable conversation
• Holy conversation
Inasmuch as you did
it to the least of these
emails.....
Core bibliography
Bazin, Jean-Nicolas, and Jérôme Cottin. 2004. Virtual
Christianity: Potential and challenge for the churches.
Geneva: World Council of Churches.
Howe, Mark. 2007. Online Church? First steps towards
virtual incarnation. Cambridge: Grove Books.
Mayeroff, Milton. 1990. On Caring. New York:
HarperCollins. Original edition, 1971.
Pickell, Travis. 2010. 'Thou Hast Given Me a Body':
Theological anthropology and the virtual church.
Princeton Theological Review (Fall 2010):67-79.
Turkle, Sherry. 2011. Alone Together: Why we expect
more from technology and less from each other. New
York: Basic Books.