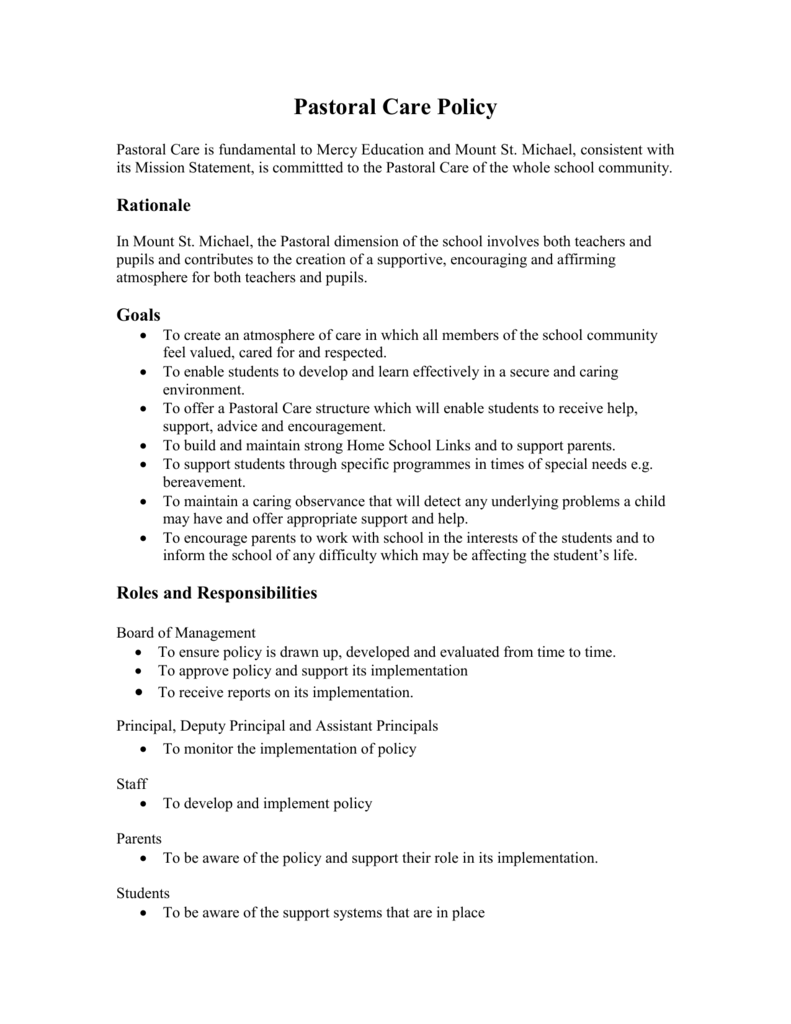 Pastoral Care Policy
Pastoral Care is fundamental to Mercy Education and Mount St. Michael, consistent with
its Mission Statement, is committted to the Pastoral Care of the whole school community.
Rationale
In Mount St. Michael, the Pastoral dimension of the school involves both teachers and
pupils and contributes to the creation of a supportive, encouraging and affirming
atmosphere for both teachers and pupils.
Goals







To create an atmosphere of care in which all members of the school community
feel valued, cared for and respected.
To enable students to develop and learn effectively in a secure and caring
environment.
To offer a Pastoral Care structure which will enable students to receive help,
support, advice and encouragement.
To build and maintain strong Home School Links and to support parents.
To support students through specific programmes in times of special needs e.g.
bereavement.
To maintain a caring observance that will detect any underlying problems a child
may have and offer appropriate support and help.
To encourage parents to work with school in the interests of the students and to
inform the school of any difficulty which may be affecting the student's life.
Roles and Responsibilities
Board of Management
 To ensure policy is drawn up, developed and evaluated from time to time.
 To approve policy and support its implementation
 To receive reports on its implementation.
Principal, Deputy Principal and Assistant Principals
 To monitor the implementation of policy
Staff

To develop and implement policy
Parents
 To be aware of the policy and support their role in its implementation.
Students
 To be aware of the support systems that are in place

To participate fully in all aspects of school life
Content
Pastoral Care Structure
Pastoral Care involves the Principal, Deputy Principal, Year Heads, Class Tutors,
Leaving Cert., Prefects, Student Council, Class Prefects, Career Guidance, Pastoral Care
Personnel, Chaplain, Remedial teacher and S.P.H.E./S.A.P.P. teachers.
The Pastoral Care Structure for students consists of a Leaving Cert. Prefect, a Class Tutor
and a Year Head.
Students
An Induction Day for first years is held in September.
Appropriate care and attention is given to new students who enrol in the middle of the
school year.
Students with special needs follow individualised timetables catering for their specific
needs.
Students who experience difficulties in their personal lives are offered confidential and
sensitive care and support.
Students at risk for any reason, are referred to outside agencies if the necessary
appropriate support is not available in the school.
Every effort is made to cater for students with physical disability.
The school works closely with the Health Board in relation to students/families at risk.
Staff
Induction/care of newcomers to staff is a priority.
Teachers are encouraged to pursue training in pastoral care programmes e.g. the
'Substance Abuse Prevention Programme' and the Social, Personal and Health
Programme'.
Staff Development Days are held each year.
Home-School Links
The Parents' Association provides an opportunity for developing strong links with the
parent body.
Families-in-need receive assistance from the school in relation to books, uniforms and
finance.
The school endeavours to strengthen home/school links.
Performance Criteria
The Pastoral Care Policy will be deemed to be effective if
 Pastoral Care is high on the agenda of each staff member.
 Students are happy and fulfilled and feel safe and secure.
 Students and staff work and live in an atmosphere free from bullying or
harassment.

Students develop spiritually, morally and socially.