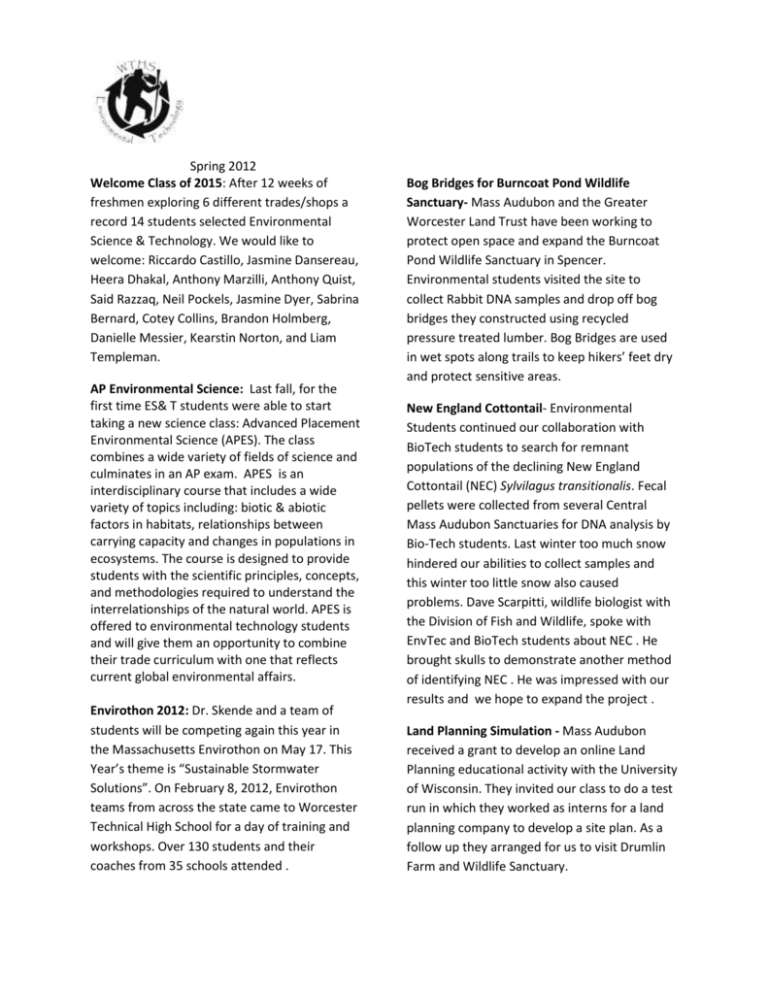 Spring 2012
Welcome Class of 2015: After 12 weeks of
freshmen exploring 6 different trades/shops a
record 14 students selected Environmental
Science & Technology. We would like to
welcome: Riccardo Castillo, Jasmine Dansereau,
Heera Dhakal, Anthony Marzilli, Anthony Quist,
Said Razzaq, Neil Pockels, Jasmine Dyer, Sabrina
Bernard, Cotey Collins, Brandon Holmberg,
Danielle Messier, Kearstin Norton, and Liam
Templeman.
AP Environmental Science: Last fall, for the
first time ES& T students were able to start
taking a new science class: Advanced Placement
Environmental Science (APES). The class
combines a wide variety of fields of science and
culminates in an AP exam. APES is an
interdisciplinary course that includes a wide
variety of topics including: biotic & abiotic
factors in habitats, relationships between
carrying capacity and changes in populations in
ecosystems. The course is designed to provide
students with the scientific principles, concepts,
and methodologies required to understand the
interrelationships of the natural world. APES is
offered to environmental technology students
and will give them an opportunity to combine
their trade curriculum with one that reflects
current global environmental affairs.
Envirothon 2012: Dr. Skende and a team of
students will be competing again this year in
the Massachusetts Envirothon on May 17. This
Year's theme is "Sustainable Stormwater
Solutions". On February 8, 2012, Envirothon
teams from across the state came to Worcester
Technical High School for a day of training and
workshops. Over 130 students and their
coaches from 35 schools attended .
Bog Bridges for Burncoat Pond Wildlife
Sanctuary- Mass Audubon and the Greater
Worcester Land Trust have been working to
protect open space and expand the Burncoat
Pond Wildlife Sanctuary in Spencer.
Environmental students visited the site to
collect Rabbit DNA samples and drop off bog
bridges they constructed using recycled
pressure treated lumber. Bog Bridges are used
in wet spots along trails to keep hikers' feet dry
and protect sensitive areas.
New England Cottontail- Environmental
Students continued our collaboration with
BioTech students to search for remnant
populations of the declining New England
Cottontail (NEC) Sylvilagus transitionalis. Fecal
pellets were collected from several Central
Mass Audubon Sanctuaries for DNA analysis by
Bio-Tech students. Last winter too much snow
hindered our abilities to collect samples and
this winter too little snow also caused
problems. Dave Scarpitti, wildlife biologist with
the Division of Fish and Wildlife, spoke with
EnvTec and BioTech students about NEC . He
brought skulls to demonstrate another method
of identifying NEC . He was impressed with our
results and we hope to expand the project .
Land Planning Simulation - Mass Audubon
received a grant to develop an online Land
Planning educational activity with the University
of Wisconsin. They invited our class to do a test
run in which they worked as interns for a land
planning company to develop a site plan. As a
follow up they arranged for us to visit Drumlin
Farm and Wildlife Sanctuary.
Spring 2012
Channel 11 Educational Cable Access- Watch for our environmental students in a number of recent
productions including: Wood Duck Boxes, New England Cottontails, Blazis Safaris & Envirothon Training
at WTHS not to mention the school production of Romeo & Juliet.
New England Water Works Association Spring Expo & Conference - The Mass Water Works Association
arranged for 16 of our students to attend the 2012 Water Works trade show at the DCU center on April
4, 2012 to learn about careers working with water. www.newwa.org/events/springexhibition.htm
Up coming:
Arbor Day Celebration at Greenhill Park: The Worcester Garden Club, recipient of a $25,000 grant to
plant ALB resistant trees in Worcester has invited us to participate in an Arbor Day Ceremony in
Greenhill Park on Friday April 27, 2012 at 11 am. Join us
Class of 2012: We will soon say goodbye to our outstanding class of 2012. Goodbye to: Brianna Balise,
Sam Bottis, Kristen Healy, Kyle Latino, Sharon-Lee McGann, Eduardo Morales, Phong Tran and Ariana
Yates. Several of them had key roles in this year's school play including: Kyle, Sharon, Brianna and Ariana
who starred as Juliet. Kyle and Ariana also did an internship with Mass Audubon at Broad Meadow
Brook. Eduardo Morales did an internship with Worcester Parks Department at Elm Park. Good luck to
all of you as you go on to college and careers protecting the environment. You will be missed.