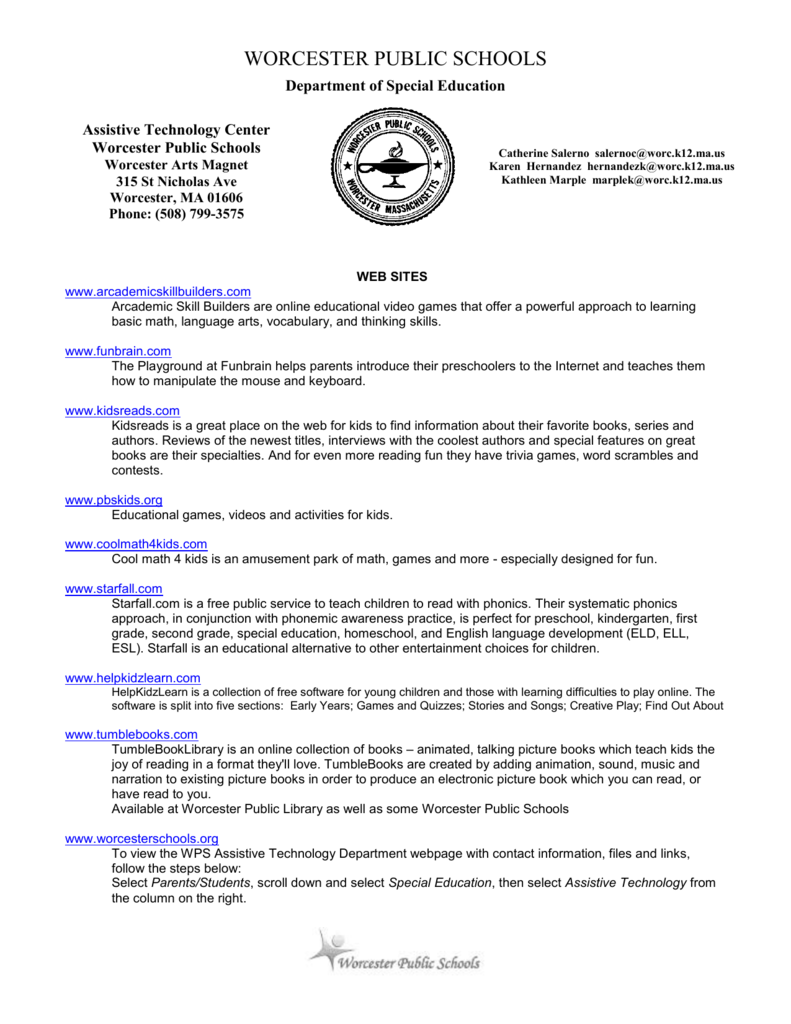 WORCESTER PUBLIC SCHOOLS
Department of Special Education
Assistive Technology Center
Worcester Public Schools
Worcester Arts Magnet
315 St Nicholas Ave
Worcester, MA 01606
Phone: (508) 799-3575
Catherine Salerno [email protected]
Karen Hernandez [email protected]
Kathleen Marple [email protected]
WEB SITES
www.arcademicskillbuilders.com
Arcademic Skill Builders are online educational video games that offer a powerful approach to learning
basic math, language arts, vocabulary, and thinking skills.
www.funbrain.com
The Playground at Funbrain helps parents introduce their preschoolers to the Internet and teaches them
how to manipulate the mouse and keyboard.
www.kidsreads.com
Kidsreads is a great place on the web for kids to find information about their favorite books, series and
authors. Reviews of the newest titles, interviews with the coolest authors and special features on great
books are their specialties. And for even more reading fun they have trivia games, word scrambles and
contests.
www.pbskids.org
Educational games, videos and activities for kids.
www.coolmath4kids.com
Cool math 4 kids is an amusement park of math, games and more - especially designed for fun.
www.starfall.com
Starfall.com is a free public service to teach children to read with phonics. Their systematic phonics
approach, in conjunction with phonemic awareness practice, is perfect for preschool, kindergarten, first
grade, second grade, special education, homeschool, and English language development (ELD, ELL,
ESL). Starfall is an educational alternative to other entertainment choices for children.
www.helpkidzlearn.com
HelpKidzLearn is a collection of free software for young children and those with learning difficulties to play online. The
software is split into five sections: Early Years; Games and Quizzes; Stories and Songs; Creative Play; Find Out About
www.tumblebooks.com
TumbleBookLibrary is an online collection of books – animated, talking picture books which teach kids the
joy of reading in a format they'll love. TumbleBooks are created by adding animation, sound, music and
narration to existing picture books in order to produce an electronic picture book which you can read, or
have read to you.
Available at Worcester Public Library as well as some Worcester Public Schools
www.worcesterschools.org
To view the WPS Assistive Technology Department webpage with contact information, files and links,
follow the steps below:
Select Parents/Students, scroll down and select Special Education, then select Assistive Technology from
the column on the right.