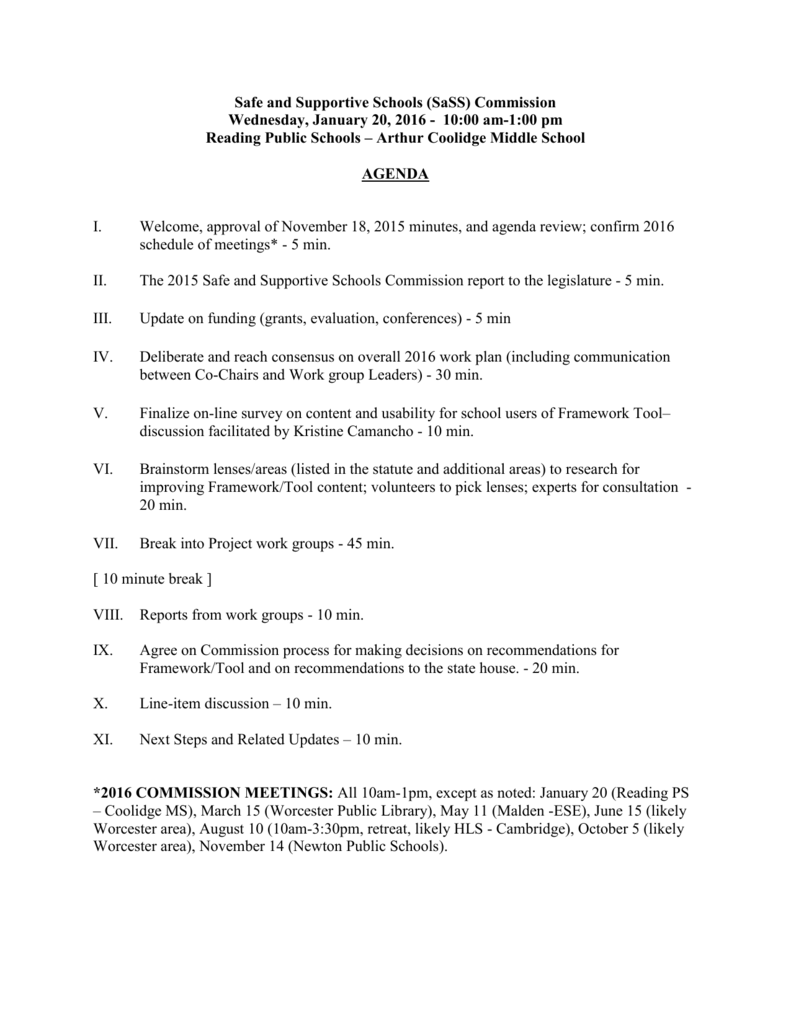 Safe and Supportive Schools (SaSS) Commission
Wednesday, January 20, 2016 - 10:00 am-1:00 pm
Reading Public Schools – Arthur Coolidge Middle School
AGENDA
I.
Welcome, approval of November 18, 2015 minutes, and agenda review; confirm 2016
schedule of meetings* - 5 min.
II.
The 2015 Safe and Supportive Schools Commission report to the legislature - 5 min.
III.
Update on funding (grants, evaluation, conferences) - 5 min
IV.
Deliberate and reach consensus on overall 2016 work plan (including communication
between Co-Chairs and Work group Leaders) - 30 min.
V.
Finalize on-line survey on content and usability for school users of Framework Tool–
discussion facilitated by Kristine Camancho - 10 min.
VI.
Brainstorm lenses/areas (listed in the statute and additional areas) to research for
improving Framework/Tool content; volunteers to pick lenses; experts for consultation 20 min.
VII.
Break into Project work groups - 45 min.
[ 10 minute break ]
VIII.
Reports from work groups - 10 min.
IX.
Agree on Commission process for making decisions on recommendations for
Framework/Tool and on recommendations to the state house. - 20 min.
X.
Line-item discussion – 10 min.
XI.
Next Steps and Related Updates – 10 min.
*2016 COMMISSION MEETINGS: All 10am-1pm, except as noted: January 20 (Reading PS
– Coolidge MS), March 15 (Worcester Public Library), May 11 (Malden -ESE), June 15 (likely
Worcester area), August 10 (10am-3:30pm, retreat, likely HLS - Cambridge), October 5 (likely
Worcester area), November 14 (Newton Public Schools).