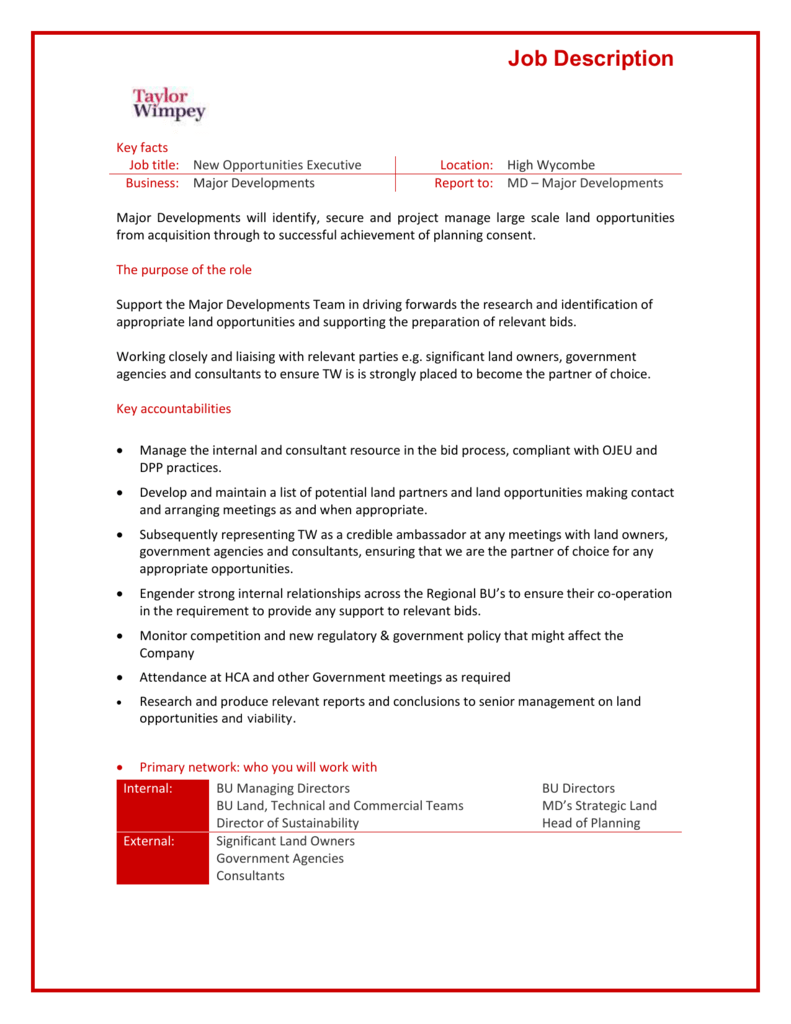 Job Description
Key facts
Job title: New Opportunities Executive
Business: Major Developments
Location: High Wycombe
Report to: MD – Major Developments
Major Developments will identify, secure and project manage large scale land opportunities
from acquisition through to successful achievement of planning consent.
The purpose of the role
Support the Major Developments Team in driving forwards the research and identification of
appropriate land opportunities and supporting the preparation of relevant bids.
Working closely and liaising with relevant parties e.g. significant land owners, government
agencies and consultants to ensure TW is is strongly placed to become the partner of choice.
Key accountabilities

Manage the internal and consultant resource in the bid process, compliant with OJEU and
DPP practices.

Develop and maintain a list of potential land partners and land opportunities making contact
and arranging meetings as and when appropriate.

Subsequently representing TW as a credible ambassador at any meetings with land owners,
government agencies and consultants, ensuring that we are the partner of choice for any
appropriate opportunities.

Engender strong internal relationships across the Regional BU's to ensure their co-operation
in the requirement to provide any support to relevant bids.

Monitor competition and new regulatory & government policy that might affect the
Company

Attendance at HCA and other Government meetings as required

Research and produce relevant reports and conclusions to senior management on land
opportunities and viability.

Primary network: who you will work with
Internal:
BU Managing Directors
BU Land, Technical and Commercial Teams
Director of Sustainability
External:
Significant Land Owners
Government Agencies
Consultants
BU Directors
MD's Strategic Land
Head of Planning
Job Description
Key competencies
Focus on the future – delivering the operational requirements of the team through well
supported business cases on new initiatives
Be Planned and Organised – Work smartly, efficiently and manages their time well. Work in a
structured way.
Focus on Solutions – Clear organisational barriers to allow others to drive results. Use collective
problem solving with teams. Focus the team on developing customer focused solutions.
Develop Relationships – Build positive and trusted relationships. Encourage and take feedback
seriously modifying behaviour as a result. Develop sustainable and robust relationships.
Have professional impact – Maintain a consistent positive impact with others. Communicate
well checking for others understanding. Manage your own reactions under pressure.
Open to change – Engage others in changes in their work. Demonstrate flexibility when needed.
Collaborate – Develop and support collaborative team working. Have effective networks both in
and outside of TW. Encourage knowledge and skills sharing across the business.
Key experience





Strong knowledge of land and development process
Broader understanding of environmental and sustainability issues facing major new
settlements
Strong networker and credible ambassador for TW
Good standard of literacy, financial acumen and analytical skills
Experience in a business development role
If you would like to be considered for this role then please send your CV to Lee Bishop,
Managing Director ([email protected]) by 17 April 2015.