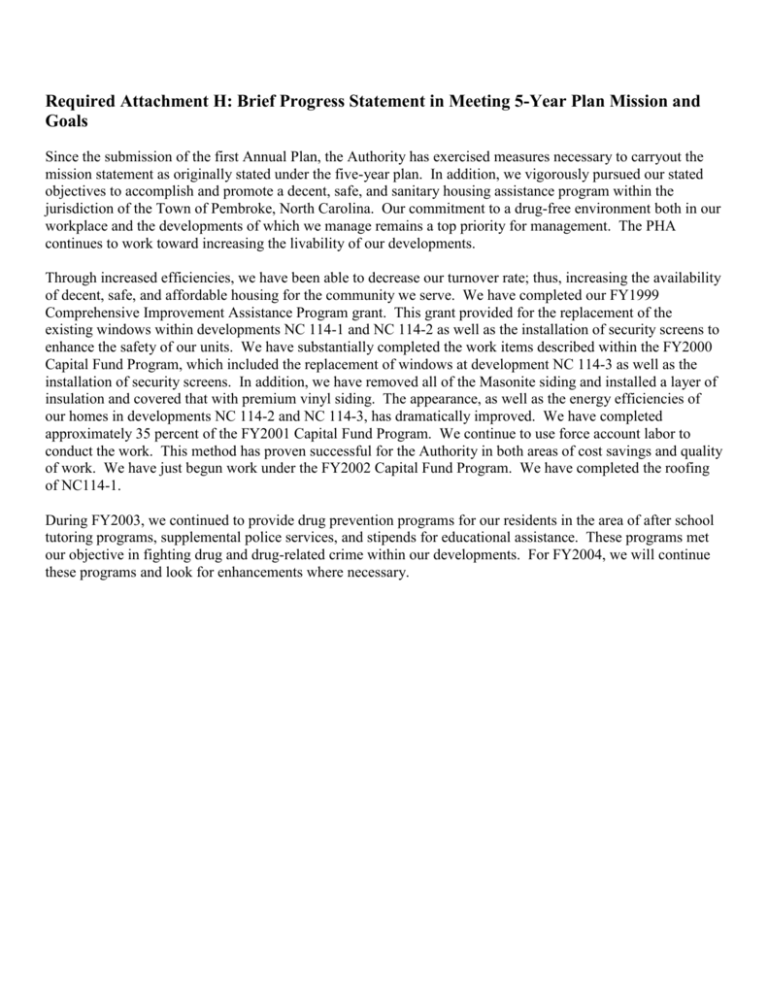 Required Attachment H: Brief Progress Statement in Meeting 5-Year Plan Mission and
Goals
Since the submission of the first Annual Plan, the Authority has exercised measures necessary to carryout the
mission statement as originally stated under the five-year plan. In addition, we vigorously pursued our stated
objectives to accomplish and promote a decent, safe, and sanitary housing assistance program within the
jurisdiction of the Town of Pembroke, North Carolina. Our commitment to a drug-free environment both in our
workplace and the developments of which we manage remains a top priority for management. The PHA
continues to work toward increasing the livability of our developments.
Through increased efficiencies, we have been able to decrease our turnover rate; thus, increasing the availability
of decent, safe, and affordable housing for the community we serve. We have completed our FY1999
Comprehensive Improvement Assistance Program grant. This grant provided for the replacement of the
existing windows within developments NC 114-1 and NC 114-2 as well as the installation of security screens to
enhance the safety of our units. We have substantially completed the work items described within the FY2000
Capital Fund Program, which included the replacement of windows at development NC 114-3 as well as the
installation of security screens. In addition, we have removed all of the Masonite siding and installed a layer of
insulation and covered that with premium vinyl siding. The appearance, as well as the energy efficiencies of
our homes in developments NC 114-2 and NC 114-3, has dramatically improved. We have completed
approximately 35 percent of the FY2001 Capital Fund Program. We continue to use force account labor to
conduct the work. This method has proven successful for the Authority in both areas of cost savings and quality
of work. We have just begun work under the FY2002 Capital Fund Program. We have completed the roofing
of NC114-1.
During FY2003, we continued to provide drug prevention programs for our residents in the area of after school
tutoring programs, supplemental police services, and stipends for educational assistance. These programs met
our objective in fighting drug and drug-related crime within our developments. For FY2004, we will continue
these programs and look for enhancements where necessary.