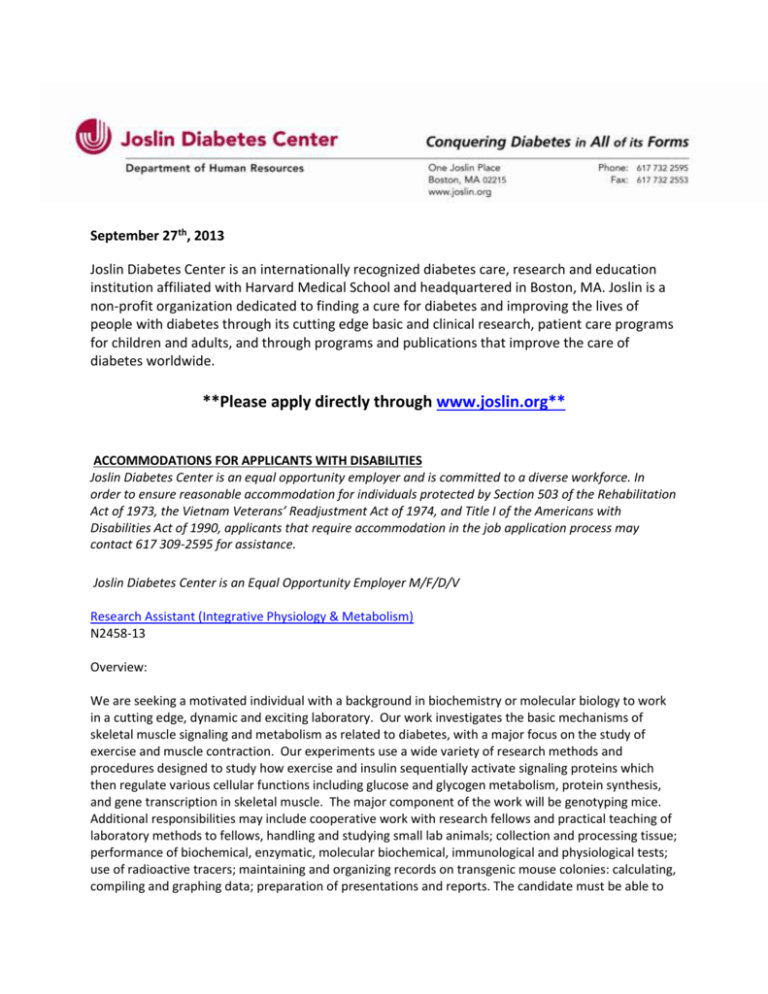 September 27th, 2013
Joslin Diabetes Center is an internationally recognized diabetes care, research and education
institution affiliated with Harvard Medical School and headquartered in Boston, MA. Joslin is a
non-profit organization dedicated to finding a cure for diabetes and improving the lives of
people with diabetes through its cutting edge basic and clinical research, patient care programs
for children and adults, and through programs and publications that improve the care of
diabetes worldwide.
**Please apply directly through www.joslin.org**
ACCOMMODATIONS FOR APPLICANTS WITH DISABILITIES
Joslin Diabetes Center is an equal opportunity employer and is committed to a diverse workforce. In
order to ensure reasonable accommodation for individuals protected by Section 503 of the Rehabilitation
Act of 1973, the Vietnam Veterans' Readjustment Act of 1974, and Title I of the Americans with
Disabilities Act of 1990, applicants that require accommodation in the job application process may
contact 617 309-2595 for assistance.
Joslin Diabetes Center is an Equal Opportunity Employer M/F/D/V
Research Assistant (Integrative Physiology & Metabolism)
N2458-13
Overview:
We are seeking a motivated individual with a background in biochemistry or molecular biology to work
in a cutting edge, dynamic and exciting laboratory. Our work investigates the basic mechanisms of
skeletal muscle signaling and metabolism as related to diabetes, with a major focus on the study of
exercise and muscle contraction. Our experiments use a wide variety of research methods and
procedures designed to study how exercise and insulin sequentially activate signaling proteins which
then regulate various cellular functions including glucose and glycogen metabolism, protein synthesis,
and gene transcription in skeletal muscle. The major component of the work will be genotyping mice.
Additional responsibilities may include cooperative work with research fellows and practical teaching of
laboratory methods to fellows, handling and studying small lab animals; collection and processing tissue;
performance of biochemical, enzymatic, molecular biochemical, immunological and physiological tests;
use of radioactive tracers; maintaining and organizing records on transgenic mouse colonies: calculating,
compiling and graphing data; preparation of presentations and reports. The candidate must be able to
work effectively with the other members of the laboratory group and participate as an integral member
of the research team.
Qualifications:
-
B.S. in Biochemistry, Chemistry or Biological Sciences
Minimum 1 year of demonstrated practical experience with relevant laboratory methods
Centralized Appointment Scheduler
R2455
Overview:
The Centralized Appointment Scheduler is responsible for functions associated with initial patient access
to clinic. Hours are Monday - Friday, from 9:00 am - 5:30 pm.
Qualifications:
-
Accredited business school or certificate program.
2 years experience in a medical office setting.
Knowledge of personal computer and automated registration/scheduling systems.
Knowledge of managed care and insurance requirements.
Demonstrated ability to learn new tasks and procedures, e.g. clinical programs offered at Joslin
and advanced automated telephone systems.
Strong ability to multi-task while also maintaining professional demeanor.
Demonstrated skills include exceptional customer service, team building and problem solving.
Must be knowledgeable about referral requirements.
Requires exceptional flexibility to adjust to fluctuating call volumes.
Must have high professionalism and the highest standards of customer service to interact with
patients and all levels of staff within the Clinic.
Medical Assistant (Ophthalmology)
Overview:
The Medical Assistant supports the practice of ophthalmology in the Beetham Eye Unit by participating
in the delivery of direct patient care and related administrative activities. Hours are Monday - Friday,
from 9:00 am - 5:30 pm.
Qualifications:
-
Medical Assistant training required; accredited training preferred
1+ years of direct patient care
Experience in an ophthalmologic setting preferred.
Experience and demonstrated proficiency with phlebotomy and IV line placement including use
of heparin lock and butterfly.
Working knowledge of the anatomy of the vein to ensure appropriate placement of IV line.
Study Coordinator (Immunobiology)
N2447-13
Overview:
The Study Coordinator (Immunobiology) provides patient management, clinical, regulatory and
administrative support for clinical research protocols. This position relies on experience and judgment to
plan and accomplish goals, functioning and participating as a member of a Clinical Research Team.
Qualifications:
-
Bachelor's degree in Biology/Chemistry or other related science, public health or related field
(for RNs a BSN is required). Master's degree preferred.
Minimum 1 year experience in clinical research setting.
Experience with computer data entry and word processing.
Demonstrated good organizational and interpersonal skills.
Experience with communicating with IRB and clinical trials regulatory requirements.
Ability to consistently perform detailed work to ensure accuracy in collecting and recording
data.
Ability to speak on a one-to-one basis to engage and recruit patients, and to explain study
protocols and processes.
Ability to prioritize assignments to complete work in a timely manner.
Ability to work independently to coordinate study visits and track and maintain study data on
patients.
Flexible work hours are necessary with occasional weekend coverage.
Executive Assistant (Clinic Administration)
R2451-13
Overview:
The Executive Assistant oversees the smooth and efficient operations of all administrative activities
within the Clinic Administration office suite.
Communicates with a wide array of internal and external constituents for Senior Vice President & Chief
Medical Officer (SVP & CMO), including executives from pharmaceutical, academic and other
environments, VIP patients, physicians seeking referrals, Joslin trustees as well as all levels within Joslin.
This role is also responsible for managing the credentialing process, handling patient
complaints/concerns and functions as patient-liaison for the SVP & CMO patient panel, including patient
scheduling. Also provides administrative support for Vice President, Planning and Advocacy (VP, P &A)
and Vice President, Clinical Operations (VP, CO).
Qualifications:
-
College degree preferred or commensurate experience
Minimum 5 years executive assistant experience
This position requires the utmost professionalism, superior judgment and discretion
Confidentiality and time management are of the utmost importance and the ability to complete
assignments on time and accurately is expected
-
Must be able to execute multiple tasks simultaneously
Must be able to work independently, confidentially and prioritize duties.
Must be willing to accept a wide range of tasks and assignments
Strong business, organizational and administrative skills are essential
Comfortable with technology and computer applications (Excellent key boarding skills, Expert
knowledge in Microsoft Office)
Excellent writing skills
Must be able to interact with Trustees, patients and staff in a professional manner
Senior Systems Analyst (IT)
N2446-13
Overview:
The Senior Systems Analyst will work with internal clients to design, and develop enterprise and
departmental applications and web sites (either purchased or custom built) used by Joslin to support
both internal and external clients. Responsible for coordination of internal resources and efforts of
external vendors to accomplishment project objectives in a timely manner.
Qualifications:
- Bachelor's Degree in Computer Science or equivalent experience.
- Seven to ten years of application development and/or application development management
experience
- Experience with Development and Administrative tools as required: Microsoft - MS SQL Server,
VB.NET, ASP.NET
- Experience with project management
- Experience with Microsoft Office Suite (Microsoft Word, Powerpoint, etc.)
- Skill in database, web page, and report design and implementation.
- Experience with cross-platform development tools (source control, test tools, etc.)
- Ability to evaluate and apply new technologies quickly as required.
- Ability to perform effectively under tight deadlines to ensure updates are processed to meet
corporate needs.
- Ability to communicate on one-to-one basis with outside contractors to ensure efficient
technical administration of applications.
- Ability to analyze and determine solutions to troubleshoot user problems.
Physician Assistant (Renal)
R2394-13
As an integral member of the multidisciplinary healthcare team, the Physician Assistant provides quality,
evidence based renal care, to an adult population. The predominant population is those with diabetic
kidney disease and hypertension.
Using the appropriate processes and employing advanced skills and theory in health assessment, the
Physician Assistant will conduct physical examinations and interprets laboratory and other diagnostic
tools, to develop and implement a plan of care for patients with episodic and chronic healthcare needs.
The Physician Assistant will make independent judgments relative to diagnosis and management,
utilizing physician and other team member consultation where appropriate. Professional growth and
diversity are encouraged including participation in clinic initiatives and other specialty clinics.
There is no weekend coverage or night coverage.
Qualifications:
EDUCATION:
-Graduate of an accredited American Medical Association-approved Physician Assistant training
program. A college degree is required.
EXPERIENCE:
-Minimum of one year experience working as a Physician Assistant. Recent graduates will also be
considered.
-Experience in nephrology and research preferred but not necessary.
LICENSURE/CERTIFICATION:
-NCCPA certified with a current license or eligible for licensure to practice as a Physician Assistant in the
Commonwealth of Massachusetts
-Possess or Eligible for MA Substance Control Registration and DEA number
-Has obtained or is eligible to obtain provider numbers from insurance carriers that currently contract
Physician Assistants (Medicare, Medicaid, Blue Cross/Blue Shield etc.)
Senior Director, Healthcare Services
R2362-13
Reporting to the Senior Vice President of the Strategic Initiatives division, the Senior Director, Strategic
Initiatives will lead and drive profitable growth for Joslin through Healthcare Services activities including:
industry alliances, education programs, and publications in all media forms collaboration; and, across
Joslin with the Office of Commercialization; the Clinic and the Research in each of the Healthcare
Services activity areas.
S/he will be responsible for Healthcare Services business development, P&L, strategy, product
development, operations, and team with a responsibility to reach across the Strategic Initiatives division
and Joslin to develop business in a way that optimizes profitable growth for the institution.
S/he manages internal and external AADI projects, and develops strategic programs and relationships
with community partners.
Qualifications:
Bachelor's degree from top undergraduate program required. Master of Business Administration
preferred. Concentration or coursework in healthcare industry management or related area a plus.
-10-15 years experience in private sector business, with predominant focus on the broader healthcare
industry including pharmaceuticals, payers, disease management, healthcare services, etc. Exposure to
consumer-oriented businesses.
-Ability to work across the organization and create strong team approach to product and business model
development.
-Demonstrated abilities to create and execute strategies and drive growth.
-Strong experience with managing functionally-diverse teams and acting in a leader/mentor role.
-Demonstrated experience in closing deals and projects with partners/clients.
-Substantial exposure to senior management within employer and clients.
-Several years of experience in leading presentations, creating compelling strategies and tactics and
communicating them effectively to clients and partners.
-P&L management experience required.
-Deep analytic and strategic skills. Comfort and confidence with finance and economic issues involved
with P&L management, budgets, ROI analyses, pricing, etc.
-Strong communicator and presentation skills
-Self-starter with ability to balance both high-level strategy setting with more detailed, hands-on
execution.
-Leadership presence.
-Broad base of knowledge within healthcare and ability to think creatively and quickly.
-Ability to work in diverse team environments, create high performing teams and execute high-quality
work.