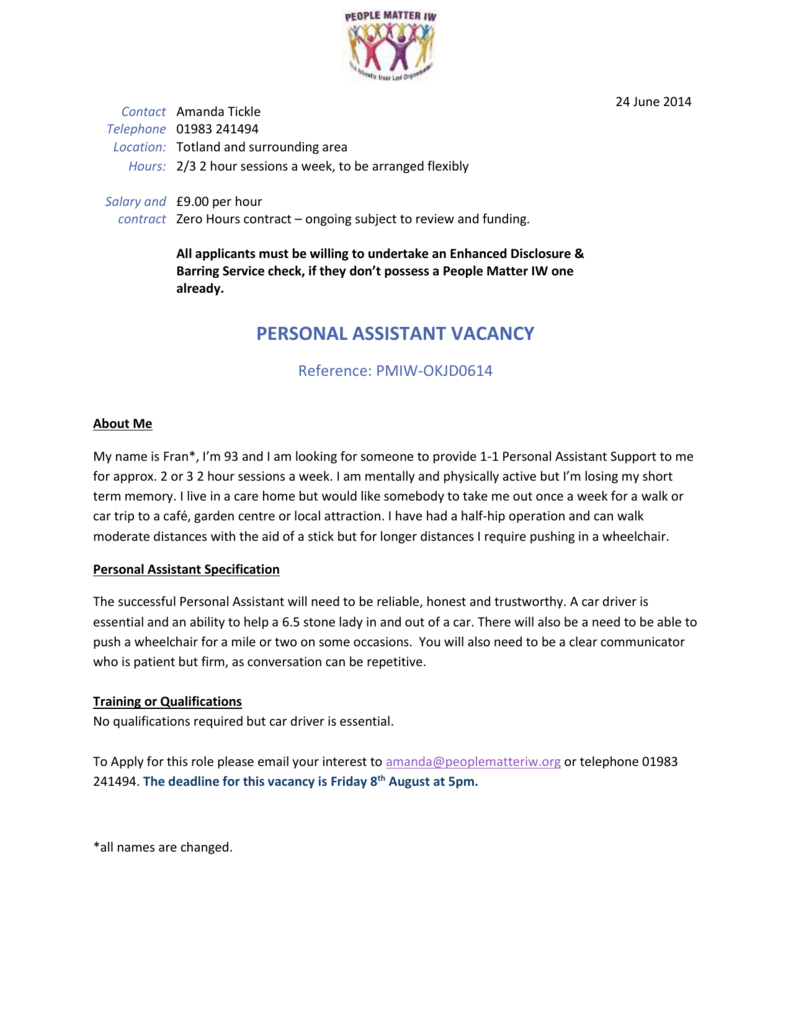 Contact
Telephone
Location:
Hours:
Amanda Tickle
01983 241494
Totland and surrounding area
2/3 2 hour sessions a week, to be arranged flexibly
24 June 2014
Salary and £9.00 per hour
contract Zero Hours contract – ongoing subject to review and funding.
All applicants must be willing to undertake an Enhanced Disclosure &
Barring Service check, if they don't possess a People Matter IW one
already.
PERSONAL ASSISTANT VACANCY
Reference: PMIW-OKJD0614
About Me
My name is Fran*, I'm 93 and I am looking for someone to provide 1-1 Personal Assistant Support to me
for approx. 2 or 3 2 hour sessions a week. I am mentally and physically active but I'm losing my short
term memory. I live in a care home but would like somebody to take me out once a week for a walk or
car trip to a café, garden centre or local attraction. I have had a half-hip operation and can walk
moderate distances with the aid of a stick but for longer distances I require pushing in a wheelchair.
Personal Assistant Specification
The successful Personal Assistant will need to be reliable, honest and trustworthy. A car driver is
essential and an ability to help a 6.5 stone lady in and out of a car. There will also be a need to be able to
push a wheelchair for a mile or two on some occasions. You will also need to be a clear communicator
who is patient but firm, as conversation can be repetitive.
Training or Qualifications
No qualifications required but car driver is essential.
To Apply for this role please email your interest to [email protected] or telephone 01983
241494. The deadline for this vacancy is Friday 8th August at 5pm.
*all names are changed.