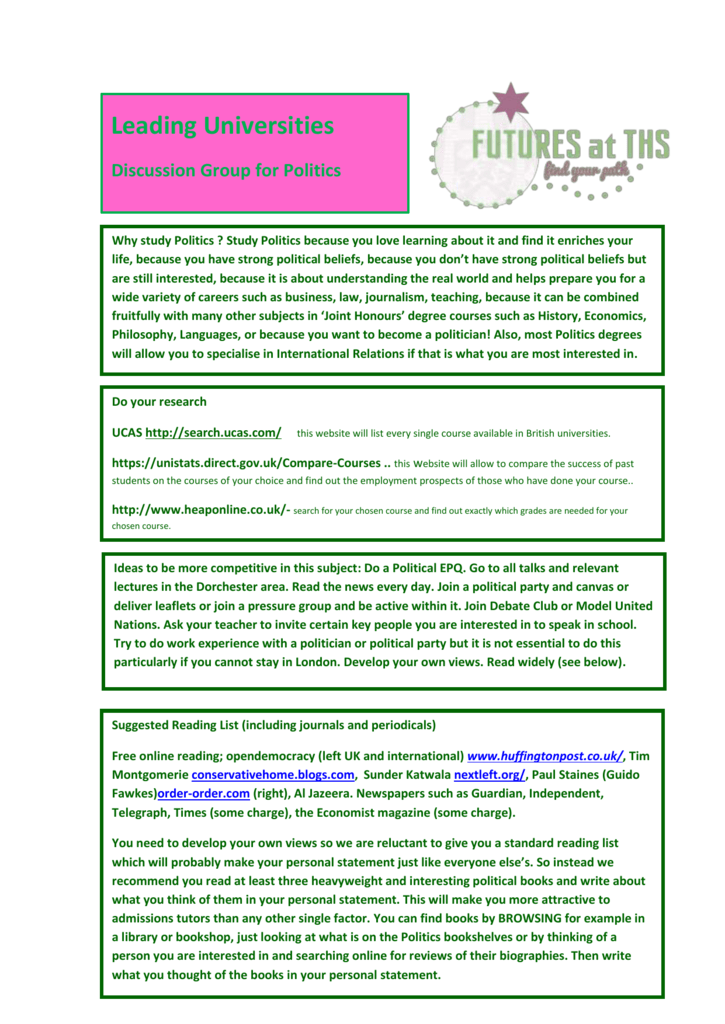 Leading Universities
Discussion Group for Politics
Why study Politics ? Study Politics because you love learning about it and find it enriches your
life, because you have strong political beliefs, because you don't have strong political beliefs but
are still interested, because it is about understanding the real world and helps prepare you for a
wide variety of careers such as business, law, journalism, teaching, because it can be combined
fruitfully with many other subjects in 'Joint Honours' degree courses such as History, Economics,
Philosophy, Languages, or because you want to become a politician! Also, most Politics degrees
will allow you to specialise in International Relations if that is what you are most interested in.
Do your research
UCAS http://search.ucas.com/
this website will list every single course available in British universities.
https://unistats.direct.gov.uk/Compare-Courses .. this website will allow to compare the success of past
students on the courses of your choice and find out the employment prospects of those who have done your course..
http://www.heaponline.co.uk/- search for your chosen course and find out exactly which grades are needed for your
chosen course.
Ideas to be more competitive in this subject: Do a Political EPQ. Go to all talks and relevant
lectures in the Dorchester area. Read the news every day. Join a political party and canvas or
deliver leaflets or join a pressure group and be active within it. Join Debate Club or Model United
Nations. Ask your teacher to invite certain key people you are interested in to speak in school.
Try to do work experience with a politician or political party but it is not essential to do this
particularly if you cannot stay in London. Develop your own views. Read widely (see below).
Suggested Reading List (including journals and periodicals)
Free online reading; opendemocracy (left UK and international) www.huffingtonpost.co.uk/, Tim
Montgomerie conservativehome.blogs.com, Sunder Katwala nextleft.org/, Paul Staines (Guido
Fawkes)order-order.com (right), Al Jazeera. Newspapers such as Guardian, Independent,
Telegraph, Times (some charge), the Economist magazine (some charge).
You need to develop your own views so we are reluctant to give you a standard reading list
which will probably make your personal statement just like everyone else's. So instead we
recommend you read at least three heavyweight and interesting political books and write about
what you think of them in your personal statement. This will make you more attractive to
admissions tutors than any other single factor. You can find books by BROWSING for example in
a library or bookshop, just looking at what is on the Politics bookshelves or by thinking of a
person you are interested in and searching online for reviews of their biographies. Then write
what you thought of the books in your personal statement.