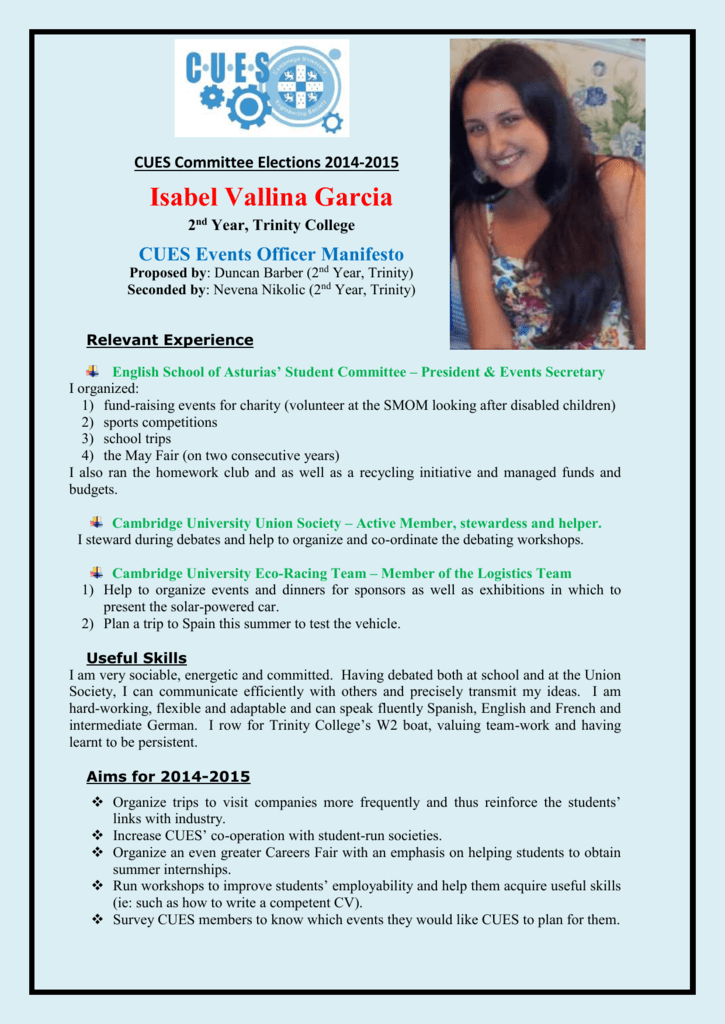 CUES Committee Elections 2014-2015
Isabel Vallina Garcia
2nd Year, Trinity College
CUES Events Officer Manifesto
Proposed by: Duncan Barber (2nd Year, Trinity)
Seconded by: Nevena Nikolic (2nd Year, Trinity)
Relevant Experience
English School of Asturias' Student Committee – President & Events Secretary
I organized:
1) fund-raising events for charity (volunteer at the SMOM looking after disabled children)
2) sports competitions
3) school trips
4) the May Fair (on two consecutive years)
I also ran the homework club and as well as a recycling initiative and managed funds and
budgets.
Cambridge University Union Society – Active Member, stewardess and helper.
I steward during debates and help to organize and co-ordinate the debating workshops.
Cambridge University Eco-Racing Team – Member of the Logistics Team
1) Help to organize events and dinners for sponsors as well as exhibitions in which to
present the solar-powered car.
2) Plan a trip to Spain this summer to test the vehicle.
Useful Skills
I am very sociable, energetic and committed. Having debated both at school and at the Union
Society, I can communicate efficiently with others and precisely transmit my ideas. I am
hard-working, flexible and adaptable and can speak fluently Spanish, English and French and
intermediate German. I row for Trinity College's W2 boat, valuing team-work and having
learnt to be persistent.
Aims for 2014-2015
 Organize trips to visit companies more frequently and thus reinforce the students'
links with industry.
 Increase CUES' co-operation with student-run societies.
 Organize an even greater Careers Fair with an emphasis on helping students to obtain
summer internships.
 Run workshops to improve students' employability and help them acquire useful skills
(ie: such as how to write a competent CV).
 Survey CUES members to know which events they would like CUES to plan for them.