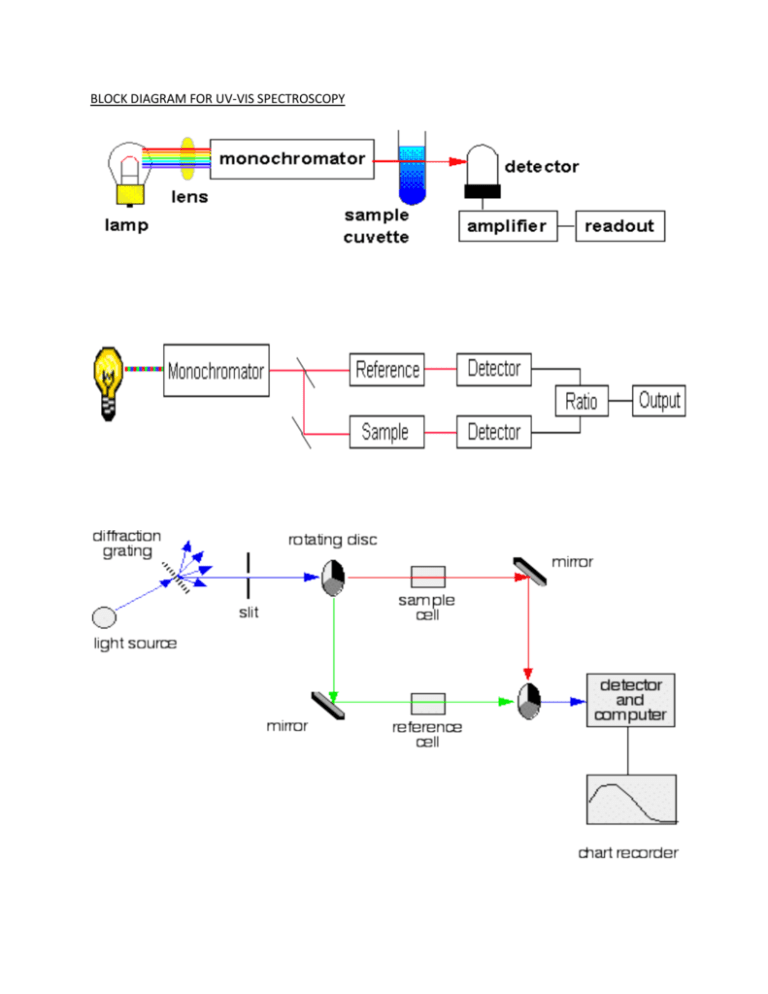 BLOCK DIAGRAM FOR UV-VIS SPECTROSCOPY
VENDORS
1.
2.
3.
4.
5.
6.
7.
8.
9.
10.
Agilent Technologies
Bibby Scientific Ltd.
Biochrom
Buck Scientifc
Cecil Instruments
Hitachi High Technologies America, Inc.
JA SCO
MIDSCI
Shimadzu
Thermo Scientific
RESEARCH ARTICLES
Beweries, Torsten, fischer, Christian, Peitz, Stephan, Burlakov, Vladimir V., Arndt, Perdita, Baumann,
Wolfgang, Spannenberg, Anke, Heller, Detlef, and Rosenthal, Uwe. Combination of
Spectroscopic Methods: In Situ NMR and UV/Vis Measurements To Understand the Formation
of Froup 4 Metallacyclopentanes from Corresponding Metallacyclopropenes. Journal of the
American chemical Society. 2009. 131(12), p. 4463-4469.
ARTICLE 1
Scheiring, Thomas, Fiedler, Jan, and Kaim, Wolfgang. Structure and Spectroelectrochemistry (UV/Vis,
IR, EPR) of the Acceptor-Bridged Heterodinuclear Complex [(η5-C5Me5)ClRh(μbptz)Re(CO)3Cl](PF6), bptz = 3,6-Bis(2-pyridyl)-1,2,4,5-tetrazine. Organometallics. 2001.
20(7), p. 1437-1441.
ARTICLE 2
Pathak, A.K., Mukherjee, T., and Maity, D. K. Quantum chemical Study on UV-Vis Spectra of
Microhydrated Iodine Dimer Radical Anion. The Journal of Physical Chemistry A. 2010. 114(2), p.
721-724.
ARTICLE 3
COMMON USES OF THE UV-VIS
The UV-Vis is commonly used to quantitatively determine difference analytes that stem from
metal ions to organic compounds that are highly conjugated. The UV-Vis is based upon the theory of
excitation and emission of particular atoms. Uses atoms such as transitional metal and organic
compounds light RNA, DNA, and other highly conjugated organic compounds can be quantitatively
analyzed using UV-Vis.