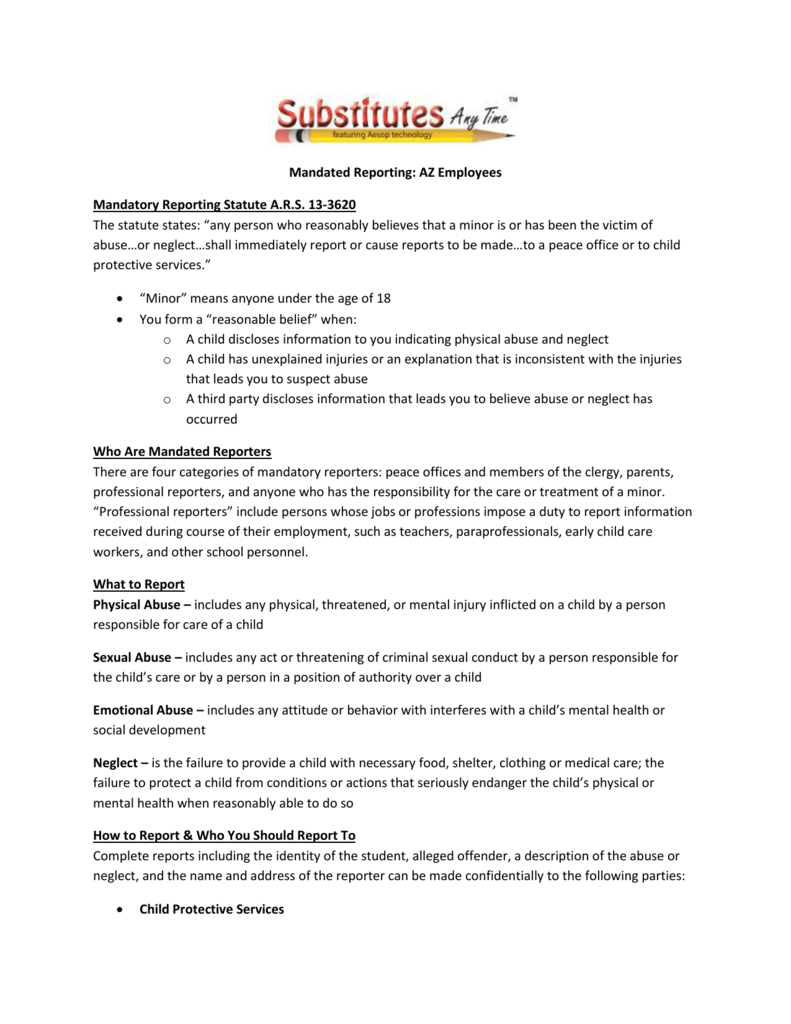 Mandated Reporting: AZ Employees
Mandatory Reporting Statute A.R.S. 13-3620
The statute states: "any person who reasonably believes that a minor is or has been the victim of
abuse…or neglect…shall immediately report or cause reports to be made…to a peace office or to child
protective services."


"Minor" means anyone under the age of 18
You form a "reasonable belief" when:
o A child discloses information to you indicating physical abuse and neglect
o A child has unexplained injuries or an explanation that is inconsistent with the injuries
that leads you to suspect abuse
o A third party discloses information that leads you to believe abuse or neglect has
occurred
Who Are Mandated Reporters
There are four categories of mandatory reporters: peace offices and members of the clergy, parents,
professional reporters, and anyone who has the responsibility for the care or treatment of a minor.
"Professional reporters" include persons whose jobs or professions impose a duty to report information
received during course of their employment, such as teachers, paraprofessionals, early child care
workers, and other school personnel.
What to Report
Physical Abuse – includes any physical, threatened, or mental injury inflicted on a child by a person
responsible for care of a child
Sexual Abuse – includes any act or threatening of criminal sexual conduct by a person responsible for
the child's care or by a person in a position of authority over a child
Emotional Abuse – includes any attitude or behavior with interferes with a child's mental health or
social development
Neglect – is the failure to provide a child with necessary food, shelter, clothing or medical care; the
failure to protect a child from conditions or actions that seriously endanger the child's physical or
mental health when reasonably able to do so
How to Report & Who You Should Report To
Complete reports including the identity of the student, alleged offender, a description of the abuse or
neglect, and the name and address of the reporter can be made confidentially to the following parties:

Child Protective Services


o 24/7 Toll-Free Phone Line: 1-888-767-2445
o Mail, within 72 hours, to: CPS, P.O. Box 44240, Phoenix, AZ 85064
o Fax to: 602-530-1832
o Online, non-emergency reports: www.azdes.gov/dcyf/cps/mandated_reporters
Local Law Enforcement
o Local Law Enforcement Non-Emergency Line
o 911
The Arizona Department of Education (if alleged abuser is certified by the State Board of
Education)
o Phone: 602-542-2972
o Mail, within 72 hours, to: Arizona State Board of Education, Investigative Unit, 1535 W.
Jefferson, Phoenix, AZ 85007
The Investigative Process




Upon receipt of a report, the investigating agency will assess report through interviews with
children in the home, parents, friends, relatives, and anyone else who has information about the
child and family
Following the investigation, the investigating agency determines if a report is substantiated or
unsubstantiated
If a report is substantiated, it means that the agency gathered information that supports a
finding of child abuse or neglect, and will provide services to the family or refer them to services
in the local community
If a report is unsubstantiated, it means that the information gathered during the investigation
does not support a finding of child abuse or neglect, and the agency may end its involvement
with the family
Additional Resources
Arizona Child Abuse Info Center: http://www.childhelpinfocenter.org/
Investigation Protocols by County:
http://childhelpinfocenter.org/index.php?option=com_content&task=view&id=53&Itemid=66
Southern Arizona Children's Advocacy Center: http://soazadvocacy.org/mandatory-reporter-training
Arizona Department of Education Reporting Procedures: http://www.azed.gov/state-boardeducation/files/2012/10/state-of-arizona-child-abuse-reporting-procedures.pdf
☐I understand my role as a mandated reporter, and by checking the box I acknowledge receipt and
review of this information.