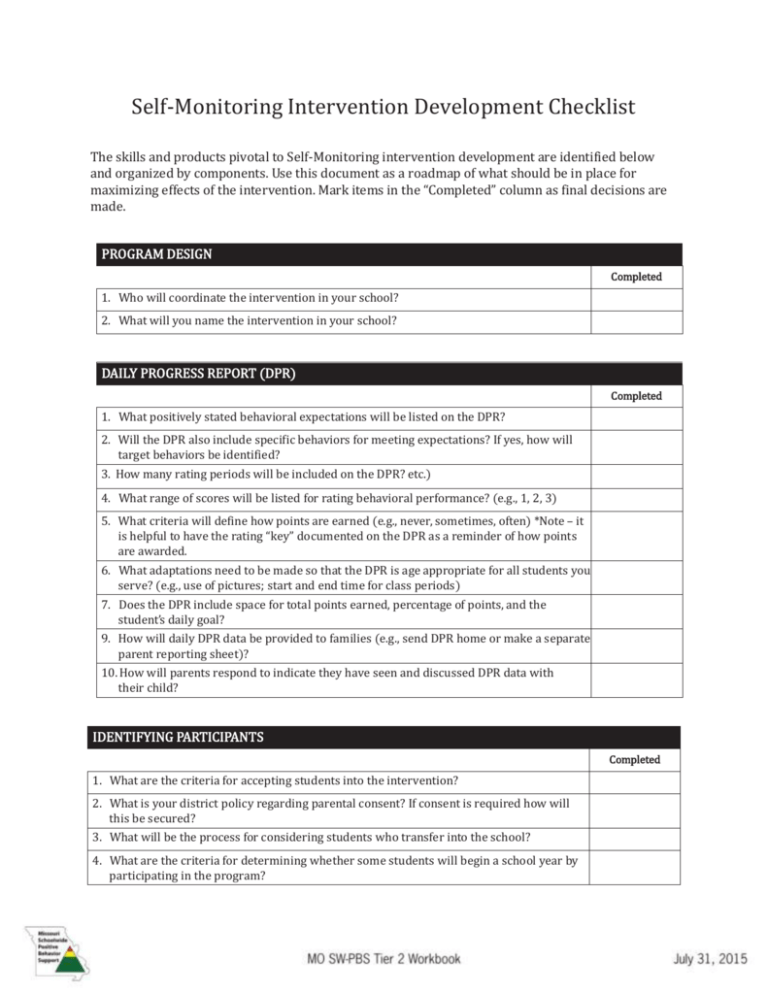 Self-Monitoring Intervention Development Checklist
The skills and products pivotal to Self-Monitoring intervention development are identified below
and organized by components. Use this document as a roadmap of what should be in place for
maximizing effects of the intervention. Mark items in the "Completed" column as final decisions are
made.
PROGRAM DESIGN
Completed
1. Who will coordinate the intervention in your school?
2. What will you name the intervention in your school?
DAILY PROGRESS REPORT (DPR)
Completed
1. What positively stated behavioral expectations will be listed on the DPR?
2. Will the DPR also include specific behaviors for meeting expectations? If yes, how will
target behaviors be identified?
3. How many rating periods will be included on the DPR? etc.)
4. What range of scores will be listed for rating behavioral performance? (e.g., 1, 2, 3)
5. What criteria will define how points are earned (e.g., never, sometimes, often) *Note – it
is helpful to have the rating "key" documented on the DPR as a reminder of how points
are awarded.
6. What adaptations need to be made so that the DPR is age appropriate for all students you
serve? (e.g., use of pictures; start and end time for class periods)
7. Does the DPR include space for total points earned, percentage of points, and the
student's daily goal?
9. How will daily DPR data be provided to families (e.g., send DPR home or make a separate
parent reporting sheet)?
10. How will parents respond to indicate they have seen and discussed DPR data with
their child?
IDENTIFYING PARTICIPANTS
Completed
1. What are the criteria for accepting students into the intervention?
2. What is your district policy regarding parental consent? If consent is required how will
this be secured?
3. What will be the process for considering students who transfer into the school?
4. What are the criteria for determining whether some students will begin a school year by
participating in the program?
DATA MANAGEMENT
Completed
1. How will student data be stored and graphed for review? (e.g., SWIS, Excel, by hand)
2. Who will examine student data and how often will it be reviewed? (minimum is twice
per month)
3. Who will summarize student data and bring it to the team meeting?
4. How frequently will data be shared with parents, participating classroom teachers, and
the full staff?
PLANS FOR FADING, GRADUATION, AND MAINTENANCE
Completed
1. What are the criteria for students to begin fading the intervention?
2. List details of the fading phase.
3. A flowchart that describes plans for gradually fading out use of the Self-management and
daily data intervention components is developed.
4. What are the criteria for graduation from the program?
How will graduations be celebrated?
5. What supports will be in place for students after graduating from the intervention?
6. How often and what types of student data will be monitored after the DPR is no longer
being implemented?
TEACHING STAFF TO IMPLEMENT THE PROGRAM
Completed
1. Who will provide instruction to classroom and specialist teachers for implementing the
intervention?
Teaching should include:
 Eligibility for participation
 Baseline data collection procedures
 Providing positive and corrective feedback statements
 Cueing students to record data
 Monitoring student rating on DPR
 Initiating interactions with students
 Response to major or minor referrals
 Self-management, fading, and graduation
2. Who will provide teachers with coaching and implementation feedback?
3. How will re-teaching be provided for components that are not implemented correctly?
4. Who will provide booster sessions for full staff about the purpose and key features of
implementing the program? How often will booster sessions occur?
TEACHING STUDENTS TO PARTICIPATE IN THE PROGRAM
Completed
1. Who will provide instruction about the program to students who are identified for
participation?
Teaching should include:
 Purposes of the intervention (e.g., positive, time-limited, goal of self-management)
 Behavioral expectations
 Earning points and point goals
 Getting feedback from teachers
 Role play for accepting positive and corrective feedback
 Menu of reinforcers
 How to handle disappointment if goal is not met
 Plans for fading, graduation, and maintenance
2. Consider whether information will be provided to other children about the
intervention program. If so, who will provide the information and what will be said?
TEACHING PARENTS TO PARTICIPATE IN THE PROGRAM
Completed
1. A plan for introducing parents to the program is developed and includes procedures for
providing feedback to the child.
EVALUATE PROGRAM OUTCOMES
Completed
1. A plan for monitoring fidelity of intervention implementation is developed that
includes tools to be used and a monitoring schedule.
2. A plan for monitoring social validity of intervention is developed and includes tools to
be used and a monitoring schedule.
3. A plan for monitoring intervention outcomes is developed and includes:
 Number of students who participated
 Number of students that graduated
 Number of students that required more intensive support
4. An Intervention Essential Features document is completed that includes clear
descriptions of intervention components.