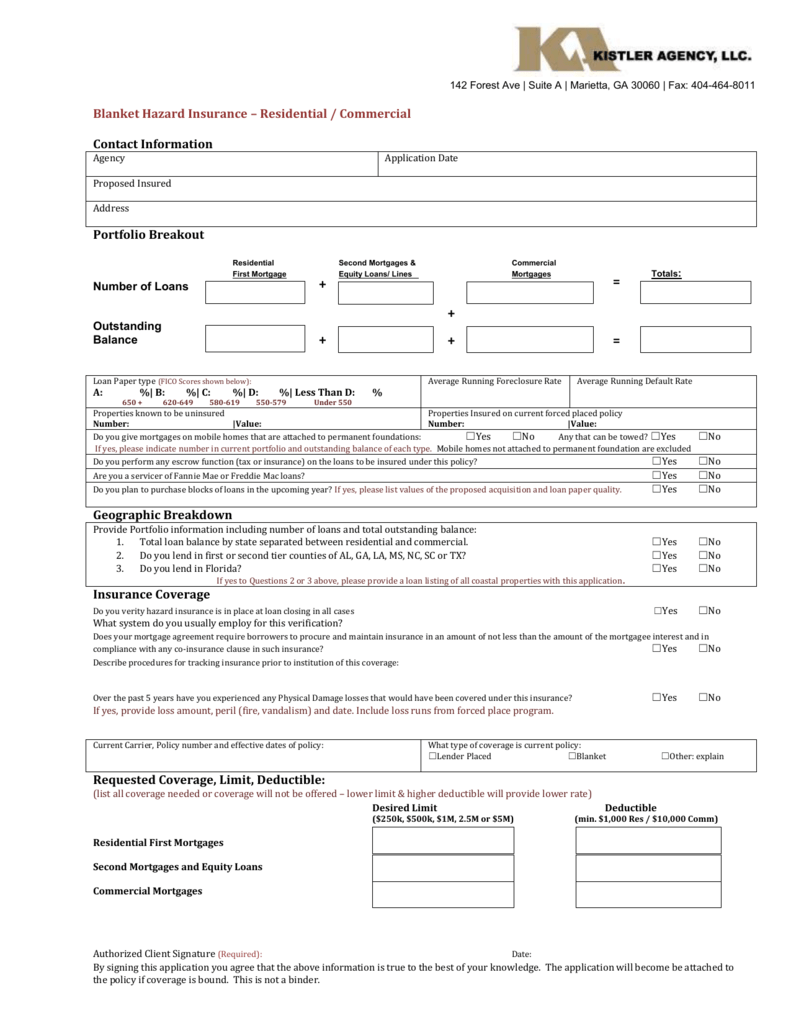 142 Forest Ave | Suite A | Marietta, GA 30060 | Fax: 404-464-8011
Blanket Hazard Insurance – Residential / Commercial
Contact Information
Agency
Application Date
Proposed Insured
Address
Portfolio Breakout
Residential
First Mortgage
Number of Loans
+
Second Mortgages &
Equity Loans/ Lines
Commercial
Mortgages
=
Totals:
+
Outstanding
Balance
+
Loan Paper type (FICO Scores shown below):
A:
%| B:
650 +
%| C:
620-649
%| D:
580-619
%| Less Than D:
550-579
Under 550
+
%
Average Running Foreclosure Rate
=
Average Running Default Rate
Properties known to be uninsured
Properties Insured on current forced placed policy
Number:
|Value:
Number:
|Value:
Do you give mortgages on mobile homes that are attached to permanent foundations:
☐Yes
☐No
Any that can be towed? ☐Yes
☐No
If yes, please indicate number in current portfolio and outstanding balance of each type. Mobile homes not attached to permanent foundation are excluded
Do you perform any escrow function (tax or insurance) on the loans to be insured under this policy?
☐Yes
☐No
Are you a servicer of Fannie Mae or Freddie Mac loans?
Do you plan to purchase blocks of loans in the upcoming year? If yes, please list values of the proposed acquisition and loan paper quality.
☐Yes
☐Yes
☐No
☐No
☐Yes
☐Yes
☐Yes
☐No
☐No
☐No
☐Yes
☐No
Geographic Breakdown
Provide Portfolio information including number of loans and total outstanding balance:
1. Total loan balance by state separated between residential and commercial.
2. Do you lend in first or second tier counties of AL, GA, LA, MS, NC, SC or TX?
3. Do you lend in Florida?
If yes to Questions 2 or 3 above, please provide a loan listing of all coastal properties with this application.
Insurance Coverage
Do you verity hazard insurance is in place at loan closing in all cases
What system do you usually employ for this verification?
Does your mortgage agreement require borrowers to procure and maintain insurance in an amount of not less than the amount of the mortgagee interest and in
compliance with any co-insurance clause in such insurance?
☐Yes
☐No
Describe procedures for tracking insurance prior to institution of this coverage:
☐Yes
Over the past 5 years have you experienced any Physical Damage losses that would have been covered under this insurance?
☐No
If yes, provide loss amount, peril (fire, vandalism) and date. Include loss runs from forced place program.
Current Carrier, Policy number and effective dates of policy:
What type of coverage is current policy:
☐Lender Placed
☐Blanket
☐Other: explain
Requested Coverage, Limit, Deductible:
(list all coverage needed or coverage will not be offered – lower limit & higher deductible will provide lower rate)
Desired Limit
($250k, $500k, $1M, 2.5M or $5M)
Deductible
(min. $1,000 Res / $10,000 Comm)
Residential First Mortgages
Second Mortgages and Equity Loans
Commercial Mortgages
Authorized Client Signature (Required):
Date:
By signing this application you agree that the above information is true to the best of your knowledge. The application will become be attached to
the policy if coverage is bound. This is not a binder.