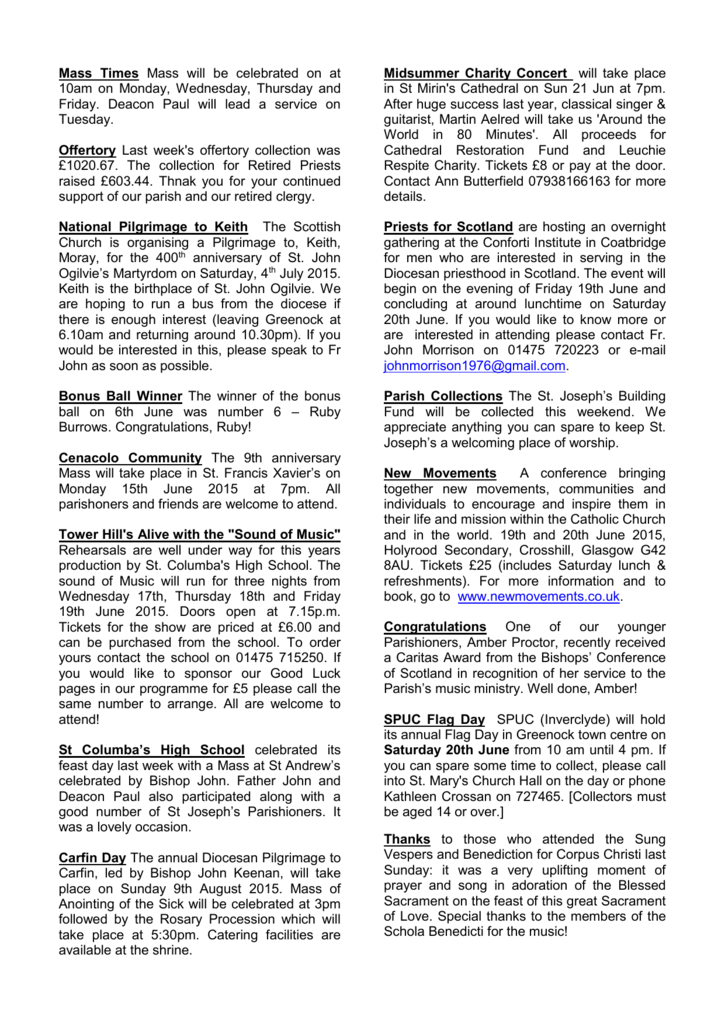 Mass Times Mass will be celebrated on at
10am on Monday, Wednesday, Thursday and
Friday. Deacon Paul will lead a service on
Tuesday.
Offertory Last week's offertory collection was
£1020.67. The collection for Retired Priests
raised £603.44. Thnak you for your continued
support of our parish and our retired clergy.
Midsummer Charity Concert will take place
in St Mirin's Cathedral on Sun 21 Jun at 7pm.
After huge success last year, classical singer &
guitarist, Martin Aelred will take us 'Around the
World in 80 Minutes'. All proceeds for
Cathedral Restoration Fund and Leuchie
Respite Charity. Tickets £8 or pay at the door.
Contact Ann Butterfield 07938166163 for more
details.
National Pilgrimage to Keith The Scottish
Church is organising a Pilgrimage to, Keith,
Moray, for the 400th anniversary of St. John
Ogilvie's Martyrdom on Saturday, 4th July 2015.
Keith is the birthplace of St. John Ogilvie. We
are hoping to run a bus from the diocese if
there is enough interest (leaving Greenock at
6.10am and returning around 10.30pm). If you
would be interested in this, please speak to Fr
John as soon as possible.
Priests for Scotland are hosting an overnight
gathering at the Conforti Institute in Coatbridge
for men who are interested in serving in the
Diocesan priesthood in Scotland. The event will
begin on the evening of Friday 19th June and
concluding at around lunchtime on Saturday
20th June. If you would like to know more or
are interested in attending please contact Fr.
John Morrison on 01475 720223 or e-mail
[email protected]
Bonus Ball Winner The winner of the bonus
ball on 6th June was number 6 – Ruby
Burrows. Congratulations, Ruby!
Parish Collections The St. Joseph's Building
Fund will be collected this weekend. We
appreciate anything you can spare to keep St.
Joseph's a welcoming place of worship.
Cenacolo Community The 9th anniversary
Mass will take place in St. Francis Xavier's on
Monday 15th June 2015 at 7pm. All
parishoners and friends are welcome to attend.
Tower Hill's Alive with the "Sound of Music"
Rehearsals are well under way for this years
production by St. Columba's High School. The
sound of Music will run for three nights from
Wednesday 17th, Thursday 18th and Friday
19th June 2015. Doors open at 7.15p.m.
Tickets for the show are priced at £6.00 and
can be purchased from the school. To order
yours contact the school on 01475 715250. If
you would like to sponsor our Good Luck
pages in our programme for £5 please call the
same number to arrange. All are welcome to
attend!
St Columba's High School celebrated its
feast day last week with a Mass at St Andrew's
celebrated by Bishop John. Father John and
Deacon Paul also participated along with a
good number of St Joseph's Parishioners. It
was a lovely occasion.
Carfin Day The annual Diocesan Pilgrimage to
Carfin, led by Bishop John Keenan, will take
place on Sunday 9th August 2015. Mass of
Anointing of the Sick will be celebrated at 3pm
followed by the Rosary Procession which will
take place at 5:30pm. Catering facilities are
available at the shrine.
New Movements
A conference bringing
together new movements, communities and
individuals to encourage and inspire them in
their life and mission within the Catholic Church
and in the world. 19th and 20th June 2015,
Holyrood Secondary, Crosshill, Glasgow G42
8AU. Tickets £25 (includes Saturday lunch &
refreshments). For more information and to
book, go to www.newmovements.co.uk.
Congratulations One of our younger
Parishioners, Amber Proctor, recently received
a Caritas Award from the Bishops' Conference
of Scotland in recognition of her service to the
Parish's music ministry. Well done, Amber!
SPUC Flag Day SPUC (Inverclyde) will hold
its annual Flag Day in Greenock town centre on
Saturday 20th June from 10 am until 4 pm. If
you can spare some time to collect, please call
into St. Mary's Church Hall on the day or phone
Kathleen Crossan on 727465. [Collectors must
be aged 14 or over.]
Thanks to those who attended the Sung
Vespers and Benediction for Corpus Christi last
Sunday: it was a very uplifting moment of
prayer and song in adoration of the Blessed
Sacrament on the feast of this great Sacrament
of Love. Special thanks to the members of the
Schola Benedicti for the music!