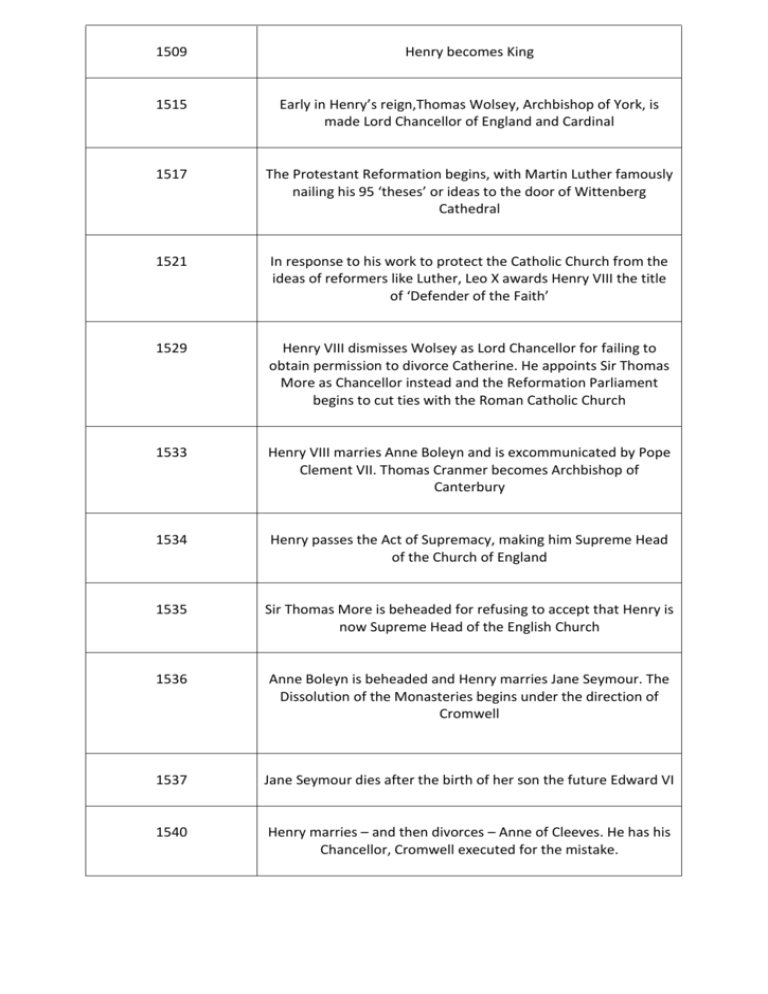 1509
Henry becomes King
1515
Early in Henry's reign,Thomas Wolsey, Archbishop of York, is
made Lord Chancellor of England and Cardinal
1517
The Protestant Reformation begins, with Martin Luther famously
nailing his 95 'theses' or ideas to the door of Wittenberg
Cathedral
1521
In response to his work to protect the Catholic Church from the
ideas of reformers like Luther, Leo X awards Henry VIII the title
of 'Defender of the Faith'
1529
Henry VIII dismisses Wolsey as Lord Chancellor for failing to
obtain permission to divorce Catherine. He appoints Sir Thomas
More as Chancellor instead and the Reformation Parliament
begins to cut ties with the Roman Catholic Church
1533
Henry VIII marries Anne Boleyn and is excommunicated by Pope
Clement VII. Thomas Cranmer becomes Archbishop of
Canterbury
1534
Henry passes the Act of Supremacy, making him Supreme Head
of the Church of England
1535
Sir Thomas More is beheaded for refusing to accept that Henry is
now Supreme Head of the English Church
1536
Anne Boleyn is beheaded and Henry marries Jane Seymour. The
Dissolution of the Monasteries begins under the direction of
Cromwell
1537
Jane Seymour dies after the birth of her son the future Edward VI
1540
Henry marries – and then divorces – Anne of Cleeves. He has his
Chancellor, Cromwell executed for the mistake.