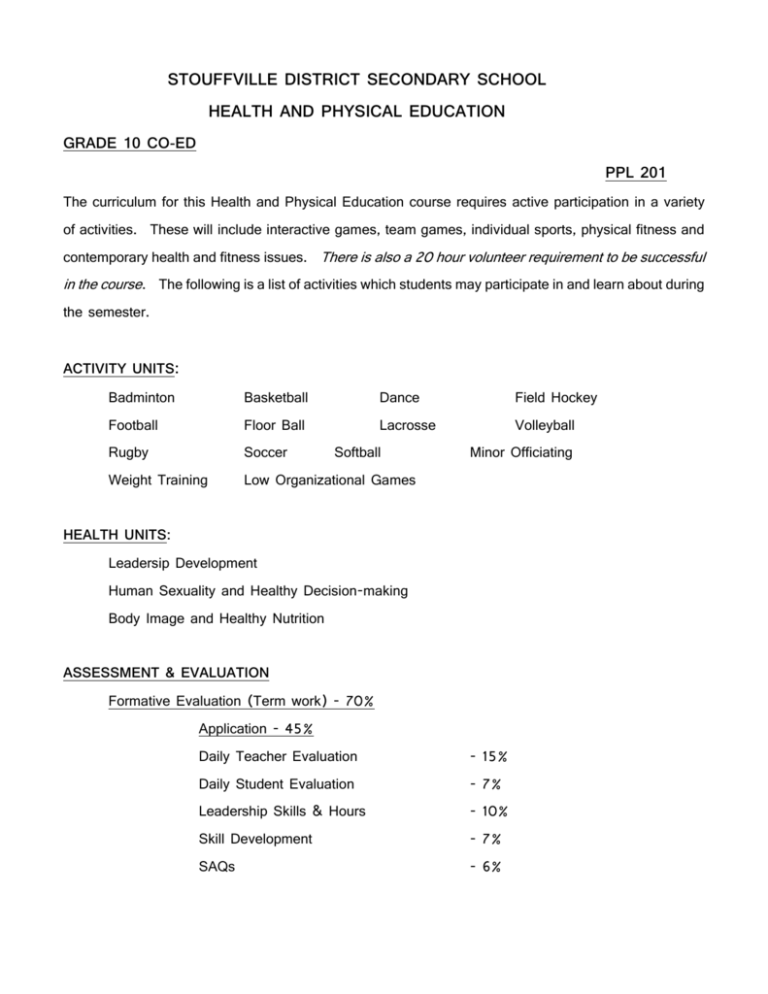 STOUFFVILLE DISTRICT SECONDARY SCHOOL
HEALTH AND PHYSICAL EDUCATION
GRADE 10 CO-ED
PPL 201
The curriculum for this Health and Physical Education course requires active participation in a variety
of activities. These will include interactive games, team games, individual sports, physical fitness and
contemporary health and fitness issues. There is also a 20 hour volunteer requirement to be successful
in the course. The following is a list of activities which students may participate in and learn about during
the semester.
ACTIVITY UNITS:
Badminton
Basketball
Dance
Field Hockey
Football
Floor Ball
Lacrosse
Volleyball
Rugby
Soccer
Weight Training
Low Organizational Games
Softball
Minor Officiating
HEALTH UNITS:
Leadersip Development
Human Sexuality and Healthy Decision-making
Body Image and Healthy Nutrition
ASSESSMENT & EVALUATION
Formative Evaluation (Term work) - 70%
Application - 45%
Daily Teacher Evaluation
- 15%
Daily Student Evaluation
- 7%
Leadership Skills & Hours
- 10%
Skill Development
- 7%
SAQs
- 6%
Knowledge & Understanding - 10%
Health Tests, Assignments
- 7%
Activity Unit Tests
- 3%
Thinking & Inquiry - 10%
Health Test, Assignments
- 7%
Activity Unit Tests
- 3%
Communication - 5%
Presentations
Summative Evaluations
- 5%
- 30%
Portfolio
- 15%
Fitness Testing
- 15%
***Failure to complete on the designated
dates may require a doctor's note
Students are responsible for wearing the proper uniform and changing in the designated changeroom.
Students should NOT leave anything of value in the change rooms.