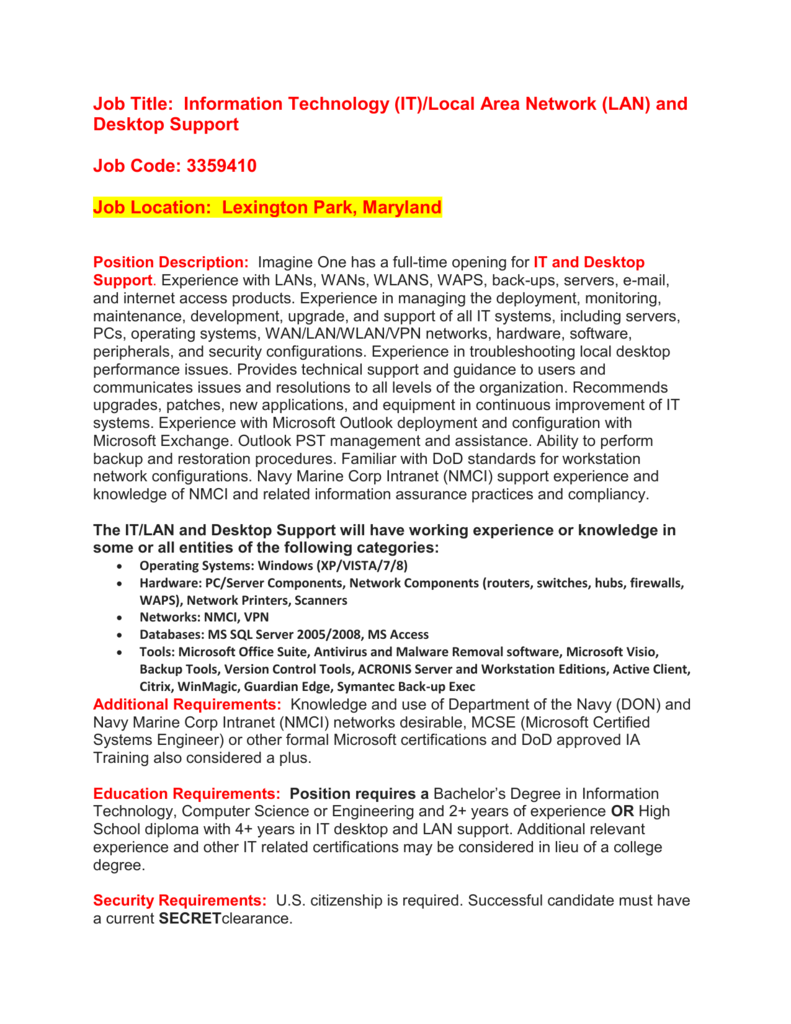 Job Title: Information Technology (IT)/Local Area Network (LAN) and
Desktop Support
Job Code: 3359410
Job Location: Lexington Park, Maryland
Position Description: Imagine One has a full-time opening for IT and Desktop
Support. Experience with LANs, WANs, WLANS, WAPS, back-ups, servers, e-mail,
and internet access products. Experience in managing the deployment, monitoring,
maintenance, development, upgrade, and support of all IT systems, including servers,
PCs, operating systems, WAN/LAN/WLAN/VPN networks, hardware, software,
peripherals, and security configurations. Experience in troubleshooting local desktop
performance issues. Provides technical support and guidance to users and
communicates issues and resolutions to all levels of the organization. Recommends
upgrades, patches, new applications, and equipment in continuous improvement of IT
systems. Experience with Microsoft Outlook deployment and configuration with
Microsoft Exchange. Outlook PST management and assistance. Ability to perform
backup and restoration procedures. Familiar with DoD standards for workstation
network configurations. Navy Marine Corp Intranet (NMCI) support experience and
knowledge of NMCI and related information assurance practices and compliancy.
The IT/LAN and Desktop Support will have working experience or knowledge in
some or all entities of the following categories:





Operating Systems: Windows (XP/VISTA/7/8)
Hardware: PC/Server Components, Network Components (routers, switches, hubs, firewalls,
WAPS), Network Printers, Scanners
Networks: NMCI, VPN
Databases: MS SQL Server 2005/2008, MS Access
Tools: Microsoft Office Suite, Antivirus and Malware Removal software, Microsoft Visio,
Backup Tools, Version Control Tools, ACRONIS Server and Workstation Editions, Active Client,
Citrix, WinMagic, Guardian Edge, Symantec Back-up Exec
Additional Requirements: Knowledge and use of Department of the Navy (DON) and
Navy Marine Corp Intranet (NMCI) networks desirable, MCSE (Microsoft Certified
Systems Engineer) or other formal Microsoft certifications and DoD approved IA
Training also considered a plus.
Education Requirements: Position requires a Bachelor's Degree in Information
Technology, Computer Science or Engineering and 2+ years of experience OR High
School diploma with 4+ years in IT desktop and LAN support. Additional relevant
experience and other IT related certifications may be considered in lieu of a college
degree.
Security Requirements: U.S. citizenship is required. Successful candidate must have
a current SECRETclearance.
Salary Range: Salary Commensurate with experience.
IMAGINE ONE is an Affirmative Action and Equal Opportunity Employer
Imagine One offers a full package of benefits and competitive salary, excellent
group medical, vision and dental programs. 401K savings plan; $4K annual
tuition reimbursement ($5K if pursuing Master's degree); employee training,
development and education programs; profit sharing; advancement
opportunities; and much more!