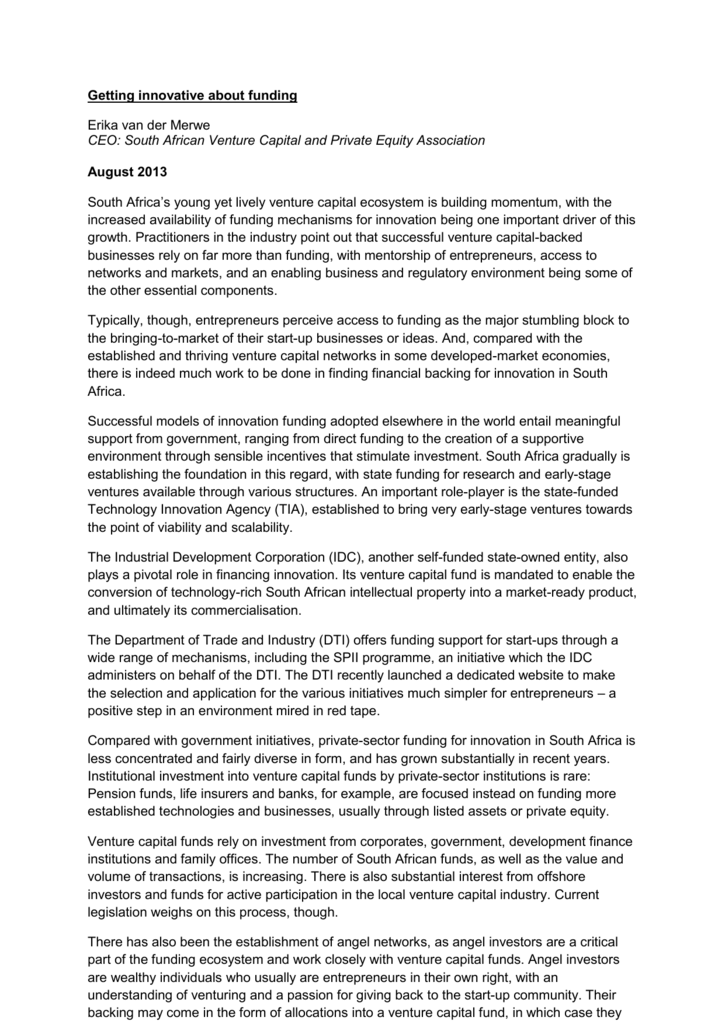 Getting innovative about funding
Erika van der Merwe
CEO: South African Venture Capital and Private Equity Association
August 2013
South Africa's young yet lively venture capital ecosystem is building momentum, with the
increased availability of funding mechanisms for innovation being one important driver of this
growth. Practitioners in the industry point out that successful venture capital-backed
businesses rely on far more than funding, with mentorship of entrepreneurs, access to
networks and markets, and an enabling business and regulatory environment being some of
the other essential components.
Typically, though, entrepreneurs perceive access to funding as the major stumbling block to
the bringing-to-market of their start-up businesses or ideas. And, compared with the
established and thriving venture capital networks in some developed-market economies,
there is indeed much work to be done in finding financial backing for innovation in South
Africa.
Successful models of innovation funding adopted elsewhere in the world entail meaningful
support from government, ranging from direct funding to the creation of a supportive
environment through sensible incentives that stimulate investment. South Africa gradually is
establishing the foundation in this regard, with state funding for research and early-stage
ventures available through various structures. An important role-player is the state-funded
Technology Innovation Agency (TIA), established to bring very early-stage ventures towards
the point of viability and scalability.
The Industrial Development Corporation (IDC), another self-funded state-owned entity, also
plays a pivotal role in financing innovation. Its venture capital fund is mandated to enable the
conversion of technology-rich South African intellectual property into a market-ready product,
and ultimately its commercialisation.
The Department of Trade and Industry (DTI) offers funding support for start-ups through a
wide range of mechanisms, including the SPII programme, an initiative which the IDC
administers on behalf of the DTI. The DTI recently launched a dedicated website to make
the selection and application for the various initiatives much simpler for entrepreneurs – a
positive step in an environment mired in red tape.
Compared with government initiatives, private-sector funding for innovation in South Africa is
less concentrated and fairly diverse in form, and has grown substantially in recent years.
Institutional investment into venture capital funds by private-sector institutions is rare:
Pension funds, life insurers and banks, for example, are focused instead on funding more
established technologies and businesses, usually through listed assets or private equity.
Venture capital funds rely on investment from corporates, government, development finance
institutions and family offices. The number of South African funds, as well as the value and
volume of transactions, is increasing. There is also substantial interest from offshore
investors and funds for active participation in the local venture capital industry. Current
legislation weighs on this process, though.
There has also been the establishment of angel networks, as angel investors are a critical
part of the funding ecosystem and work closely with venture capital funds. Angel investors
are wealthy individuals who usually are entrepreneurs in their own right, with an
understanding of venturing and a passion for giving back to the start-up community. Their
backing may come in the form of allocations into a venture capital fund, in which case they
do not play a role in the selection of the underlying technologies and entrepreneurs. Angel
funding in other instances is channelled directly to the entrepreneur, through regular pitching
sessions held by dozens of incubators and accelerators across the country, or through the
angels' own networks.
An amendment in recent years to the South African Income Tax Act has created a welcome
inducement for individuals, trusts and companies to invest into innovation. Section 12J of the
Act offers tax relief for allocations into qualifying and registered venture capital funds, and
represents an important first step towards building a sensible and beneficial incentive
structure for private sector venture funding.
Corporate investing into innovation is a further exciting trend in South Africa. Where large
firms in years gone by had budgets for research and development that was overseen by inhouse scientists, the move now is for companies to insource innovation by buying start-ups.
In some cases these larger companies are seeing the benefits of offering the innovators
early-stage business support services to increase the likely success of the commercialisation
of the innovations.
Innovation takes time and by its nature is prone to uncertainty and risk. Boosting innovative
activity in South Africa will require decisive implementation of wide-ranging support
measures for creative thinking, business development, deepening of market networks and
increased international collaboration. Carefully crafted funding options that embody the
deployment of patient risk capital by both the public and private sector are one part of this
solution. We're on our way.