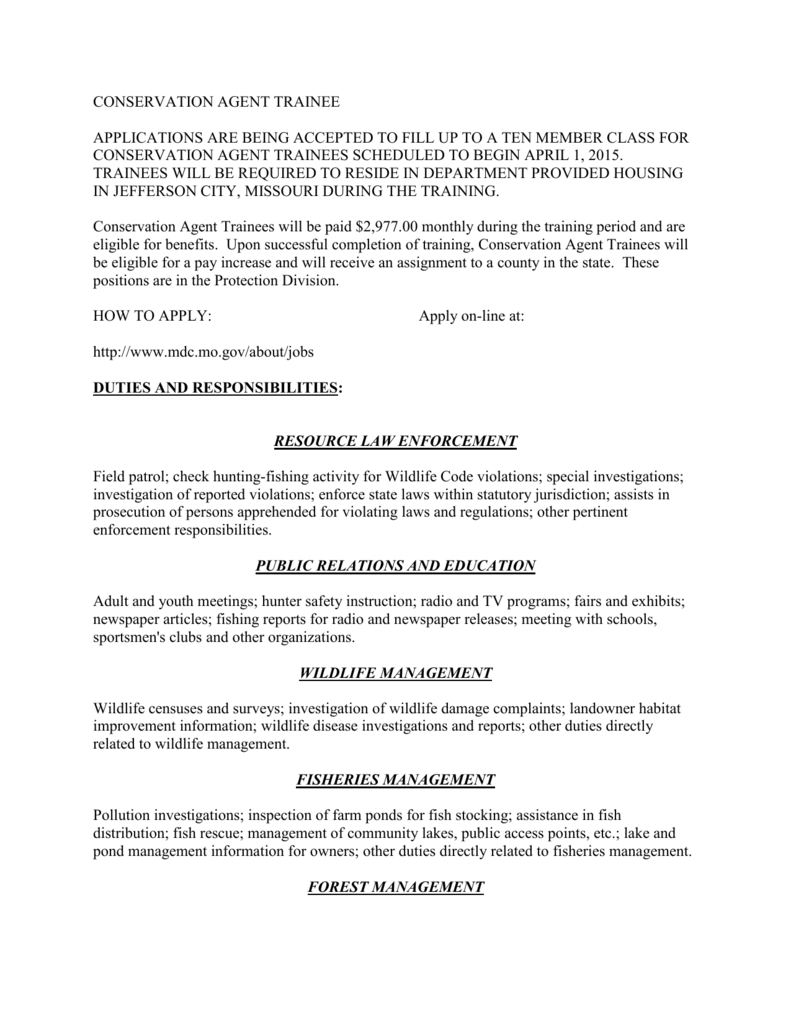 CONSERVATION AGENT TRAINEE
APPLICATIONS ARE BEING ACCEPTED TO FILL UP TO A TEN MEMBER CLASS FOR
CONSERVATION AGENT TRAINEES SCHEDULED TO BEGIN APRIL 1, 2015.
TRAINEES WILL BE REQUIRED TO RESIDE IN DEPARTMENT PROVIDED HOUSING
IN JEFFERSON CITY, MISSOURI DURING THE TRAINING.
Conservation Agent Trainees will be paid $2,977.00 monthly during the training period and are
eligible for benefits. Upon successful completion of training, Conservation Agent Trainees will
be eligible for a pay increase and will receive an assignment to a county in the state. These
positions are in the Protection Division.
HOW TO APPLY:
Apply on-line at:
http://www.mdc.mo.gov/about/jobs
DUTIES AND RESPONSIBILITIES:
RESOURCE LAW ENFORCEMENT
Field patrol; check hunting-fishing activity for Wildlife Code violations; special investigations;
investigation of reported violations; enforce state laws within statutory jurisdiction; assists in
prosecution of persons apprehended for violating laws and regulations; other pertinent
enforcement responsibilities.
PUBLIC RELATIONS AND EDUCATION
Adult and youth meetings; hunter safety instruction; radio and TV programs; fairs and exhibits;
newspaper articles; fishing reports for radio and newspaper releases; meeting with schools,
sportsmen's clubs and other organizations.
WILDLIFE MANAGEMENT
Wildlife censuses and surveys; investigation of wildlife damage complaints; landowner habitat
improvement information; wildlife disease investigations and reports; other duties directly
related to wildlife management.
FISHERIES MANAGEMENT
Pollution investigations; inspection of farm ponds for fish stocking; assistance in fish
distribution; fish rescue; management of community lakes, public access points, etc.; lake and
pond management information for owners; other duties directly related to fisheries management.
FOREST MANAGEMENT
Forestry development with private landowners; forestry arson investigation; other duties directly
related to forest management.
OTHER DEPARTMENT ACTIVITIES
Assistance in land acquisition investigations; assistance with selection of permit distributing
agents; equipment maintenance; in-service training programs; emergency public services
including first aid, assistance at drownings, flood rescues, etc.; and other duties representing the
Department.
MINIMUM QUALIFICATIONS:
Bachelor of Science Degree in Forestry, Fisheries Management, Wildlife Management, Wildlife
Conservation, Natural Resources Conservation Law Enforcement, Criminal Justice, Agriculture,
or other related Biological Sciences, or closely related Natural Resource subjects.
PHYSICAL REQUIREMENTS:
All individuals accepted into the training class must demonstrate ability and proficiency in
essential physical endeavors such as the following:
 Run sprints
 Run for sustained periods of time (over two minutes)
 Run up and down stairs
 Dodge obstacles
 Crawl under obstacles
 Jump and vault over obstacles
 Climb fences
 Lift and carry light (under 25 lbs.) to heavy (over 100 lbs.) for specified distances
 Lift and carry victims
 Extract victims from automobiles and buildings
 Drag victims or suspects
 Push vehicles off roadway
 Use of force by pushing and pulling in self defense situations for a designated period of time
 Bend to enter and exit vehicles and watercraft
 Bend and twist in use of force situations
For a printable version of the frequently asked questions regarding the physical fitness test, go to
http://mdc.mo.gov/17943
CORE COMPETENCIES AND SPECIAL ABILITY REQUIREMENTS:
Ability to:
Accept all responsibilities of the job and assigned tasks.
Use provided computer technology to enhance the quality of work and programs.
Keep focused on understanding, anticipating and responding to the needs of customers.
Administer financial resources in a manner which instills public trust and accomplishes the
Department's mission.
Accept change and new information and cope with job pressure and stress.
Identify internal and external politics that impact the work of the Department.
Define a problem, analyze relevant information, develop solutions and solve problems.
Maintain focus and intensity, and remain optimistic and persistent even under adversity.
Demonstrate technical proficiency in areas of responsibility.
Create and sustain an atmosphere in which timely, quality information flows between self and
others and to express facts and ideas in a convincing manner whether one-on-one or within or
before groups.
Take a long-term view of the Department's or Unit's direction and articulate a vision which
integrates key program goals, priorities, values and other factors.
Demonstrate regular and predictable attendance.
Use firearms and pass a qualification test using a Department-issued sidearm.
Operate a motor vehicle and obtain a Missouri Driver License by the date of employment.
Learn to swim.
Have eyesight corrected to 20/20 in both eyes.
Lift small boats, outboard motors, canoes and remove deer killed by automobiles from highways.
Work out-of-doors in extreme hot or cold temperatures.
Observe and classify wildlife species, fish species, trees and common insects and identify
diseases inherent to trees and insects.
Analyze data and apply relevant wildlife, fisheries and forest management principles to the
solution of problems.
Express oneself clearly and concisely, both orally and in writing.
Enforce wildlife laws firmly and tactfully, with respect for the rights of others.
Create public awareness of and involvement in fish, forest and wildlife programs and to provide
leadership to the public in this activity.
Establish and maintain an effective working relationship with elected officials, members of the
press, educators, community leaders, courts, representatives from related agencies and the
general public.
Walk in rough terrain.
Make independent decisions and act quickly and decisively on the determined course of action.
Work under stress for prolonged periods.
Utilize and maintain issued equipment.
Teach conservation and related subjects to the public.
Work varied hours including Saturdays, Sundays and legal holidays.
CONDITIONS OF EMPLOYMENT:
These positions have been determined to be non-exempt according to the Fair Labor Standards
Act. Employees must agree to accept compensatory time off in lieu of cash payments in
accordance with the Department's Compensation Time Off and Overtime policy.
Smoking is prohibited in all owned, rented or leased Department of Conservation offices,
buildings, and similar facilities, in Department aircraft, and in vehicles.
The Department of Conservation will hire only United States citizens and aliens authorized to
work in the United States. All new employees will be required to complete an "Employment
Eligibility Verification" (Form I-9) and produce requested documentation after employment.
Candidates seeking initial employment or re-employment must submit to a drug screen following
offer of employment, pass Protection Division mandatory physical fitness requirements,
psychological fitness and aptitude evaluation following conditional offer of employment.
All persons employed with the state of Missouri shall file all state income tax forms and pay all
state income taxes owed.