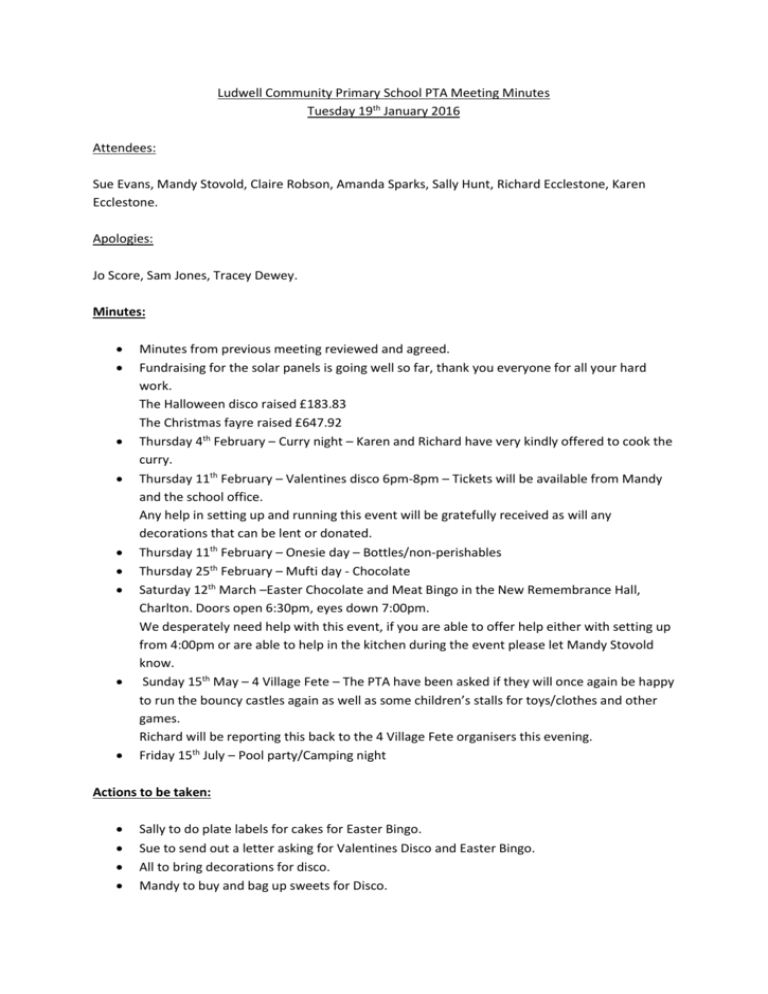 Ludwell Community Primary School PTA Meeting Minutes
Tuesday 19th January 2016
Attendees:
Sue Evans, Mandy Stovold, Claire Robson, Amanda Sparks, Sally Hunt, Richard Ecclestone, Karen
Ecclestone.
Apologies:
Jo Score, Sam Jones, Tracey Dewey.
Minutes:









Minutes from previous meeting reviewed and agreed.
Fundraising for the solar panels is going well so far, thank you everyone for all your hard
work.
The Halloween disco raised £183.83
The Christmas fayre raised £647.92
Thursday 4th February – Curry night – Karen and Richard have very kindly offered to cook the
curry.
Thursday 11th February – Valentines disco 6pm-8pm – Tickets will be available from Mandy
and the school office.
Any help in setting up and running this event will be gratefully received as will any
decorations that can be lent or donated.
Thursday 11th February – Onesie day – Bottles/non-perishables
Thursday 25th February – Mufti day - Chocolate
Saturday 12th March –Easter Chocolate and Meat Bingo in the New Remembrance Hall,
Charlton. Doors open 6:30pm, eyes down 7:00pm.
We desperately need help with this event, if you are able to offer help either with setting up
from 4:00pm or are able to help in the kitchen during the event please let Mandy Stovold
know.
Sunday 15th May – 4 Village Fete – The PTA have been asked if they will once again be happy
to run the bouncy castles again as well as some children's stalls for toys/clothes and other
games.
Richard will be reporting this back to the 4 Village Fete organisers this evening.
Friday 15th July – Pool party/Camping night
Actions to be taken:




Sally to do plate labels for cakes for Easter Bingo.
Sue to send out a letter asking for Valentines Disco and Easter Bingo.
All to bring decorations for disco.
Mandy to buy and bag up sweets for Disco.






Ask Evie's Mum to get hot dogs, rolls and kitchen roll for disco.
Sue to check food allergies/dietary requirements.
Rob to order arm bands for inflatables.
Rob to book inflatables for 4 Village Fete.
Mandy to buy bingo tickets.
Sally to ask Serena if she is able to get any Valentines Disco decorations, balloons and glow
sticks.
Ongoing General Ideas List:
Family trip (late spring/early summer) movieola night, inviting a theatre into school, holding a
festival event, inviting Shaftesbury Arts Centre in, holding a food and music evening,
inflatables/summer event, children's sponsored swimming, sponsored exercise bike ride, auction of
promises, treasure hunt/family trail with food after, quiz and curry night, selling ice lollies after
school in the summer, camp fire evening.
The next meeting will be the AGM, we would appreciate it if as many people as possible are able
to attend this meeting especially those who have a specific role within the PTA.
The date of this meeting will be Tuesday 1st March at 6:00pm in school.