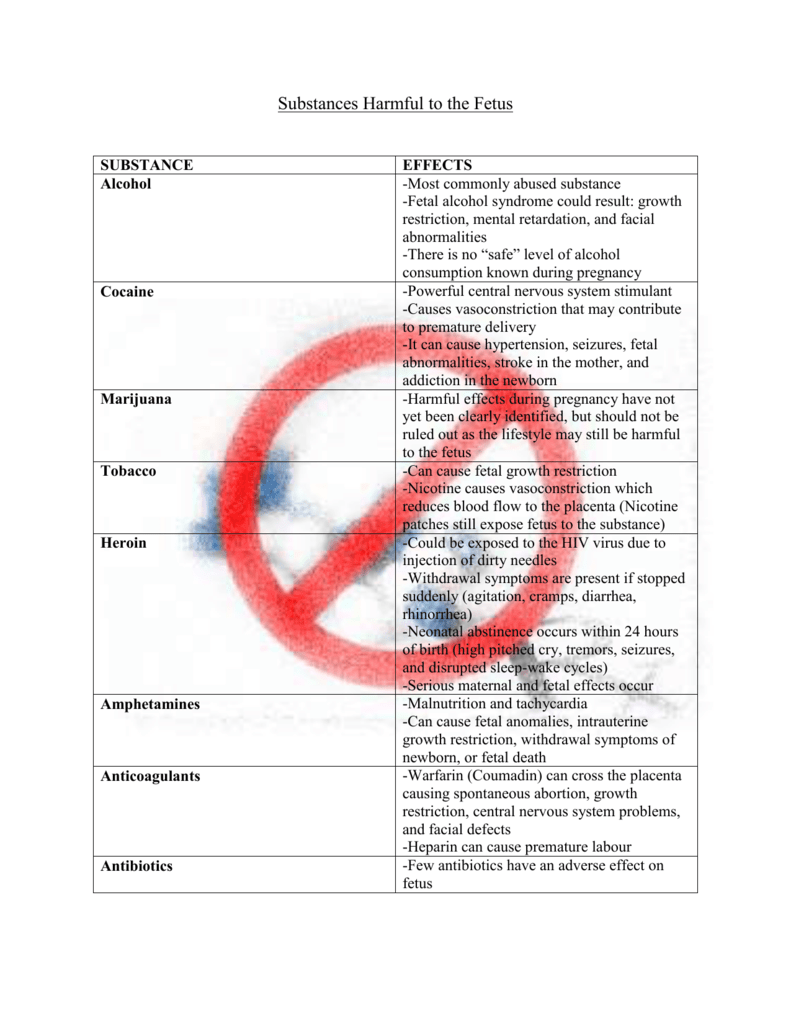 Substances Harmful to the Fetus
SUBSTANCE
Alcohol
Cocaine
Marijuana
Tobacco
Heroin
Amphetamines
Anticoagulants
Antibiotics
EFFECTS
-Most commonly abused substance
-Fetal alcohol syndrome could result: growth
restriction, mental retardation, and facial
abnormalities
-There is no "safe" level of alcohol
consumption known during pregnancy
-Powerful central nervous system stimulant
-Causes vasoconstriction that may contribute
to premature delivery
-It can cause hypertension, seizures, fetal
abnormalities, stroke in the mother, and
addiction in the newborn
-Harmful effects during pregnancy have not
yet been clearly identified, but should not be
ruled out as the lifestyle may still be harmful
to the fetus
-Can cause fetal growth restriction
-Nicotine causes vasoconstriction which
reduces blood flow to the placenta (Nicotine
patches still expose fetus to the substance)
-Could be exposed to the HIV virus due to
injection of dirty needles
-Withdrawal symptoms are present if stopped
suddenly (agitation, cramps, diarrhea,
rhinorrhea)
-Neonatal abstinence occurs within 24 hours
of birth (high pitched cry, tremors, seizures,
and disrupted sleep-wake cycles)
-Serious maternal and fetal effects occur
-Malnutrition and tachycardia
-Can cause fetal anomalies, intrauterine
growth restriction, withdrawal symptoms of
newborn, or fetal death
-Warfarin (Coumadin) can cross the placenta
causing spontaneous abortion, growth
restriction, central nervous system problems,
and facial defects
-Heparin can cause premature labour
-Few antibiotics have an adverse effect on
fetus
Anticonvulsants
Isotretinoin (Accutane) and Vitamin A
derivatives
Diethylstilbestrol
Angiotensin-converting enzyme inhibitors
(captopril, enalapril)
Folic acid antagonists (methotrexate,
amethopterin)
Lithium
Radiation
-Tetracycline exposure after the 4th month
gestation yellowing of teeth and hyperplasia
of the enamel
-Streptomycin and Kanamycin are associated
with damage to the VIII cranial nerve and
hearing loss in the newborn
-Dilantin can cause craniofacial abnormalities
and mental retardation in the fetus
-Trimethadione (Tridione) and
Paramethadione (Paradione) are
contraindicated for use in pregnancy because
of high risk anomalies
-If taking valproic acid (Depakene) or
carbamazepine (Tegretol) should have
assessments for skeletal anomalies and neural
tube defects
-Neonatal withdrawal may occur if taking
phenobarbital
-Clearly associated with fetal anomalies and
are contraindicated for use in pregnancy
-Birth control is advised for a minimum of 3
months after isotretinoin therapy
-Can cause uterine malformation, vaginal
carcinoma, and testicular abnormalities in
newborn
-Can cause fetal kidney anomalies, growth
restriction, and oligohydramnios (decreased
amniotic fluid)
-Cause spontaneous abortion and serious fetal
anomalies
-Associated with the development of
congenital heart disease
-Can be toxic to the thyroid and the kidneys
of the fetus
-Exposure before 6 weeks of gestation can
cause serious fetal damage that includes
leukemia, eye, and central nervous system
anomalies, and fetal loss
-Therapeutic radiation is contraindicated
during pregnancy
Leifer, G. (2015). Introduction to maternity & pediatric nursing. (7th ed.). St. Louis: Elsevier
Saunders.