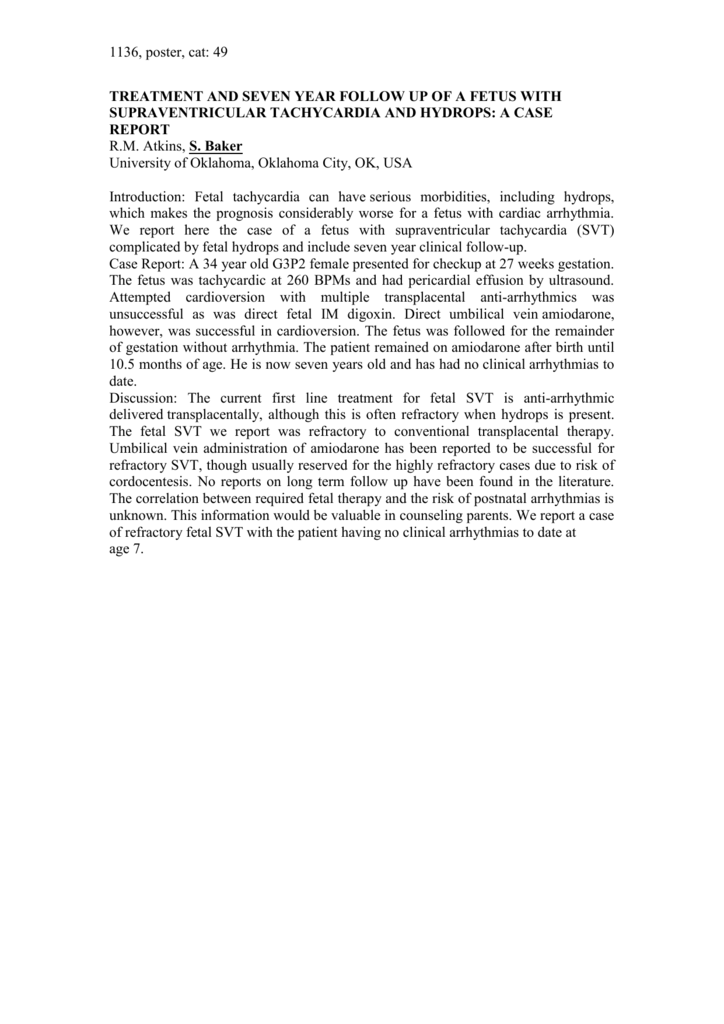 1136, poster, cat: 49
TREATMENT AND SEVEN YEAR FOLLOW UP OF A FETUS WITH
SUPRAVENTRICULAR TACHYCARDIA AND HYDROPS: A CASE
REPORT
R.M. Atkins, S. Baker
University of Oklahoma, Oklahoma City, OK, USA
Introduction: Fetal tachycardia can have serious morbidities, including hydrops,
which makes the prognosis considerably worse for a fetus with cardiac arrhythmia.
We report here the case of a fetus with supraventricular tachycardia (SVT)
complicated by fetal hydrops and include seven year clinical follow-up.
Case Report: A 34 year old G3P2 female presented for checkup at 27 weeks gestation.
The fetus was tachycardic at 260 BPMs and had pericardial effusion by ultrasound.
Attempted cardioversion with multiple transplacental anti-arrhythmics was
unsuccessful as was direct fetal IM digoxin. Direct umbilical vein amiodarone,
however, was successful in cardioversion. The fetus was followed for the remainder
of gestation without arrhythmia. The patient remained on amiodarone after birth until
10.5 months of age. He is now seven years old and has had no clinical arrhythmias to
date.
Discussion: The current first line treatment for fetal SVT is anti-arrhythmic
delivered transplacentally, although this is often refractory when hydrops is present.
The fetal SVT we report was refractory to conventional transplacental therapy.
Umbilical vein administration of amiodarone has been reported to be successful for
refractory SVT, though usually reserved for the highly refractory cases due to risk of
cordocentesis. No reports on long term follow up have been found in the literature.
The correlation between required fetal therapy and the risk of postnatal arrhythmias is
unknown. This information would be valuable in counseling parents. We report a case
of refractory fetal SVT with the patient having no clinical arrhythmias to date at
age 7.