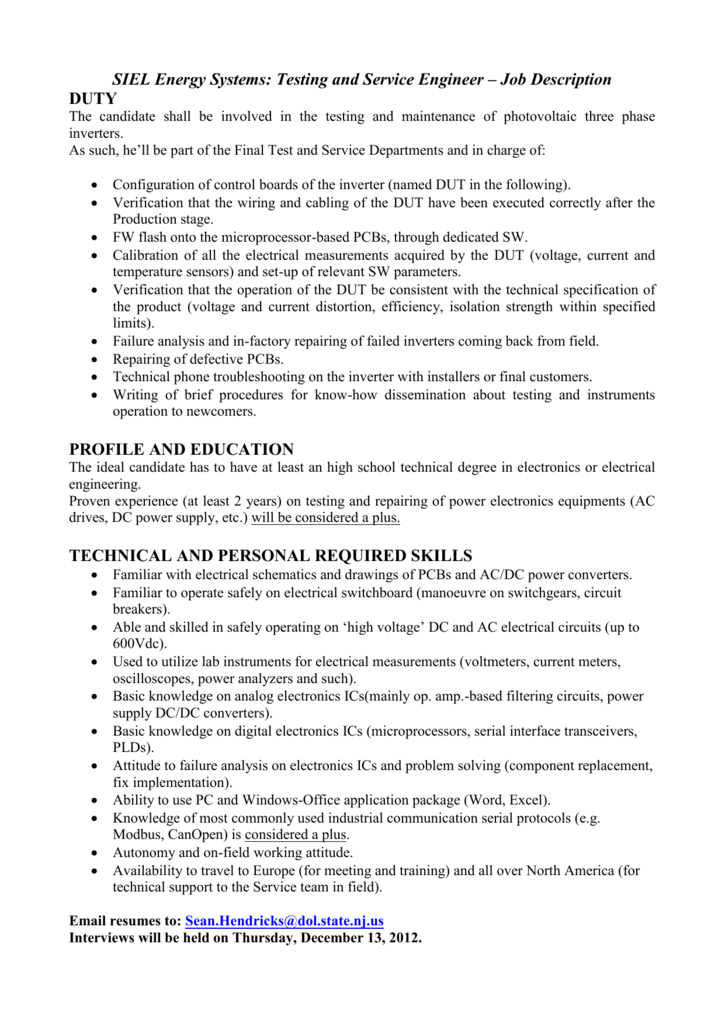 SIEL Energy Systems: Testing and Service Engineer – Job Description
DUTY
The candidate shall be involved in the testing and maintenance of photovoltaic three phase
inverters.
As such, he'll be part of the Final Test and Service Departments and in charge of:









Configuration of control boards of the inverter (named DUT in the following).
Verification that the wiring and cabling of the DUT have been executed correctly after the
Production stage.
FW flash onto the microprocessor-based PCBs, through dedicated SW.
Calibration of all the electrical measurements acquired by the DUT (voltage, current and
temperature sensors) and set-up of relevant SW parameters.
Verification that the operation of the DUT be consistent with the technical specification of
the product (voltage and current distortion, efficiency, isolation strength within specified
limits).
Failure analysis and in-factory repairing of failed inverters coming back from field.
Repairing of defective PCBs.
Technical phone troubleshooting on the inverter with installers or final customers.
Writing of brief procedures for know-how dissemination about testing and instruments
operation to newcomers.
PROFILE AND EDUCATION
The ideal candidate has to have at least an high school technical degree in electronics or electrical
engineering.
Proven experience (at least 2 years) on testing and repairing of power electronics equipments (AC
drives, DC power supply, etc.) will be considered a plus.
TECHNICAL AND PERSONAL REQUIRED SKILLS











Familiar with electrical schematics and drawings of PCBs and AC/DC power converters.
Familiar to operate safely on electrical switchboard (manoeuvre on switchgears, circuit
breakers).
Able and skilled in safely operating on 'high voltage' DC and AC electrical circuits (up to
600Vdc).
Used to utilize lab instruments for electrical measurements (voltmeters, current meters,
oscilloscopes, power analyzers and such).
Basic knowledge on analog electronics ICs(mainly op. amp.-based filtering circuits, power
supply DC/DC converters).
Basic knowledge on digital electronics ICs (microprocessors, serial interface transceivers,
PLDs).
Attitude to failure analysis on electronics ICs and problem solving (component replacement,
fix implementation).
Ability to use PC and Windows-Office application package (Word, Excel).
Knowledge of most commonly used industrial communication serial protocols (e.g.
Modbus, CanOpen) is considered a plus.
Autonomy and on-field working attitude.
Availability to travel to Europe (for meeting and training) and all over North America (for
technical support to the Service team in field).
Email resumes to: [email protected]
Interviews will be held on Thursday, December 13, 2012.