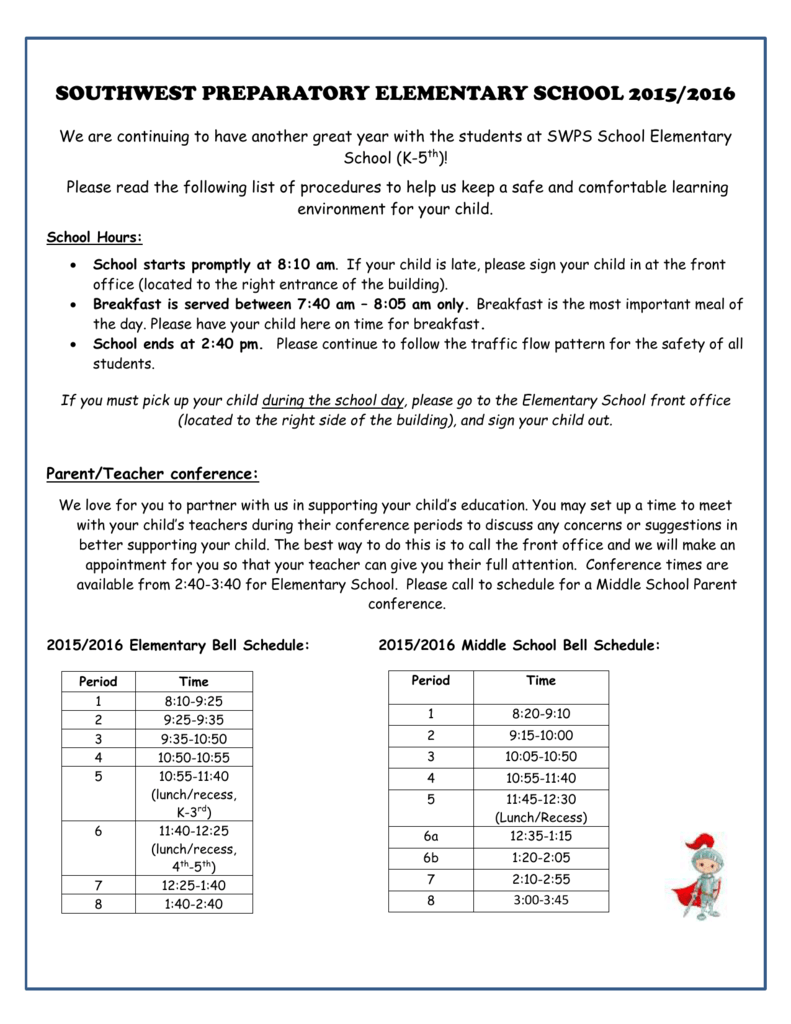 SOUTHWEST PREPARATORY ELEMENTARY SCHOOL 2015/2016
We are continuing to have another great year with the students at SWPS School Elementary
School (K-5th)!
Please read the following list of procedures to help us keep a safe and comfortable learning
environment for your child.
School Hours:



School starts promptly at 8:10 am. If your child is late, please sign your child in at the front
office (located to the right entrance of the building).
Breakfast is served between 7:40 am – 8:05 am only. Breakfast is the most important meal of
the day. Please have your child here on time for breakfast.
School ends at 2:40 pm. Please continue to follow the traffic flow pattern for the safety of all
students.
If you must pick up your child during the school day, please go to the Elementary School front office
(located to the right side of the building), and sign your child out.
Parent/Teacher conference:
We love for you to partner with us in supporting your child's education. You may set up a time to meet
with your child's teachers during their conference periods to discuss any concerns or suggestions in
better supporting your child. The best way to do this is to call the front office and we will make an
appointment for you so that your teacher can give you their full attention. Conference times are
available from 2:40-3:40 for Elementary School. Please call to schedule for a Middle School Parent
conference.
2015/2016 Elementary Bell Schedule:
Period
Time
1
2
3
4
5
8:10-9:25
9:25-9:35
9:35-10:50
10:50-10:55
10:55-11:40
(lunch/recess,
K-3rd)
11:40-12:25
(lunch/recess,
4th-5th)
12:25-1:40
1:40-2:40
6
7
8
2015/2016 Middle School Bell Schedule:
Period
Time
1
8:20-9:10
2
9:15-10:00
3
10:05-10:50
4
10:55-11:40
5
6a
11:45-12:30
(Lunch/Recess)
12:35-1:15
6b
1:20-2:05
7
2:10-2:55
8
3:00-3:45
Northeast Campus 2015-2016
Elementary and Middle School Student Dress Code (K-8th)
As we all know, it takes more than just academics to ensure a successful transition for our students from elementary
school to middle school and middle school to high school. This is why we will be raising the expectations for our
students in all areas for the New Semester. Our dress code will require the items noted below, and our character and
integrity will be top priority. We will dress to impress and act professionally.
1. All elementary & middle students will wear blue or khaki uniform pants or slacks or uniform shorts in good
condition. Female students may also wear skirts or skorts (blue or khaki). Appropriate length is defined as 3
inches or less about the knee. JEANS/JEGGINGS, OF ANY COLOR, ARE NOT ALLOWED.
Good condition is defined as clean without holes, rips or tatters.
a. Students are not allowed to wear jean leggings.
b. (Solid White, Blue, Gray or Black) Leggings may be worn under an appropriate length skirt.
c. Sagging pants are not allowed.
2. Students must wear a polo style shirt with collar: Solid Navy, Solid Gray or Solid White. T-shirts are not allowed
as an outer garment. Southwest Preparatory School T-Shirts are permissible.
3. Boys are required to have their shirts tucked in at all times while on school property. Boys must wear a belt.
4. The following footwear is not acceptable: Slippers, Shower shoes, or Athletic slide type footwear.
5. Hats, du-rags, or skull caps are not to be worn inside the school building.
6. A maximum of one pair of visible piercings will be allowed. Students with multiple piercings will have to choose
which two they wear at school each day.
7. Articles of clothing, jewelry, tattoos, notebooks or other personal property promoting drugs, alcohol, cigarettes,
sex, gangs, or other topics deemed inappropriate by school officials will not be worn or brought to school.
These items will be confiscated and will not be returned. Tattoos that promote any of the previously mentioned
activities must be covered at all time while on school property or attending/participating in a school function.
If a student chooses not to comply with the campus dress code, a parent/guardian will be contacted o bring the
appropriate item. The student will be removed from his/her class until corrected. Repeated violations will be
considered persistent misbehavior and could result in a 3-day Out-of-School-Suspension and/or referral to a
disciplinary hearing with the District Superintendent to determine the consequence for the persistent misbehavior.