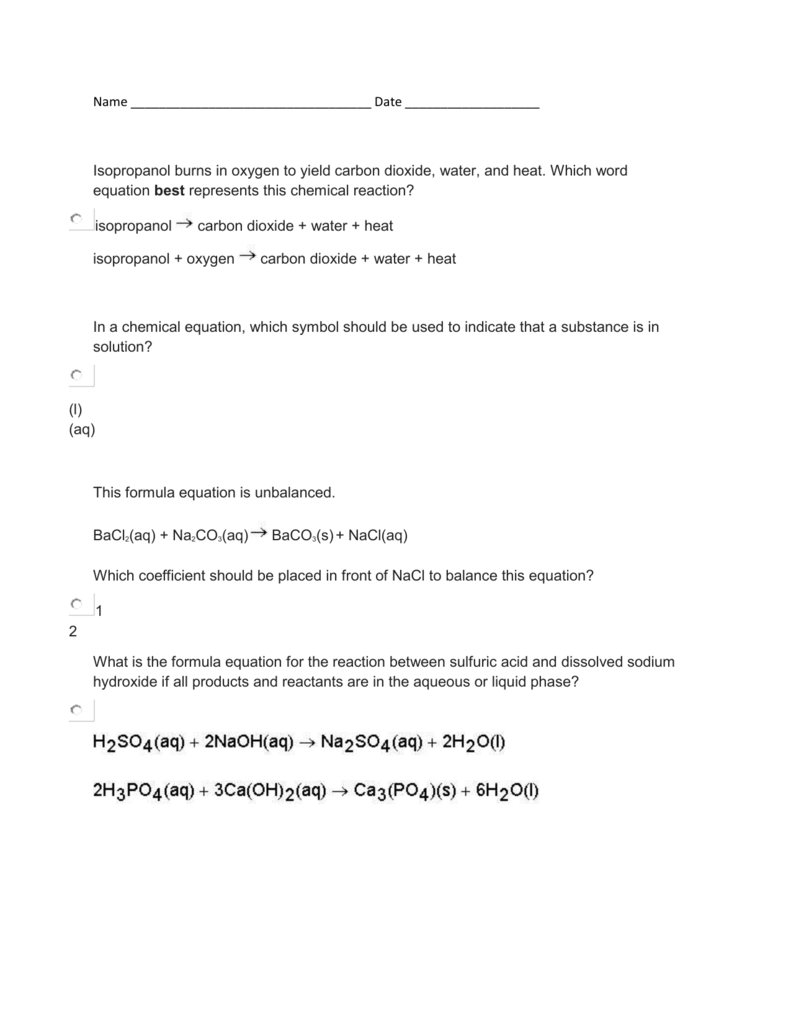 Name __________________________________ Date ___________________
Isopropanol burns in oxygen to yield carbon dioxide, water, and heat. Which word
equation best represents this chemical reaction?
isopropanol
carbon dioxide + water + heat
isopropanol + oxygen
carbon dioxide + water + heat
In a chemical equation, which symbol should be used to indicate that a substance is in
solution?
(l)
(aq)
This formula equation is unbalanced.
BaCl2(aq) + Na2CO3(aq)
BaCO3(s) + NaCl(aq)
Which coefficient should be placed in front of NaCl to balance this equation?
1
2
What is the formula equation for the reaction between sulfuric acid and dissolved sodium
hydroxide if all products and reactants are in the aqueous or liquid phase?
Which statement best describes the formula equation Cl2(g) + 2KBr(aq)
Br2(l)?
2KCl(aq)+
Carbon iodide reacts with potassium bromide to form potassium carbon iodide and
bromine.
Chlorine gas reacts with potassium bromide to form potassium chloride in solution and liquid
bromine.
Which formula equation shows a reversible reaction?
An unbalanced chemical equation for the reaction of boron fluoride with lithium sulfite is
shown below.
BF3 + Li2SO3
B2(SO3)3 + LiF
What is the coefficient of lithium fluoride in the balanced chemical reaction?