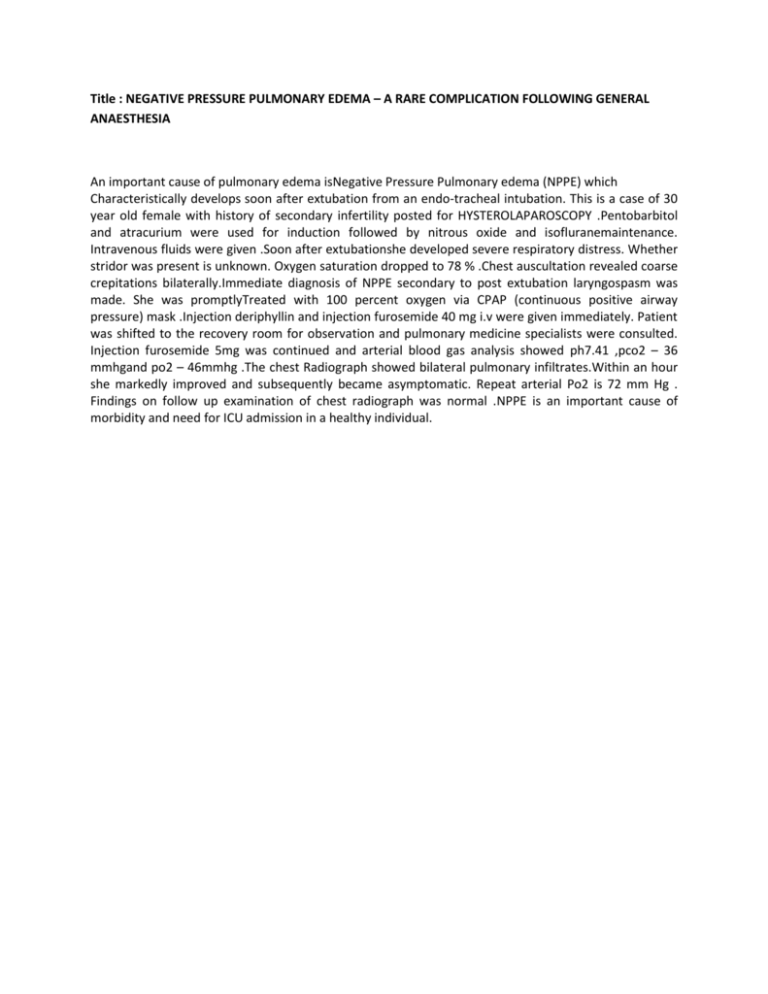 Title : NEGATIVE PRESSURE PULMONARY EDEMA – A RARE COMPLICATION FOLLOWING GENERAL
ANAESTHESIA
An important cause of pulmonary edema isNegative Pressure Pulmonary edema (NPPE) which
Characteristically develops soon after extubation from an endo-tracheal intubation. This is a case of 30
year old female with history of secondary infertility posted for HYSTEROLAPAROSCOPY .Pentobarbitol
and atracurium were used for induction followed by nitrous oxide and isofluranemaintenance.
Intravenous fluids were given .Soon after extubationshe developed severe respiratory distress. Whether
stridor was present is unknown. Oxygen saturation dropped to 78 % .Chest auscultation revealed coarse
crepitations bilaterally.Immediate diagnosis of NPPE secondary to post extubation laryngospasm was
made. She was promptlyTreated with 100 percent oxygen via CPAP (continuous positive airway
pressure) mask .Injection deriphyllin and injection furosemide 40 mg i.v were given immediately. Patient
was shifted to the recovery room for observation and pulmonary medicine specialists were consulted.
Injection furosemide 5mg was continued and arterial blood gas analysis showed ph7.41 ,pco2 – 36
mmhgand po2 – 46mmhg .The chest Radiograph showed bilateral pulmonary infiltrates.Within an hour
she markedly improved and subsequently became asymptomatic. Repeat arterial Po2 is 72 mm Hg .
Findings on follow up examination of chest radiograph was normal .NPPE is an important cause of
morbidity and need for ICU admission in a healthy individual.