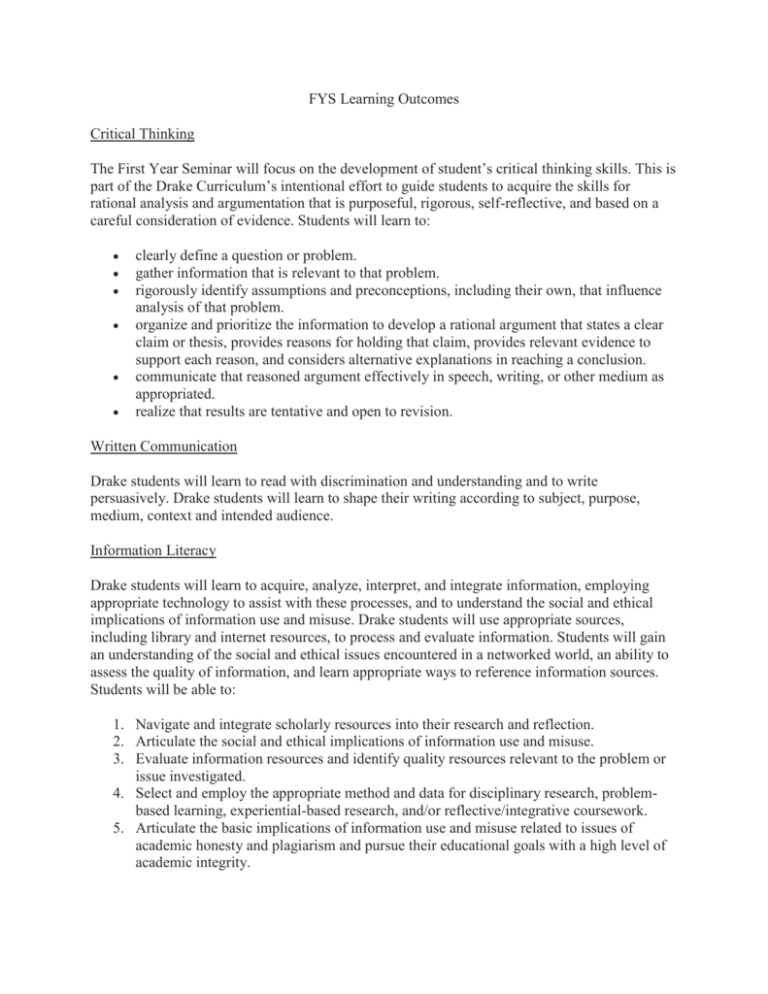 FYS Learning Outcomes
Critical Thinking
The First Year Seminar will focus on the development of student's critical thinking skills. This is
part of the Drake Curriculum's intentional effort to guide students to acquire the skills for
rational analysis and argumentation that is purposeful, rigorous, self-reflective, and based on a
careful consideration of evidence. Students will learn to:






clearly define a question or problem.
gather information that is relevant to that problem.
rigorously identify assumptions and preconceptions, including their own, that influence
analysis of that problem.
organize and prioritize the information to develop a rational argument that states a clear
claim or thesis, provides reasons for holding that claim, provides relevant evidence to
support each reason, and considers alternative explanations in reaching a conclusion.
communicate that reasoned argument effectively in speech, writing, or other medium as
appropriated.
realize that results are tentative and open to revision.
Written Communication
Drake students will learn to read with discrimination and understanding and to write
persuasively. Drake students will learn to shape their writing according to subject, purpose,
medium, context and intended audience.
Information Literacy
Drake students will learn to acquire, analyze, interpret, and integrate information, employing
appropriate technology to assist with these processes, and to understand the social and ethical
implications of information use and misuse. Drake students will use appropriate sources,
including library and internet resources, to process and evaluate information. Students will gain
an understanding of the social and ethical issues encountered in a networked world, an ability to
assess the quality of information, and learn appropriate ways to reference information sources.
Students will be able to:
1. Navigate and integrate scholarly resources into their research and reflection.
2. Articulate the social and ethical implications of information use and misuse.
3. Evaluate information resources and identify quality resources relevant to the problem or
issue investigated.
4. Select and employ the appropriate method and data for disciplinary research, problembased learning, experiential-based research, and/or reflective/integrative coursework.
5. Articulate the basic implications of information use and misuse related to issues of
academic honesty and plagiarism and pursue their educational goals with a high level of
academic integrity.