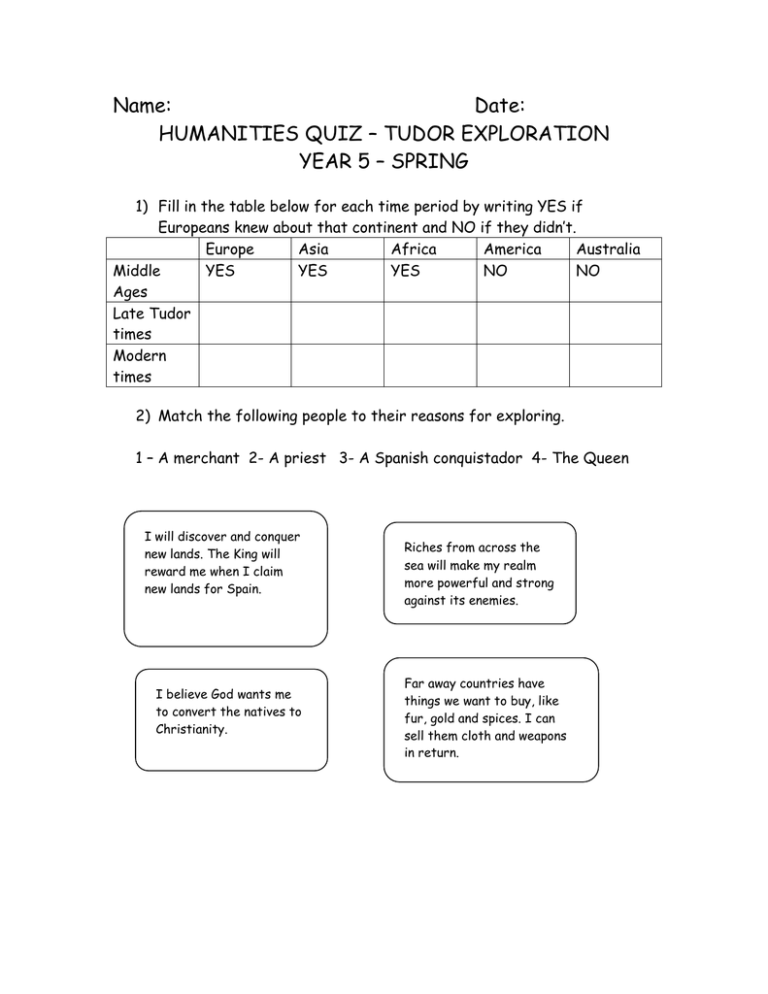 Name:
Date:
HUMANITIES QUIZ – TUDOR EXPLORATION
YEAR 5 – SPRING
1) Fill in the table below for each time period by writing YES if
Europeans knew about that continent and NO if they didn't.
Europe
Asia
Africa
America
Australia
Middle
YES
YES
YES
NO
NO
Ages
Late Tudor
times
Modern
times
2) Match the following people to their reasons for exploring.
1 – A merchant 2- A priest 3- A Spanish conquistador 4- The Queen
I will discover and conquer
new lands. The King will
reward me when I claim
new lands for Spain.
I believe God wants me
to convert the natives to
Christianity.
Riches from across the
sea will make my realm
more powerful and strong
against its enemies.
Far away countries have
things we want to buy, like
fur, gold and spices. I can
sell them cloth and weapons
in return.
3) Imagine you are a merchant living in England in Tudor times.
a) Draw circles around the four things in the box that you can buy
in places like India, America or Africa and sell for high prices
back in England.
b) Draw rectangles around two things in the list that you can buy
in England and sell to people in far away countries.
GOLD
WEAPONS
LOTS OF FURS
SPICES
SLAVES
WOOLLY CLOTH
4) Tick the things that would have made people want to go and settle in
the 'New World'. Put a cross next to the things that would have put
people off.
a)
b)
c)
d)
In the New World you are free to worship God in your own way.
There is lots of land there, so you could have your own farm.
The journey is dangerous.
The native people are sometimes hostile.
5) Write down 2 things from this list that Tudor explorers didn't have
because they hadn't been invented.
MOVABLE SAILS – to steer the ship even if the wind is blowing in the
wrong direction.
COMPASS – to show which way is north.
GPS – satellite positioning system to show where you are.
QUADRANT – to find position by looking at the stars.
RADIO – to keep in contact with the shore.
a) ………………………………………….
b)………………………………………………….
6) Match the two parts of each sentence.
In Tudor times ……
….with heavy wind and weather on long
voyages
Ships were much……
…..England's ships got much better.
They could now cope …..
….bigger and better designed.
7) In this script the Captain is trying to persuade an older sailor to join
his crew for one more voyage. Decide what he says. Put a C for
Captain, S for sailor.
……."Join my ship and see the world!"
……."I'll be lucky not to see the inside of a sea monster."
……."There will be plenty of salt beef and bacon to eat."
……."Not to mention biscuits crawling with maggots and water green
with scum."
……."Never mind, there's always barrels of wine."
…….."But drunk sailors won't obey your orders. Then they'll be cruel
punishments.
………"Nonsense! You know me, gentle as a lamb. Why, I hardly hanged
anyone last voyage. It was mostly just floggings."
8) Fill in the blanks in this statement by Drake, by using the words in the
box.
Drake wasn't just an explorer. He wanted to capture Spanish ships
carrying gold and …………………………….. across the Pacific Ocean from
America home to …………………………………… . The Spanish thought that only
they knew the way to the ……………………………….. . They would be taken
completely by surprise. The Drake could raid Spanish treasure and
please the Queen.
PACIFIC
SPAIN
SILVER
9) Put these sentences in date order. The first has been done for you.
A) In 1580 Francis Drake arrived home. The Spanish complained about
his raids, but Queen Elizabeth was so pleased with the treasure Drake
gave her that she made him a knight and he become known as Sir
Francis Drake.
B) Ferdinand Magellan had been the first to circumnavigate the globe in
a journey from 1519 to 1522.
C) The Golden Hind captured many Spanish treasure ships.
D) In the Pacific, three ships were lost in storms, and one turned back.
Just one ship was left; the Pelican. Drake renamed it the Golden Hind.
E) Drake left England with five ships in 1577. He followed Magellan's
route to the Pacific Ocean.
Order. 1)B
2)
3)
4)
5)
10) Look at this list of ways for the Roanoke settlers to stay in touch with
England.
REGULAR POSTAL SERVICES
RADIO
INTERNET
ASKING A PASSING SHIP TO CARRY A LETTER
Which of these was the best method of keeping in touch?
11) Put these things of the colonists plan in the correct order.
Things to do
Arrange a temporary shelter e.g. a tent.
Arrange permanent shelter e.g. a log cabin.
Collect a group of people who want to emigrate.
Buy seeds to take with you to plant.
Years before:…………………………………………………………………………………………………………………
Months before you leave:……………………………………………………………………………………………
Before first night falls on
the first day you arrive:………………………………………………………………………………………………
Before the first winter:………………………………………………………………………………………………
12) The Roanoke settlement failed because of many reasons. Fill in the
blanks below using words from the box.
Reason
Spanish
America
Threat
Roanoke
get on
colony
The …………………………….settlement was England's first attempt to found a
…………………………………….. in ……………………………………… . One reason it failed was
because it was under …………………………….from the …………………………………. .
The most important ……………………………….. it failed was that the settlers and
natives did not ………………………………with each other.
13) Tudor discoveries made enormous changes to the way of life back
home. Decide which of these changes were good and which were bad.
G for good, B for bad.
A - Shipbuilding got much better.
B – There was much more respect for science because people had seen
what it could do.
C – Tobacco was introduced to Europe.
D – Many people went to a better life in America.
E – New foods were bought to Europe such as maize and potato.
F – European diseases killed many Native Americans.
G – Slavery, which had almost disappeared from Europe, came back.