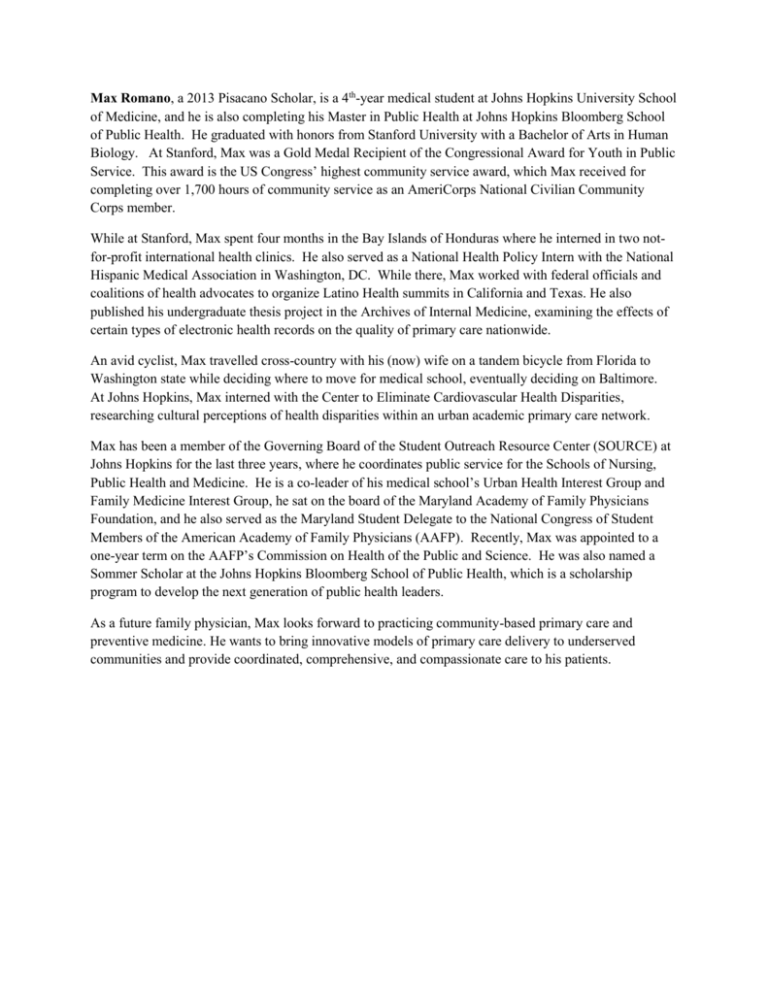 Max Romano, a 2013 Pisacano Scholar, is a 4th-year medical student at Johns Hopkins University School
of Medicine, and he is also completing his Master in Public Health at Johns Hopkins Bloomberg School
of Public Health. He graduated with honors from Stanford University with a Bachelor of Arts in Human
Biology. At Stanford, Max was a Gold Medal Recipient of the Congressional Award for Youth in Public
Service. This award is the US Congress' highest community service award, which Max received for
completing over 1,700 hours of community service as an AmeriCorps National Civilian Community
Corps member.
While at Stanford, Max spent four months in the Bay Islands of Honduras where he interned in two notfor-profit international health clinics. He also served as a National Health Policy Intern with the National
Hispanic Medical Association in Washington, DC. While there, Max worked with federal officials and
coalitions of health advocates to organize Latino Health summits in California and Texas. He also
published his undergraduate thesis project in the Archives of Internal Medicine, examining the effects of
certain types of electronic health records on the quality of primary care nationwide.
An avid cyclist, Max travelled cross-country with his (now) wife on a tandem bicycle from Florida to
Washington state while deciding where to move for medical school, eventually deciding on Baltimore.
At Johns Hopkins, Max interned with the Center to Eliminate Cardiovascular Health Disparities,
researching cultural perceptions of health disparities within an urban academic primary care network.
Max has been a member of the Governing Board of the Student Outreach Resource Center (SOURCE) at
Johns Hopkins for the last three years, where he coordinates public service for the Schools of Nursing,
Public Health and Medicine. He is a co-leader of his medical school's Urban Health Interest Group and
Family Medicine Interest Group, he sat on the board of the Maryland Academy of Family Physicians
Foundation, and he also served as the Maryland Student Delegate to the National Congress of Student
Members of the American Academy of Family Physicians (AAFP). Recently, Max was appointed to a
one-year term on the AAFP's Commission on Health of the Public and Science. He was also named a
Sommer Scholar at the Johns Hopkins Bloomberg School of Public Health, which is a scholarship
program to develop the next generation of public health leaders.
As a future family physician, Max looks forward to practicing community-based primary care and
preventive medicine. He wants to bring innovative models of primary care delivery to underserved
communities and provide coordinated, comprehensive, and compassionate care to his patients.