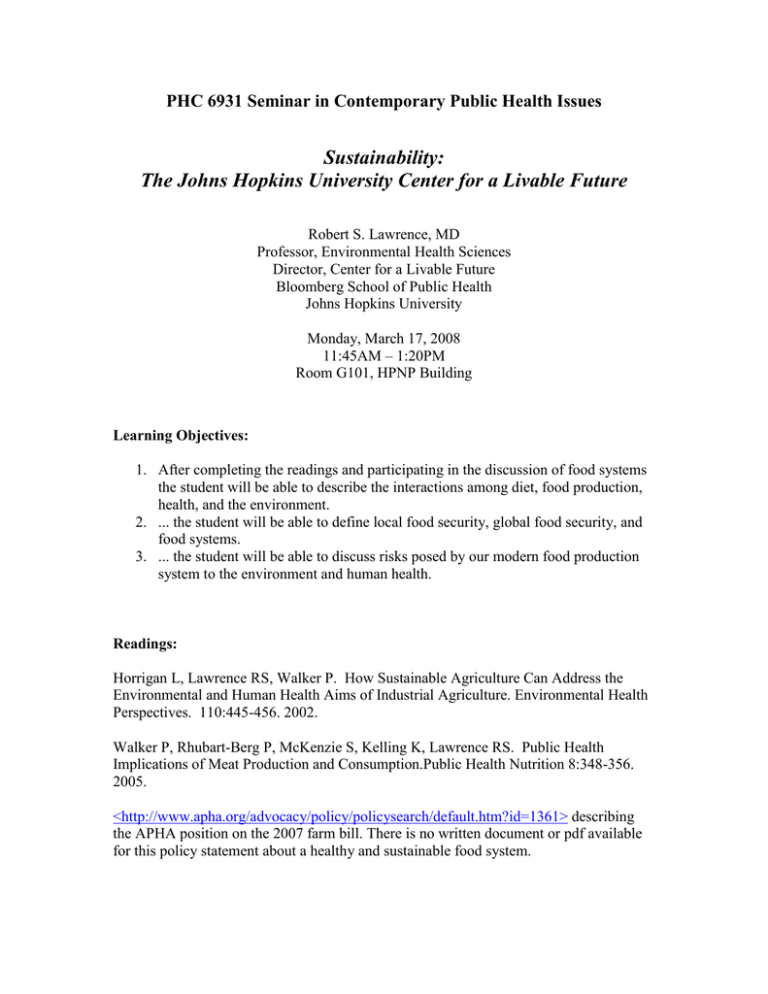 PHC 6931 Seminar in Contemporary Public Health Issues
Sustainability:
The Johns Hopkins University Center for a Livable Future
Robert S. Lawrence, MD
Professor, Environmental Health Sciences
Director, Center for a Livable Future
Bloomberg School of Public Health
Johns Hopkins University
Monday, March 17, 2008
11:45AM – 1:20PM
Room G101, HPNP Building
Learning Objectives:
1. After completing the readings and participating in the discussion of food systems
the student will be able to describe the interactions among diet, food production,
health, and the environment.
2. ... the student will be able to define local food security, global food security, and
food systems.
3. ... the student will be able to discuss risks posed by our modern food production
system to the environment and human health.
Readings:
Horrigan L, Lawrence RS, Walker P. How Sustainable Agriculture Can Address the
Environmental and Human Health Aims of Industrial Agriculture. Environmental Health
Perspectives. 110:445-456. 2002.
Walker P, Rhubart-Berg P, McKenzie S, Kelling K, Lawrence RS. Public Health
Implications of Meat Production and Consumption.Public Health Nutrition 8:348-356.
2005.
<http://www.apha.org/advocacy/policy/policysearch/default.htm?id=1361> describing
the APHA position on the 2007 farm bill. There is no written document or pdf available
for this policy statement about a healthy and sustainable food system.