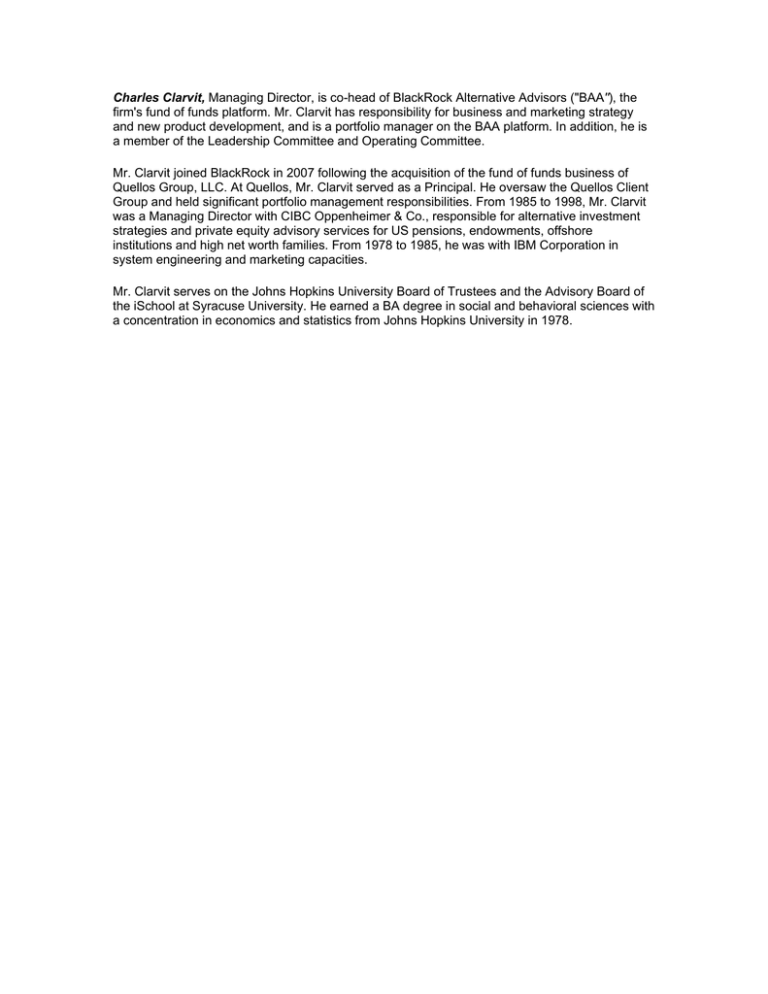 Charles Clarvit, Managing Director, is co-head of BlackRock Alternative Advisors ("BAA"), the
firm's fund of funds platform. Mr. Clarvit has responsibility for business and marketing strategy
and new product development, and is a portfolio manager on the BAA platform. In addition, he is
a member of the Leadership Committee and Operating Committee.
Mr. Clarvit joined BlackRock in 2007 following the acquisition of the fund of funds business of
Quellos Group, LLC. At Quellos, Mr. Clarvit served as a Principal. He oversaw the Quellos Client
Group and held significant portfolio management responsibilities. From 1985 to 1998, Mr. Clarvit
was a Managing Director with CIBC Oppenheimer & Co., responsible for alternative investment
strategies and private equity advisory services for US pensions, endowments, offshore
institutions and high net worth families. From 1978 to 1985, he was with IBM Corporation in
system engineering and marketing capacities.
Mr. Clarvit serves on the Johns Hopkins University Board of Trustees and the Advisory Board of
the iSchool at Syracuse University. He earned a BA degree in social and behavioral sciences with
a concentration in economics and statistics from Johns Hopkins University in 1978.