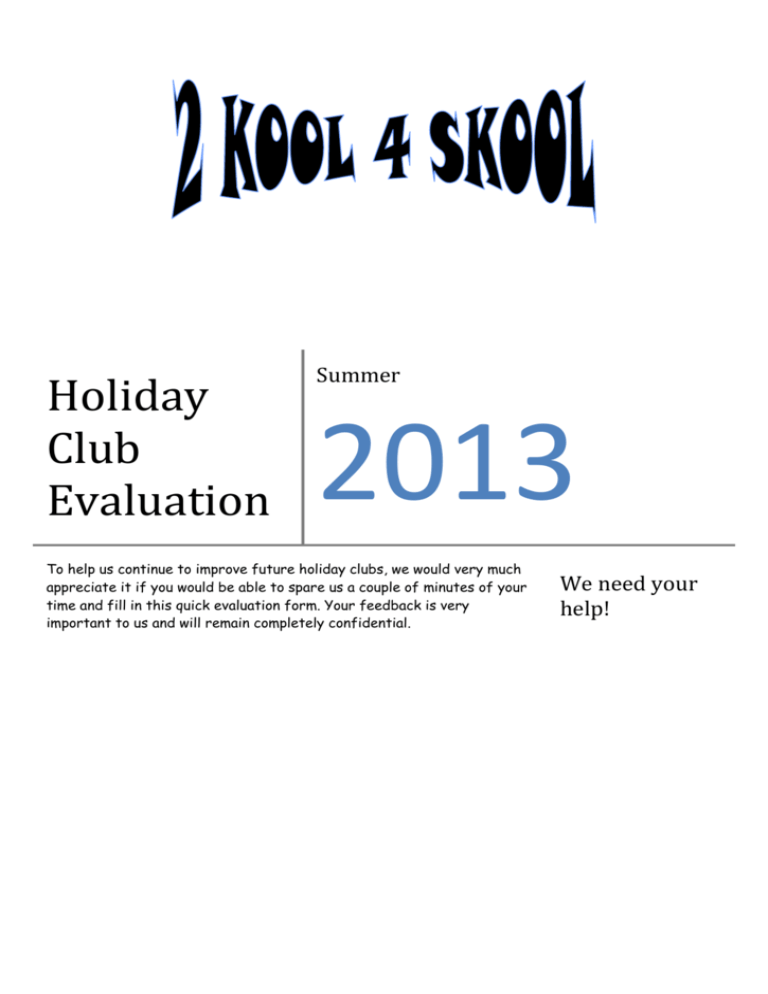 Holiday
Club
Evaluation
Summer
2013
To help us continue to improve future holiday clubs, we would very much
appreciate it if you would be able to spare us a couple of minutes of your
time and fill in this quick evaluation form. Your feedback is very
important to us and will remain completely confidential.
We need your
help!
Child's Details
Please delete as appropriate.
Age of the child attending: 3 – 5 Years / 6 – 7 Years / 8 Years +
Gender – Male/Female
Trips
Please tick as you feel appropriate.
Really did
not enjoy
The Really Wild Road Show
Footy Skills
Land Of Play
Athletics
Swimming
Pizza Hut
Roller Skating
Kenyon Hall Farm
La Tasca
Cinema
Bowling
Nandos
Play Factore
Nature Walks And Talks
Mini Olympics
Frankie & Bennies
Crocky Trail
Sea Life Centre
Pleasure Land Southport
End OF Summer Fun Day
Trampolining & Gymnastics
Challenge 4 Change
Did not
enjoy
Neutral
Enjoyed
Really
enjoyed
Did not
attend
Please use the space below to add any other comments or ideas and suggestions for future holiday clubs.
Thank you very much for your time.
Your comments are greatly appreciated and invaluable for the future of
Hope to see you again at our next holiday club.