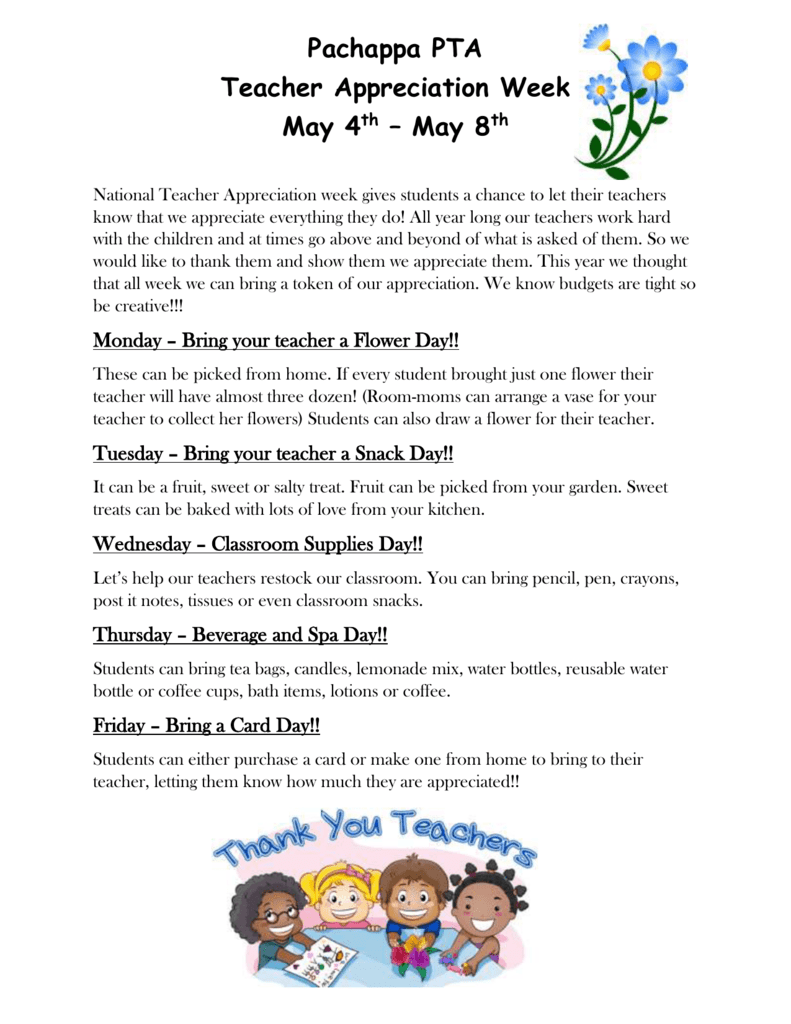 Pachappa PTA
Teacher Appreciation Week
May 4th – May 8th
National Teacher Appreciation week gives students a chance to let their teachers
know that we appreciate everything they do! All year long our teachers work hard
with the children and at times go above and beyond of what is asked of them. So we
would like to thank them and show them we appreciate them. This year we thought
that all week we can bring a token of our appreciation. We know budgets are tight so
be creative!!!
Monday – Bring your teacher a Flower Day!!
These can be picked from home. If every student brought just one flower their
teacher will have almost three dozen! (Room-moms can arrange a vase for your
teacher to collect her flowers) Students can also draw a flower for their teacher.
Tuesday – Bring your teacher a Snack Day!!
It can be a fruit, sweet or salty treat. Fruit can be picked from your garden. Sweet
treats can be baked with lots of love from your kitchen.
Wednesday – Classroom Supplies Day!!
Let's help our teachers restock our classroom. You can bring pencil, pen, crayons,
post it notes, tissues or even classroom snacks.
Thursday – Beverage and Spa Day!!
Students can bring tea bags, candles, lemonade mix, water bottles, reusable water
bottle or coffee cups, bath items, lotions or coffee.
Friday – Bring a Card Day!!
Students can either purchase a card or make one from home to bring to their
teacher, letting them know how much they are appreciated!!