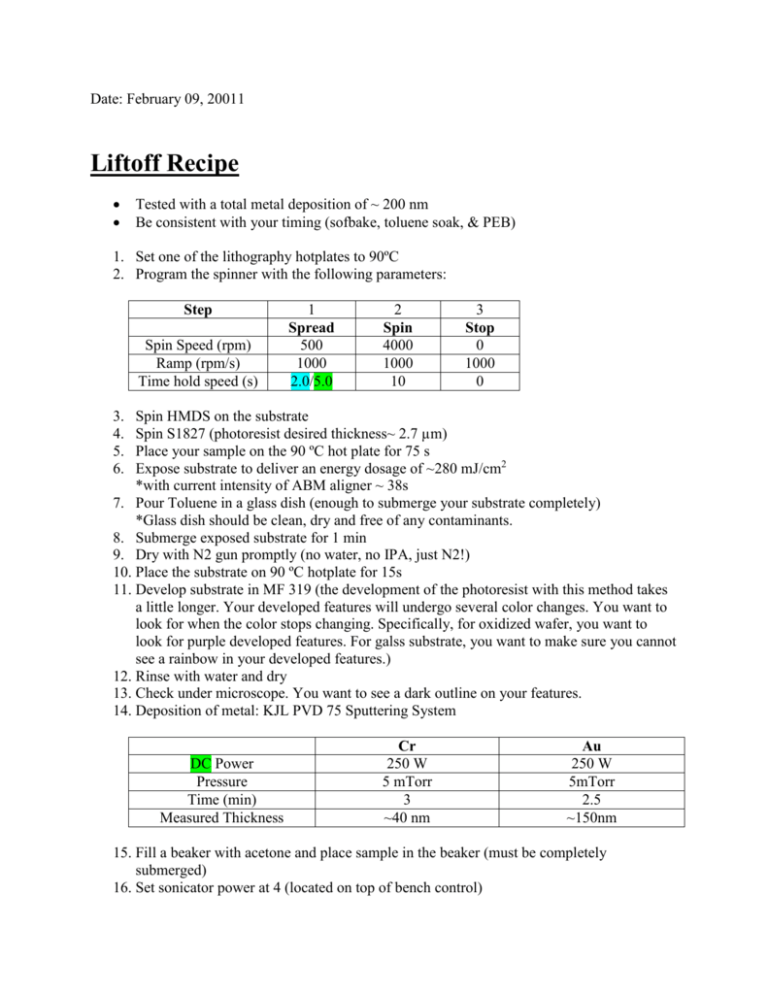 Date: February 09, 20011
Liftoff Recipe


Tested with a total metal deposition of ~ 200 nm
Be consistent with your timing (sofbake, toluene soak, & PEB)
1. Set one of the lithography hotplates to 90ºC
2. Program the spinner with the following parameters:
Step
Spin Speed (rpm)
Ramp (rpm/s)
Time hold speed (s)
1
Spread
500
1000
2.0/5.0
2
Spin
4000
1000
10
3
Stop
0
1000
0
3.
4.
5.
6.
Spin HMDS on the substrate
Spin S1827 (photoresist desired thickness~ 2.7 µm)
Place your sample on the 90 ºC hot plate for 75 s
Expose substrate to deliver an energy dosage of ~280 mJ/cm2
*with current intensity of ABM aligner ~ 38s
7. Pour Toluene in a glass dish (enough to submerge your substrate completely)
*Glass dish should be clean, dry and free of any contaminants.
8. Submerge exposed substrate for 1 min
9. Dry with N2 gun promptly (no water, no IPA, just N2!)
10. Place the substrate on 90 ºC hotplate for 15s
11. Develop substrate in MF 319 (the development of the photoresist with this method takes
a little longer. Your developed features will undergo several color changes. You want to
look for when the color stops changing. Specifically, for oxidized wafer, you want to
look for purple developed features. For galss substrate, you want to make sure you cannot
see a rainbow in your developed features.)
12. Rinse with water and dry
13. Check under microscope. You want to see a dark outline on your features.
14. Deposition of metal: KJL PVD 75 Sputtering System
DC Power
Pressure
Time (min)
Measured Thickness
Cr
250 W
5 mTorr
3
~40 nm
Au
250 W
5mTorr
2.5
~150nm
15. Fill a beaker with acetone and place sample in the beaker (must be completely
submerged)
16. Set sonicator power at 4 (located on top of bench control)
17. Place beaker in sonicator bath and sonicate for 1 hr.
18. Prepare a new beaker with clean acetone. Remove your substrate from the old acetone
bath and place in the new acetone bath while rinsing it with acetone using the squeeze
bottle (avoiding it from drying and removing any metal residue from the surface)
19. Place to sonicate for another 1 more hour
20. Rinse with acetone, methanol, IPA, water and dry
21. Visually inspect if liftoff was successful!