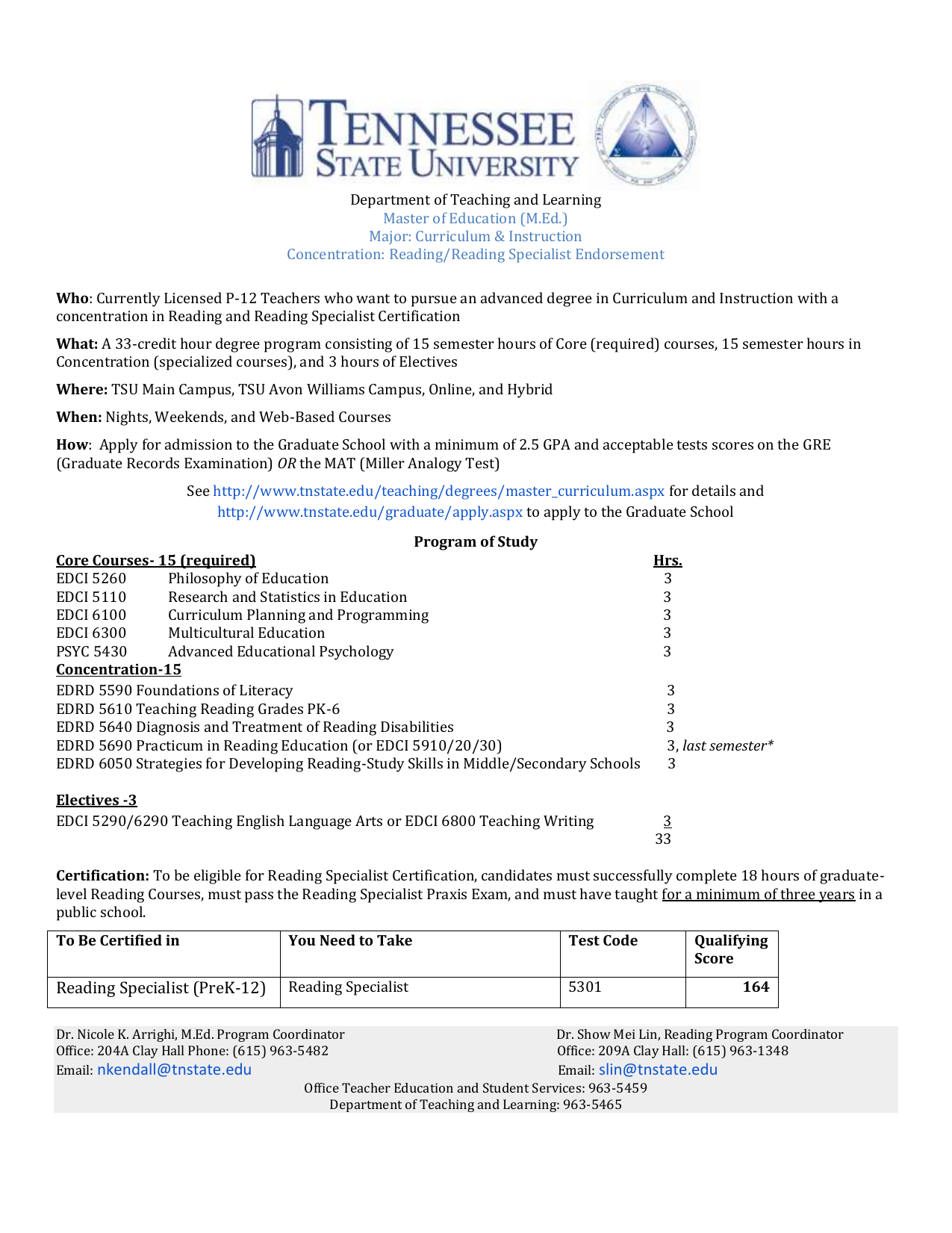 Department of Teaching and Learning
Master of Education (M.Ed.)
Major: Curriculum & Instruction
Concentration: Reading/Reading Specialist Endorsement
Who: Currently Licensed P-12 Teachers who want to pursue an advanced degree in Curriculum and Instruction with a
concentration in Reading and Reading Specialist Certification
What: A 33-credit hour degree program consisting of 15 semester hours of Core (required) courses, 15 semester hours in
Concentration (specialized courses), and 3 hours of Electives
Where: TSU Main Campus, TSU Avon Williams Campus, Online, and Hybrid
When: Nights, Weekends, and Web-Based Courses
How: Apply for admission to the Graduate School with a minimum of 2.5 GPA and acceptable tests scores on the GRE
(Graduate Records Examination) OR the MAT (Miller Analogy Test)
See http://www.tnstate.edu/teaching/degrees/master_curriculum.aspx for details and
http://www.tnstate.edu/graduate/apply.aspx to apply to the Graduate School
Program of Study
Core Courses- 15 (required)
Hrs.
EDCI 5260
Philosophy of Education
3
EDCI 5110
Research and Statistics in Education
3
EDCI 6100
Curriculum Planning and Programming
3
EDCI 6300
Multicultural Education
3
PSYC 5430
Advanced Educational Psychology
3
Concentration-15
EDRD 5590 Foundations of Literacy
3
EDRD 5610 Teaching Reading Grades PK-6
3
EDRD 5640 Diagnosis and Treatment of Reading Disabilities
3
EDRD 5690 Practicum in Reading Education (or EDCI 5910/20/30)
3, last semester*
EDRD 6050 Strategies for Developing Reading-Study Skills in Middle/Secondary Schools
3
Electives -3
EDCI 5290/6290 Teaching English Language Arts or EDCI 6800 Teaching Writing
3
33
Certification: To be eligible for Reading Specialist Certification, candidates must successfully complete 18 hours of graduatelevel Reading Courses, must pass the Reading Specialist Praxis Exam, and must have taught for a minimum of three years in a
public school.
To Be Certified in
You Need to Take
Test Code
Reading Specialist (PreK-12)
Reading Specialist
5301
Qualifying
Score
164
Dr. Nicole K. Arrighi, M.Ed. Program Coordinator
Dr. Show Mei Lin, Reading Program Coordinator
Office: 204A Clay Hall Phone: (615) 963-5482
Office: 209A Clay Hall: (615) 963-1348
Email: [email protected]
Email: [email protected]
Office Teacher Education and Student Services: 963-5459
Department of Teaching and Learning: 963-5465
Sample Course Progression (2 yr. plan)
Fall
Spring
Summer
 EDCI 5260 …....... 3
 PSYC 5430 …....... 3
 EDRD 5590 ….........3
 EDCI 5110 …..........3
 EDRD 6050 …...............3
 EDCI 6100………………3
 EDRD 5610….......3
 Elective………........3
 EDRD 5460 …..........3
 EDRD5690 ………..3
 Apply to take M.Ed. action
research in the dept. office


EDCI 6300………….....3
Defend action research to COMPS
committee.