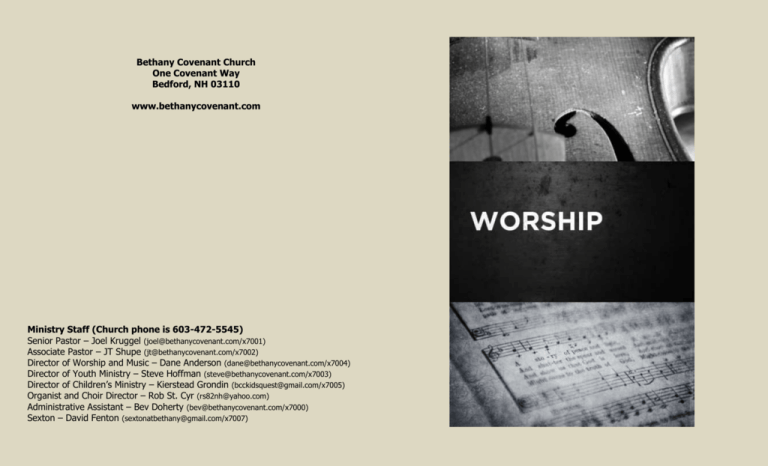 Bethany Covenant Church
One Covenant Way
Bedford, NH 03110
www.bethanycovenant.com
Ministry Staff (Church phone is 603-472-5545)
Senior Pastor – Joel Kruggel (joel@bethanycovenant.com/x7001)
Associate Pastor – JT Shupe (jt@bethanycovenant.com/x7002)
Director of Worship and Music – Dane Anderson (dane@bethanycovenant.com/x7004)
Director of Youth Ministry – Steve Hoffman (steve@bethanycovenant.com/x7003)
Director of Children's Ministry – Kierstead Grondin (bcckidsquest@gmail.com/x7005)
Organist and Choir Director – Rob St. Cyr (rs82nh@yahoo.com)
Administrative Assistant – Bev Doherty (bev@bethanycovenant.com/x7000)
Sexton – David Fenton (sextonatbethany@gmail.com/x7007)
FIRST SUNDAY OF LENT
February 22, 2015
FIRST SUNDAY OF LENT
9:00 AM
February 22, 2015
10:30 AM
Prelude
Welcome
Welcome
Songs of Praise
Holy, Holy, Holy! Lord God Almighty
Beautiful One
Call to Worship
Hymns of Praise
Not unto Us, O Lord
Worthy of Worship
Hymn #34
Hymn #38
Invocation and The Lord's Prayer (debts)
Scripture Readings
The Community at Prayer
The Scripture Readings
Old Testament:
New Testament:
Sermon
arr. Allen Pote
Chancel Choir
Psalm 100
Romans 12:1-2
Message
Dane Anderson
"Worship: Great Expectations"
Hymn #600
Announcements
Postlude
Psalm 100
Romans 12:1-2
Dane Anderson
"Worship: Great Expectations"
Responding to the Message
Only True God
Announcements
Offering
Offertory and Doxology
Benediction
Old Testament:
New Testament:
Great are You, Lord
Hymn of Response
We Are God's People (vv. 1,4)
Sending Hymn
Thine Is the Glory
Children's Message
The Community at Prayer
The Passing of the Peace
Lord, Make Me An Instrument Of Thy Peace
Meet and Greet
Song of Sending
This is Amazing Grace
Hymn #243
Benediction
The flowers this morning are given to the glory of God in loving memory of Judie Volner.
Sermon Notes
New to Bethany?
We have two weekly services:
➢ 9:00 am Traditional
➢ 10:30 am Contemporary
For Children:
➢ Infants and Toddlers in our nursery downstairs
➢ Kid's Quest (infants to 6th grade):
9:00 begin downstairs
10:30 begin in the service and then are dismissed downstairs following the Children's
Message
For Students:
➢ Surge (middle school) – Small group during the 9:00 service
➢ Highlight (high school) – Small groups for girls and guys during the 9:00 service
Spiritual Formation Classes
➢Sundays at 9:00 am—"The Art of Marriage" in the Commons Room.
➢Sundays at 10:30 am—1 Timothy with Sandra Metaxotos and Dan Scharlach in the
Commons Room.
➢Wednesdays at 6:15 pm, "Raising Discerning Daughters" in Room #8 (blue room).
➢Wednesdays at 7:00 pm, Acts with Earl Dunbar in Room #4 (light blue room).
➢Wednesdays at 7:00 pm, Men's Bible Study in Room #9 (green room).
Prayer Requests:
 Heather Hoffman's uncle, following brain surgery to remove a non-cancerous tumor.
 Bill Granfield, prayers for successful rehab and full recovery.
 Stacie Elliott's sister, Carrie, undergoing chemotherapy, that she tolerates treatment well
and becomes cancer free.
 Gina Erickson, pray that the bones in her back will fuse.
 Lisa Wallin's sister, for healing from cancer.
 Currently deployed with the Armed Forces: Brad Holt and George Munson
 Lis Hood's mother, Bev Freeman, during immunotherapy treatments.
 Pray for our global sisters and brothers in Christ, for those being persecuted for their
faith, particularly those in Sudan, Afghanistan, Syria, Iraq, Iran and Vietnam. Pray for
strength, provision, healing and protection.
Please note that there will be NO Sweet Tuesdays, or Wednesday Gathering events this
week because of New Hampshire school vacation. (Exception: The Acts class will still meet.)
Daily Lenten Devotionals
We are offering daily email Lenten devotionals. If you would like to receive them, please
provide Bev (bev@bethanycovenant.com) with your email address.
Updated church directories are available at the Information Center. Pick yours up today!
Ridgewood Center Service, this afternoon at 2:00 pm. We are a small group from
Bethany who provide a worship service once a month featuring music and a message from
God's Word for the residents of Ridgewood. If you would like to help out in this outreach
ministry, please call Ken MacLure at 471-6005 for more info.
Movie Night! Come and view "A Good Lie," the film about Sudanese coming from
refugee camps to the US. Pastor Monyroor was a consultant to the film and is noted in
the credits! This is a Ron Howard Production and well done. Saturday, February 28,
6:30 pm in the Commons Room. Popcorn and drinks provided!
Introduction to Bethany Class—Saturday, March 7, 8:30 am to 12 noon in the
Commons Room. Discussion will include Bethany's history, beliefs, vision, ministries, and
structure. Join us if you are interested in membership, or if you just want more
information about our church. RSVP to Joel or JT if you are planning to attend.
4th Annual CHIC Valentine's Dinner - NEW DATE: Saturday, March 7th
Come enjoy a lovely Valentine's Italian Dinner. Reservations are from 5:30-7:30 pm.
Sign-up via email Jen Parmenter. Menu options include: Salad (Garden or Caesar); choice
of entree of Spaghetti and Meat Sauce or Marinara Sauce, or Alfredo Fettuccine with
Grilled Chicken; homemade bread; and choice of New York Cheesecake or Chocolate
Almond Gateau. Donation for dinner is $15 per adult. Child care will be provided ($5 per
child or $10 per family - please feed your children dinner). Invite your friends and family!
Mom's Retreat at Pilgrim Pines, March 6-8. Check out their website
(www.pilgrimpines.org) for details.
2 Annual Chili and Chocolate Cook-Off!—Sunday, March 15, 12–2 pm
Bring one or more items to be judged or just come hungry and enjoy the tasty food! This is a
fun family event that also raises support for the New Life Home, our Ministry partner in
Manchester that supports single women and their children.
Sign up after services today in the Narthex, or contact Suzie Rankins.
nd
Small Groups
New Small Group begins on March 15th in Bedford with Kevin and Diane Hallenbeck.
Join this group, which will meet bi-weekly in the Hallenbeck's home, 12 Magazine Street,
Bedford, on Sundays from 6 to 8 pm. They will be studying Tim Keller's book Counterfeit
God. Contact Diane Hallenbeck with any questions.
Longing for Belonging Women's Retreat ~ March 27-28, 2015 at Joseph House
Retreat Center. Come join us to explore the love God has for us, how God's love defines
us and shapes our lives. To register, call Vivian White at 627-9493. Retreat led by Diane
Hallenbeck. For more information, see the women's bulletin board for a flyer or call Diane
at 471-0241.
Mission News
Pastor Monyroor's Mission to Sudan – Please help support our very own Pastor Monyroor
Teng as he makes plans for a March mission trip with William Levi to Sudan. These "brothers
in Christ" will travel to Refugee Camps and Churches throughout Sudan to preach the message
of Reconciliation and becoming "one in Christ" to the Sudanese believers, with hopes to restore
unity to God's people then they can impact their country for Christ. Please support Pastor
Monyroor in his fundraising efforts to raise $5,500 to cover airfare, paperwork, and hotel
expenses. Send your support to Bethany Covenant Church (with Pastor Monyroor Mission, in
the memo line), 1 Covenant Way, Bedford, NH 03110.
Weekend Mission Trip to New York City will be Friday through Sunday, June 5-7. Join us
as we partner with three new Covenant Churches in East Harlem and the South Bronx for a
weekend of building friendships, Saturday projects, prayer walks, and worship together. Trip
Cost: $150/person in double room, $100/person in quad room. See Pastor Joel or email him
at joel@bethanycovenant.com to register or for more information.
Save the Date
Men's Breakfast—Saturday, March 21, 7:30 to 9:00 am. Pastor Joel will speak on
"The Man who Died on the Cross… How the Death of Jesus Showed Us How to Live."
Sunday, March 22, Bethany Crotched Mountain Ski Day, come & ski after services!
Communion Training for grades 2 and up, Wednesday, April 1, 7-7:30 pm
Palm Sunday, March 29
Maundy Thursday Communion Service, April 2, 7 pm
Good Friday, April 3
Silent Prayer: The Sanctuary will be open from 6 am to 4 pm, the Commons
Room will be open from 4-6 pm.
Tenebrae Service: 7 pm.
Easter Worship—Sunday, April 5
9:00 am – Traditional Easter Worship (including Hallelujah Chorus)
 Nursery care will be available to age 3.
 An Easter program for children up to 6th grade will take place downstairs during
the service.
10:30 am – Contemporary Easter Worship
 Nursery care will be available to age 3.
 This family-friendly service will include a children's message, and children will
stay with their parents during the service.