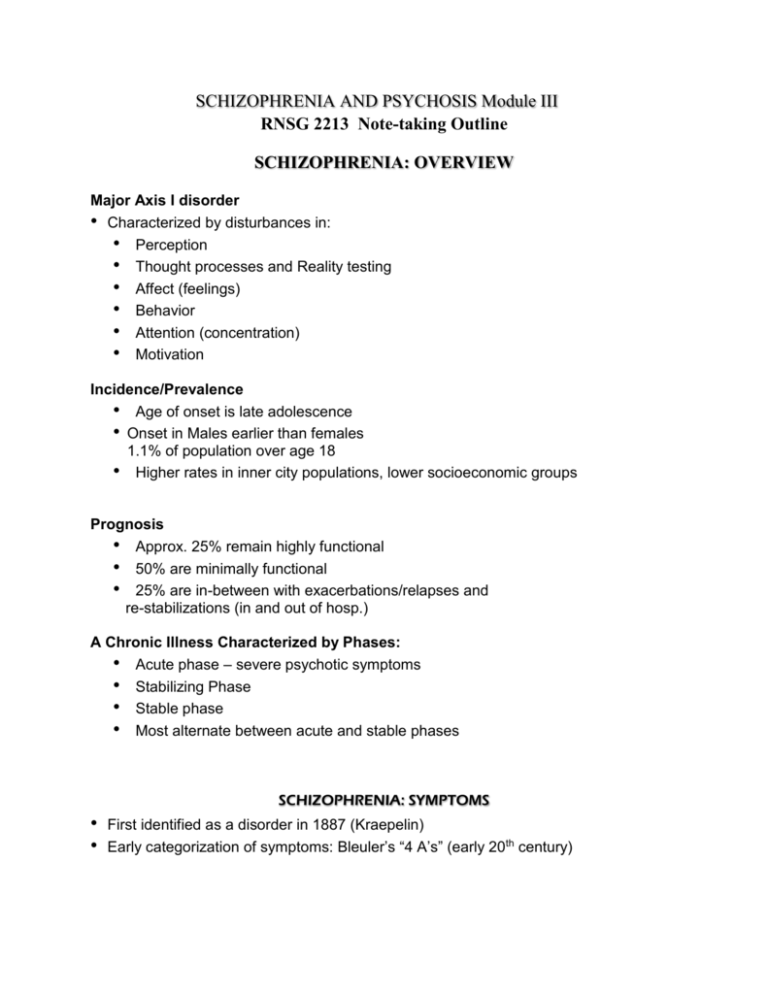 SCHIZOPHRENIA AND PSYCHOSIS Module III
RNSG 2213 Note-taking Outline
SCHIZOPHRENIA: OVERVIEW
Major Axis I disorder
• Characterized by disturbances in:
• Perception
• Thought processes and Reality testing
• Affect (feelings)
• Behavior
• Attention (concentration)
• Motivation
Incidence/Prevalence
• Age of onset is late adolescence
• Onset in Males earlier than females
1.1% of population over age 18
• Higher rates in inner city populations, lower socioeconomic groups
Prognosis
• Approx. 25% remain highly functional
• 50% are minimally functional
• 25% are in-between with exacerbations/relapses and
re-stabilizations (in and out of hosp.)
A Chronic Illness Characterized by Phases:
• Acute phase – severe psychotic symptoms
• Stabilizing Phase
• Stable phase
• Most alternate between acute and stable phases
SCHIZOPHRENIA: SYMPTOMS
•
•
First identified as a disorder in 1887 (Kraepelin)
Early categorization of symptoms: Bleuler's "4 A's" (early 20th century)
CLASSIFICATION OF SYMPTOMS
 Positive Symptoms
 Negative (deficit) Symptoms
 Cognitive Symptoms
POSITIVE Symptoms of Schizophrenia
+ Agitation/aggression
+ Altered Perceptions
• Delusions
• Hallucinations
• Illusions
+ Disordered thinking AEB Disordered Speech such as: loose associations, word salad,
echolalia
+ Disordered Movements, such as:
 restlessness
 catatonia: abnormal, repetitive movements, posturing, immobility
 disorganized movement e.g. wandering
NEGATIVE Symptoms of Schizophrenia
-
Flat affect
Constricted, concrete thinking
Poverty of speech (alogia), flat speech
Social withdrawal; lack of pleasure in activities (anhedonia)
Deep apathy (lack of feeling)
COGNITIVE Symptoms of Schizophrenia
 Problems with:
• ability to pay attention and understand
• making decisions (ambivalence)
• planning and carrying out activities
Antipsychotic Agents and Symptoms
•
•
The "Typical" (older class) of antipsychotics primarily address POSITIVE symptoms
• Can make negative symptoms Worse
The "Atypical" (newer classes) of antipsychotics address both
POSITIVE AND NEGATIVE symptoms
DSM Criteria:
Old DSM IV-TR Lists 5 Schizophrenia Subtypes
New DSM V: Schizophrenia Spectrum
OTHER PSYCHOTIC DISORDERS
Schizophreniform Disorder- Has shown Positive and/or Negative symptoms for 1-6
months
Schizoaffective Disorder-Has symptoms of Schizophrenia + a Mood Disorder
.
ETIOLOGY
Multifactorial-no single cause
Multiple theories for etiology (see next content)
Current research: Is it a single disorder?
BIOLOGICAL THEORIES
1) The Dopamine Hypothesis
Too much dopamine binds with too many limbic receptors and causes positive
2) Disturbed ratio of Serotonin : Dopamine
Changes in Brain Structure and Function
Alterations found in some Schizophrenics using Diagnostic Imaging:
• PET Scan:  glucose metabolism in frontal/temporal lobes; in basal ganglia
• MRI: Enlargement of ventricles
• BEAM Scan: Abnormal wave patterns indicting absence of ability to "calm" the
brain
• Evoked Potential Topography: Illogical thought patterning in frontal lobe
Genetic Factors
Inherited predisposition to schizophrenia
Risk Factors:
Two parents with schizophrenia = 35%
Identical twins = 50%
DEVELOPMENTAL AND ENVIRONMENTAL THEORIES




Prenatal infections
Exposure to toxins
Parental neglect or rejection; traumatic experiences in early life
Socioeconomic adversity





Noncompliance and relapse are common
Have poorer ability to cope with stress
Increased rates of depression, suicide
Increased rate of substance abuse: alcohol, marijuana, nicotine, cocaine
Often cannot hold a job
INTERVENTIONS/
PSYCHOTHERAPEUTIC MANAGEMENT
Nurse-Patient Relationship
•
•
•
•
Be accepting, consistent and honest
Do not argue with or reinforce hallucinations or delusions
Reinforce acceptable behaviors
Gently encourage withdrawn client
•
•
Recognize when a client may be suspicious, anxious or fearful, and approach
with care
Assess for command hallucinations
Milieu Management
•
•
•
•
•
•
Set limits on disruptive behavior
Assess agitated clients frequently for escalation
Assess ability to participate in activities; choose activities at client's level of ability
May need 1:1 rather than group activities at first
Decrease environmental stimuli prn
Supervise meals, hygiene, grooming
Other Nursing Interventions
 Importance of patient and family support and education
 Referrals, community resources and continuity of care
Pharmacotherapy
Antipsychotic Agents
 Traditional or Typical Agents: 1st Generation (beginning 1950's)
 Atypical or Second Generation Agents (1990's)
 Novel or Third Generation Agents (21st century)
TYPICAL ANTIPSYCHOTIC AGENTS
Action: Antagonize (block) Dopamine D2 receptors
 Most effective for Positive (+) symptoms
Effects:
• Sedation (esp. if combined with other CNS depressants)
•
•
Slowing of motor activity
Decrease in hallucinations and delusions
•
•
Emotional quieting
Improved cognitive function; decreased confusion



High Potency e.g. haloperidol (Haldol), fluphenazine (Prolixin)
Moderate Potency e.g. loxapine (Loxitane), perphenazine (Trilafon)
Low Potency e.g. chlorpromazine (Thorazine), thioridazine (Mellaril)
Atypical (2nd Generation) Agents
Actions: Antagonize (block) multiple dopamine D and serotonin 5-HT receptors
 Most frequently prescribed
 Useful for both positive and negative symptoms






clozapine (Clozaril) -Prototype
risperidone (Risperdal)
olanzapine (Zyprexa)
quetiapine (Seroquel)
ziprasidone (Geodon)
paliperidone (Invega)
Novel (3rd Generation) Agent
 aripiprazole (Abilify)
Action: Partial dopamine antagonist
"Balances" dopamine (both increases and decreases it in different limbic
areas)
Antipsychotics: Side Effects
Most Common Side Effects:
•
Extra-Pyramidal Side Effects (EPSEs)- abnormally increased or decreased
motor activity, muscle spasms, twisting, tremors
 Bradykinesia
 Akinesia
 Pseudo-Parkinsonism
 Akathisia
 Dystonias
 Tardive Dyskinesia
•
Anticholinergic Effects-dry mouth, orthostatic hypotension, urinary retention,
blurred vision
• Usually resolve over time





Other Side Effects
Cardiac: Arrythmias (QT interval lengthened)
Blood: leukopenia, anemia, agranulocytosis-clozapine/Clozaril
Endocrine and Metabolic: weight gain, elevated prolactin levels (typical
agents), metabolic syndrome, altered glucose metabolism  diabetes Type II
Sexual: Impaired libido, performance
A Dangerous Side Effect
Neuroleptic Malignant Syndrome (NMS)
• Potentially lethal
• Associated with use of high-potency agents e.g. haloperidol
• Onset: within a week after starting meds.
• Symptoms: muscular rigidity ("lead pipe"), tremors, autonomic hyperactivity
e.g. high body temperature, altered consciousness
PHARMACOTHERAPY FOR EXTRAPYRAMIDAL SEs: Antiparkinson Agents





benztropine (Cogentin) *
diphenhydramine (Benadryl) *
trihexyphenidyl (Artane)
biperiden (Akineton)
amantadine (Symmetrel)
•
•
•
Action: Restore balance of dopamine with acetylcholine (ACh)
Reduce motor and muscle dysfunctions caused by this imbalance
BUT: They also may cause anticholinergic SEs and mental confusion
(* can give these IM)
Goals: reduce agitation
rapid sedation

Common choice: IM "cocktail" of sedating antipsychotic + antiparkinsonian agent
+ benzodiazepine
NURSING INTERVENTIONS
Related to Antipsychotic Medications
•
Medication education (You cannot teach too often)
• Explore side effect issues contributing to poor adherence/compliance
• Teach Comfort and Safety measures relating to side effects:
• e.g. anticholinergic effects, CNS depression, photosensitivity,
thermoregulation problems, etc.
•
Options for clients with poor adherence:
• Prolonged-acting ("depot") form, give IM
Duration: 1 wk - 4 wks
• Other forms: oral disintegrating tabs, liquid concentrate, etc.