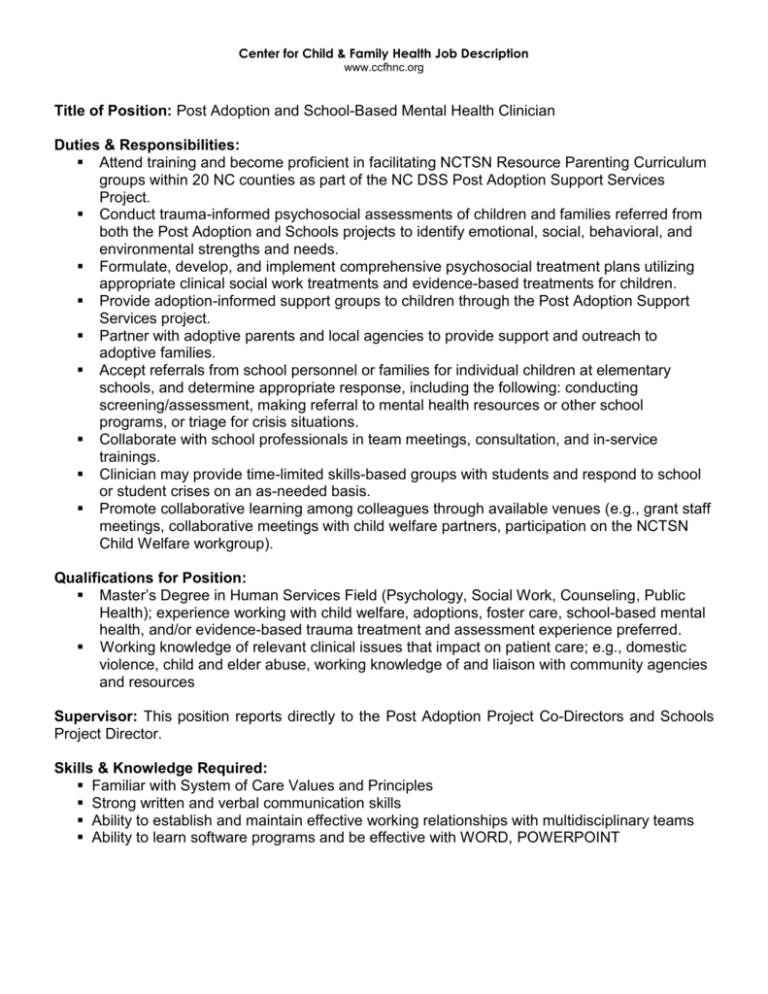 Center for Child & Family Health Job Description
www.ccfhnc.org
Title of Position: Post Adoption and School-Based Mental Health Clinician
Duties & Responsibilities:
 Attend training and become proficient in facilitating NCTSN Resource Parenting Curriculum
groups within 20 NC counties as part of the NC DSS Post Adoption Support Services
Project.
 Conduct trauma-informed psychosocial assessments of children and families referred from
both the Post Adoption and Schools projects to identify emotional, social, behavioral, and
environmental strengths and needs.
 Formulate, develop, and implement comprehensive psychosocial treatment plans utilizing
appropriate clinical social work treatments and evidence-based treatments for children.
 Provide adoption-informed support groups to children through the Post Adoption Support
Services project.
 Partner with adoptive parents and local agencies to provide support and outreach to
adoptive families.
 Accept referrals from school personnel or families for individual children at elementary
schools, and determine appropriate response, including the following: conducting
screening/assessment, making referral to mental health resources or other school
programs, or triage for crisis situations.
 Collaborate with school professionals in team meetings, consultation, and in-service
trainings.
 Clinician may provide time-limited skills-based groups with students and respond to school
or student crises on an as-needed basis.
 Promote collaborative learning among colleagues through available venues (e.g., grant staff
meetings, collaborative meetings with child welfare partners, participation on the NCTSN
Child Welfare workgroup).
Qualifications for Position:
 Master's Degree in Human Services Field (Psychology, Social Work, Counseling, Public
Health); experience working with child welfare, adoptions, foster care, school-based mental
health, and/or evidence-based trauma treatment and assessment experience preferred.
 Working knowledge of relevant clinical issues that impact on patient care; e.g., domestic
violence, child and elder abuse, working knowledge of and liaison with community agencies
and resources
Supervisor: This position reports directly to the Post Adoption Project Co-Directors and Schools
Project Director.
Skills & Knowledge Required:
 Familiar with System of Care Values and Principles
 Strong written and verbal communication skills
 Ability to establish and maintain effective working relationships with multidisciplinary teams
 Ability to learn software programs and be effective with WORD, POWERPOINT
Center for Child & Family Health Job Description
www.ccfhnc.org
Prior Experience Required:
 Two years of relevant experience required
 Experience serving children and families involved in child welfare preferred
 Experience with school-based mental health preferred
Personal Qualities:
 Strong organization skills
 Ability to independently seek out resources and work collaboratively
Travel: Extensive travel throughout 20 county region including Durham, NC
Salary Range: $43,000 - $48,000
Hours: Full time (8 hours per day) position requiring some evening hours and occasional Saturday
mornings to meet the needs of adoptive families
Contact: Interested applicants should send a letter of interest and resume (including three
professional references) via email to Kate Murray at kate.murray@duke.edu.
Minority candidates are encouraged to apply.