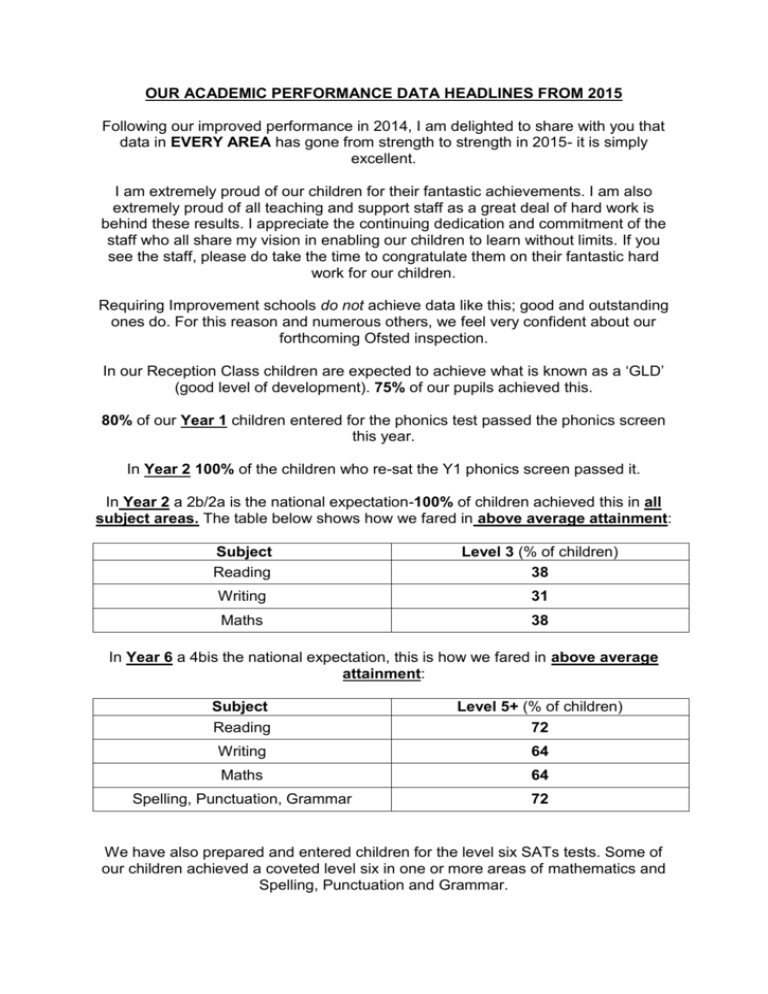 OUR ACADEMIC PERFORMANCE DATA HEADLINES FROM 2015
Following our improved performance in 2014, I am delighted to share with you that
data in EVERY AREA has gone from strength to strength in 2015- it is simply
excellent.
I am extremely proud of our children for their fantastic achievements. I am also
extremely proud of all teaching and support staff as a great deal of hard work is
behind these results. I appreciate the continuing dedication and commitment of the
staff who all share my vision in enabling our children to learn without limits. If you
see the staff, please do take the time to congratulate them on their fantastic hard
work for our children.
Requiring Improvement schools do not achieve data like this; good and outstanding
ones do. For this reason and numerous others, we feel very confident about our
forthcoming Ofsted inspection.
In our Reception Class children are expected to achieve what is known as a 'GLD'
(good level of development). 75% of our pupils achieved this.
80% of our Year 1 children entered for the phonics test passed the phonics screen
this year.
In Year 2 100% of the children who re-sat the Y1 phonics screen passed it.
In Year 2 a 2b/2a is the national expectation-100% of children achieved this in all
subject areas. The table below shows how we fared in above average attainment:
Subject
Reading
Level 3 (% of children)
38
Writing
31
Maths
38
In Year 6 a 4bis the national expectation, this is how we fared in above average
attainment:
Subject
Reading
Level 5+ (% of children)
72
Writing
64
Maths
64
Spelling, Punctuation, Grammar
72
We have also prepared and entered children for the level six SATs tests. Some of
our children achieved a coveted level six in one or more areas of mathematics and
Spelling, Punctuation and Grammar.
Subject
Maths
Spelling, Punctuation, Grammar
Level 6 (% of children)
27
27
It is exceptional for a child aged 10-11years to achieve a level 6 in primary school.