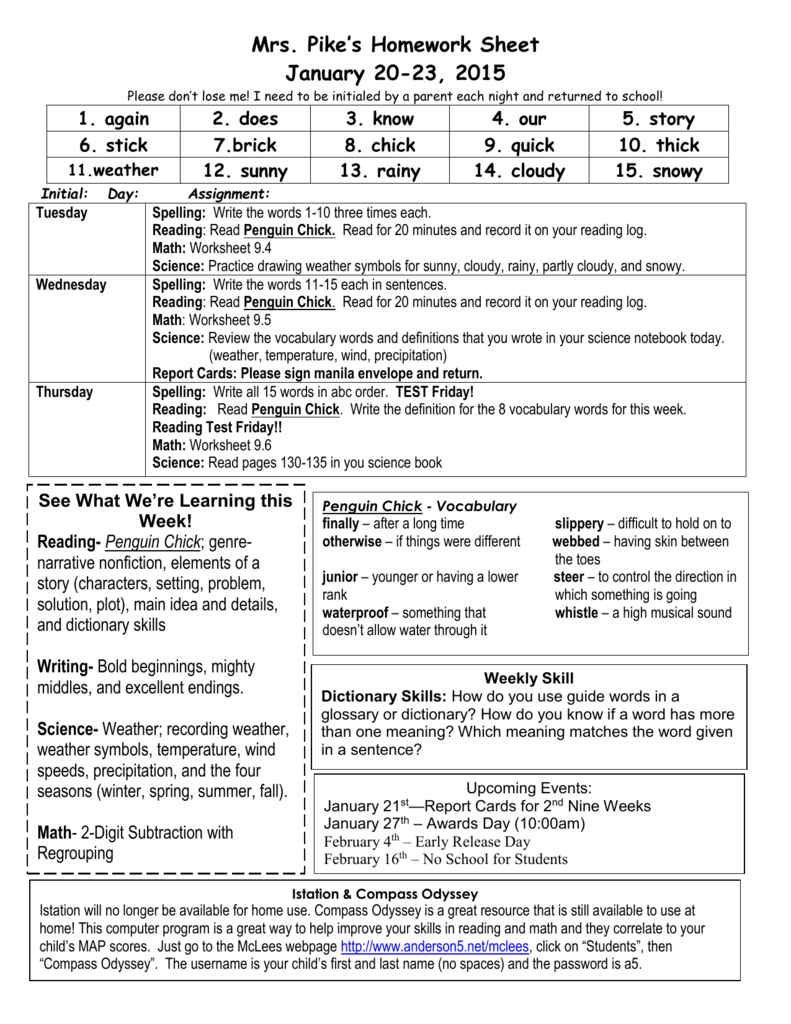 Mrs. Pike's Homework Sheet
January 20-23, 2015
Please don't lose me! I need to be initialed by a parent each night and returned to school!
1. again
6. stick
11.weather
Initial:
Tuesday
Wednesday
Thursday
Day:
2. does
7.brick
12. sunny
3. know
8. chick
13. rainy
4. our
9. quick
14. cloudy
5. story
10. thick
15. snowy
Assignment:
Spelling: Write the words 1-10 three times each.
Reading: Read Penguin Chick. Read for 20 minutes and record it on your reading log.
Math: Worksheet 9.4
Science: Practice drawing weather symbols for sunny, cloudy, rainy, partly cloudy, and snowy.
Spelling: Write the words 11-15 each in sentences.
Reading: Read Penguin Chick. Read for 20 minutes and record it on your reading log.
Math: Worksheet 9.5
Science: Review the vocabulary words and definitions that you wrote in your science notebook today.
(weather, temperature, wind, precipitation)
Report Cards: Please sign manila envelope and return.
Spelling: Write all 15 words in abc order. TEST Friday!
Reading: Read Penguin Chick. Write the definition for the 8 vocabulary words for this week.
Reading Test Friday!!
Math: Worksheet 9.6
Science: Read pages 130-135 in you science book
See What We're Learning this
Week!
Reading- Penguin Chick; genrenarrative nonfiction, elements of a
story (characters, setting, problem,
solution, plot), main idea and details,
and dictionary skills
Writing- Bold beginnings, mighty
middles, and excellent endings.
Science- Weather; recording weather,
weather symbols, temperature, wind
speeds, precipitation, and the four
seasons (winter, spring, summer, fall).
Math- 2-Digit Subtraction with
Regrouping
Penguin Chick - Vocabulary
finally – after a long time
otherwise – if things were different
junior – younger or having a lower
rank
waterproof – something that
doesn't allow water through it
slippery – difficult to hold on to
webbed – having skin between
the toes
steer – to control the direction in
which something is going
whistle – a high musical sound
Weekly Skill
Dictionary Skills: How do you use guide words in a
glossary or dictionary? How do you know if a word has more
than one meaning? Which meaning matches the word given
in a sentence?
Upcoming Events:
January 21st—Report Cards for 2nd Nine Weeks
January 27th – Awards Day (10:00am)
February 4th – Early Release Day
February 16th – No School for Students
Istation & Compass Odyssey
Istation will no longer be available for home use. Compass Odyssey is a great resource that is still available to use at
home! This computer program is a great way to help improve your skills in reading and math and they correlate to your
child's MAP scores. Just go to the McLees webpage http://www.anderson5.net/mclees, click on "Students", then
"Compass Odyssey". The username is your child's first and last name (no spaces) and the password is a5.